In the heated race to develop covid antiviral pills, a Chinese biopharma firm tweaked a technology patented by the US drug giant Gilead—and then handily beat Gilead to the market.

Over the weekend (Jan. 28-29), Chinese drug regulators approved two new domestically developed covid pills: Simcere Pharmaceutical Group's Xiannuoxin, and Junshi Biosciences' VV116. The latter is based closely on an antiviral invented by Gilead.
With the addition of these two drugs, China has now approved five oral covid treatments for sale: azvudine, from the Chinese company Genuine Biotech; Pfizer's Paxlovid; and Merck's molnupiravir. These antivirals augment China's pandemic arsenal at a time when the government has discarded its zero-covid policies, allowing the coronavirus to rip through its population at dramatic speed. A government scientist estimated that 80% of the population had been infected as of Jan. 21.
While vaccines remain the best protection against severe illness and death caused by covid, large swathes of the most vulnerable populations in China have yet to receive their three shots. For them, effective antivirals could offer another line of defense.
"I think the biggest benefit is the accessibility of antiviral drugs," Minhua Chu, vice president of intelligence research at the Chinese biotech news site PharmaDJ, said of the new drug approvals. "More people can get the drug and save their lives."

How the US and China compete in drug innovation
The development of VV116 offers an example of how the US-China technological competition plays out at the level of an individual product. It's also a reminder that the spoils of tech don't necessarily accrue to the original inventor; instead, they can be reaped by others who scale and commercialize that technology. This has played out in products like silicon solar cells and lithium-iron-phosphate batteries—both invented in the US years ago, but whose supply chains are now completely dominated by China.
Early in the pandemic, Gilead chose to push its patented remdesivir as an intravenously administered covid treatment, instead of considering another of its antivirals: GS-441524. Scientists at Junshi Biosciences, a Shanghai-based company, and at the Chinese Academy of Sciences, spotted an opportunity. They modified GS-441524 through a process called deuteration, and filed a patent application for their new drug as early as April 2020. Three years later, they've received the green light to bring VV116 to market.
In a statement to Quartz, Gilead said that it is "fully committed" to helping covid patients and that it's continuing to investigate the use of remdesivir in vulnerable groups, as well as pushing ahead with developing its own covid antiviral pill, dubbed GS-5245.
Eric Xu, one of the scientists who worked on VV116, described to the state-run outlet The Paper (link in Chinese) how researchers first determined the structure of a key coronavirus enzyme, then studied how it enables viral replication. That formed a roadmap for other scientists well-versed in nucleoside analogs, a type of antiviral. They then experimented with dozens of compounds, eventually settling on VV116.  
Thus, amid the upheaval of covid, a relative newcomer piggybacked on the work of an industry giant, acquired a competitive edge, and leapfrogged it. Gilead turned only belatedly to developing its own covid tablet, GS-5245. However, its late-stage Phase 3 trial is still ongoing.
China's homegrown trio of covid pills
The question now is whether China's roster of three homegrown antivirals, in addition to Pfizer's Paxlovid and Merck's molnupiravir, can meaningfully minimize deaths, particularly in the face of potential new waves of infection driven by new variants.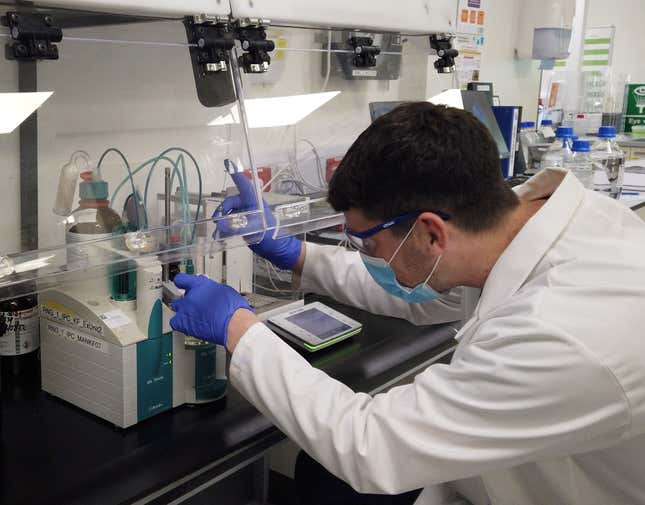 "Of the three approved [homegrown] drugs in China, I believe VV116 appears the most promising, given that it's essentially a GS-441524 clone and there is a bulk of encouraging preclinical data on [GS-441524]," said Victoria Yan, a US-based pharma chemist who has, since 2020, argued that GS-441524 is superior to remdesivir for treating covid.  

Currently, Pfizer's Paxlovid is considered one of the most effective treatments preventing severe covid. VV116 may not be far off: research has shown that VV116 is not inferior to Paxlovid, according to results published in December from Junshi's Phase 3 trial.
But Paxlovid's emergency-use authorization in the US is based on a trial that included only unvaccinated and previously uninfected patients. That leaves unanswered the question of how effective Paxlovid is for people who have been vaccinated and boosted, or have already had covid.

Chu, at PharmaDJ, reckons Simcere's Xiannuoxin is the best of the three homegrown antivirals because it has "the same [mechanism of action] as Paxlovid." Simcere will sell Xiannuoxin at 750 yuan ($111), a fraction of the 2300 yuan that a course of Paxlovid sells for (link in Chinese).
Simcere expects to start selling Xiannuoxin in China in about two weeks, according to China's state-run outlet Securities Daily (link in Chinese). Junshi told the same newspaper that it is ready to start production immediately (link in Chinese) and can ramp up to meet nation-wide demand.