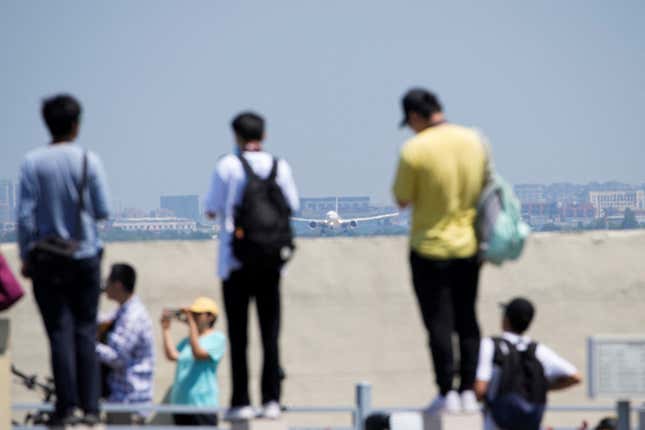 China's first domestically built passenger jet flew its maiden commercial flight on Sunday (May 28), in what state media celebrated as the first step towards breaking the aircraft manufacturing duopoly of Boeing and Airbus.
Why a tightening of credit conditions could lead to a weak economy
Built by the Commercial Aircraft Corporation of China (Comac), the C919 made the two-hour journey from Shanghai to Beijing with around 130 passengers on board. China began developing the airliner in 2007, pouring at least $70 billion-plus in state funds into the program. But the plane has been plagued by delays due to design flaws and problems sourcing parts from US suppliers.
Whether the narrow-body C919 can compete with the single-aisle Boeing 737 and Airbus A320 aircraft will depend on how quickly Comac can ramp up production and convince airlines to buy its jet. According to People's Daily (link in Chinese), which cited a report by Shanghai's science and technology commission, Comac had signed contracts for orders of 1,035 C919 jets with several dozen customers by the end of last year.
For comparison, Airbus has over 13,000 aircraft in operation worldwide as of the end of April. Boeing similarly has over 10,000 commercial airplanes in operation globally.

The foreign technology powering China's C919
Global Times, a state-backed outlet hailed the C919's inaugural commercial flight as "important proof of China's strength in self-innovation in the high-end manufacturing industry."
But is it? In fact, core components and systems critical to the C919's functioning are heavily reliant on foreign technology. The C919's engine, for example, comes from CFM International, a joint venture between GE Aerospace of the US and Safran Aircraft Engines of France.
Meanwhile, the C919's tires are sourced from Michelin, the French tire giant. Tire pressure monitoring systems are supplied by the US-headquartered Crane Aerospace and Electronics.
Various aircraft systems—including in-flight entertainment, integrated communication, navigation, surveillance, and cabin core systems—come from Collins Aerospace, in the US. Honeywell, another American industrial giant, supplies wheels and brakes, as well as flight control electronics, for the C919.
In a way, these concessions are a result of the Boeing-Airbus dominance, the very duopoly the C919 wants to break. "Yes, it is made of many American and European parts because, uh, commercial aircraft is a duopoly," Damien Ma of Macro Polo China, a think tank, wrote on Twitter. "Why is this a surprise that China doesn't and probably will never have a fully indigenized supply chain?"
Still, developing the C919 has also helped develop a domestic ecosystem of suppliers. notes
According to the Shanghai Securities Journal (link in Chinese), the state-owned AVIC Aircraft supplies structural components like wing boxes and flaps; Sichuan Chengfei Integration Technology provides parts and component; and advanced materials manufacturer Western Superconducting Technologies supplies titanium alloys.
"The C919 maiden flight is bringing along with it many industry chain companies," the newspaper noted.