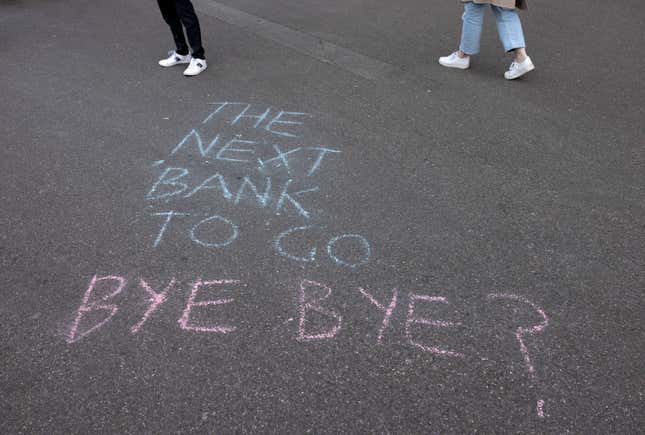 UBS sealed a deal for Credit Suisse for $3.2 billion over the weekend. That's 60% less than what the bank was worth when markets closed on Friday (Mar. 17). With a fallout of that size, it's no surprise that the rescue created many losers—among them, Credit Suisse's largest shareholders.

Middle East-based Saudi National Bank, Qatar Holding, and the Olayan Group owned a combined 20% of Credit Suisse. Saudi National Bank recorded the largest lost, just about four months after becoming the Swiss bank's largest shareholder. Saudi National Bank said it paid 3.82 Swiss francs ($4.12) a share in November, an overall $1.5 billion investment, for a 9.88% stake of the bank. UBS is now paying 0.76 francs ($0.82) a share, meaning Saudi Arabia's largest commercial bank lost about 80% of its investment, or $1.2 billion.
Other major investors include Qatar Holding LLC, which boosted its shareholding to 6.87% in January. Qatar's sovereign wealth fund began investing in Credit Suisse around the time of the 2008 financial crisis. In January 2021 it made strong returns on a multi-billion bet it made on distressed debt and highly rated bonds during the covid-19 pandemic. Qatar Holding has not publicly commented on the impact of UBS's takeover of Credit Suisse, and neither has the Olayan Group, a Liechtenstein-based investment company founded by the late Saudi businessman Suliman Saleh Olayan.
It is unclear if major backers were consulted before the UBS deal, but due to the Swiss Federal Council issuing an emergency ordinance, shareholder approval is not needed to move forward with the takeover, which is expected to be finalized by the end of 2023.

BlackRock, the bank's fourth-largest shareholder, had declared late last week it had no interest in bidding for Credit Suisse. The investment company's CEO Larry Fink warned that more banking troubles may lie ahead on both sides of the Atlantic, and that his company does not see central banks coming to the rescue with rate cuts.
As more financial cracks from rapid rate hikes emerge, BlackRock is utilizing other strategies such as underweight equities, downgrading credit, and preferring short-term government bonds for income.
Shares in Saudi National Bank hit two-year low
Saudi Arabia's stock market has seen mixed results. Stock in Saudi National Bank has been trending down since August 2022.



One more thing: The one who got away
Earlier this month, Harris Associates, once Credit Suisse's largest shareholder, announced it no longer held any stock in the Swiss bank, citing concerns about "the future of the franchise." The Chicago-based activist investor began selling in October, after Credit Suisse raised $4.3 billion in a Saudi-led funding.
Related stories:
🫠 UBS's takeover of Credit Suisse failed to reassure markets
🤔 What the Silicon Valley Bank fallout could mean for the next Fed rate hike
🫥 Silicon Valley Bank helped finance China's innovation economy. What happens next?