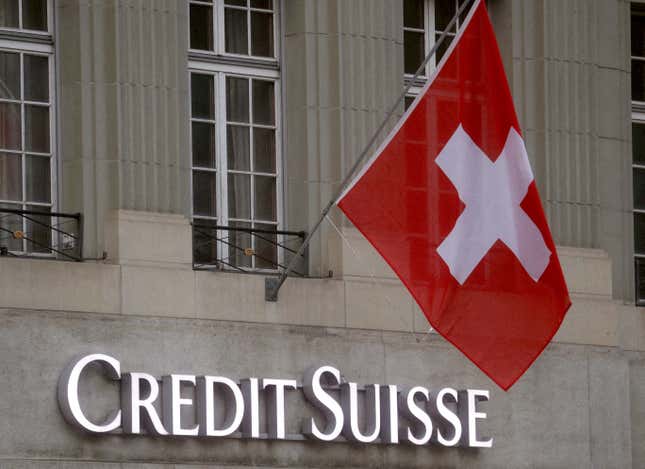 Shares of Credit Suisse fell as much as 30% on Wednesday (March 15) after its largest shareholder ruled out any more investment in the bank. In response, Swiss regulators confirmed they would provide a liquidity backstop if necessary, allowing the bank to slightly pare its market losses.

On Thursday (March 16), Credit Suisse confirmed it would borrow up to 50 billion Swiss francs ($54 billion) from Swiss National Bank. The lifeline from the central bank appeared to reassure investors, and Credit Suisse shares soared more than 30%. 
Credit Suisse's rollercoaster came amid a broader tumble for banking stocks, heightening concerns about the industry after the collapse of Silicon Valley Bank and Signature Bank last week.
Switzerland's second-largest bank, however, is largely considered to have brought its troubles upon itself. Financial losses and countless scandals—including tax evasion, money laundering, and bypassing geopolitical sanctions—have plagued the Switzerland-based bank for years.
The initial drop in share price occurred after the chairman of the Saudi National Bank, Credit Suisse's largest shareholder, said on Bloomberg TV that his bank would "absolutely not" provide any more investment to the Credit Suisse.
The Saudi Bank currently owns 9.9% of Credit Suisse. If it were to reach 10% ownership, it would automatically increase the regulation of its stake in the bank.
Immediately after the drop, Credit Suisse Chairman Axel Lehmann said at a conference in Saudi Arabia that the bank's capital and balance street were strong. He also said the prospect of government assistance "isn't a topic" for the lender.
Credit Suisse is considered a systemically important bank for the world economy, one of 30 global lenders that are supposed to meet a higher standard of regulation than other banks. The Swiss central bank confirmed that Credit Suisse has met those obligations in a written statement released Wednesday.
"Credit Suisse meets the capital and liquidity requirements imposed on systemically important banks," the bank said.
Credit Suisse had $574 billion in assets at the end of 2022, down 37% from $912 billion at the end of 2020. That makes it roughly twice the size of SVB, which had $209 billion in assets at the end of 2022.
Credit Suisse's downward spiral, a timeline
December 2009: Credit Suite is fined $536 billion for bypassing US sanctions against Iran, Libya, Sudan, and other countries.
May 2014: Credit Suisse is fined $2.6 billion for tax evasion by the US Department of Justice.
October 2019: Credit Suisse's chief operating officer, Pierre-Oliver Bouée, is fired after hiring private detectives to follow a senior executive through Zurich. Afterward, one of the hired private security consultants involved in the surveillance apparently commits suicide.
March 2021: Credit Suisse loses $5.5 billion after the collapse of the Archegos Capital Management investment fund. An internal report blames a "fundamental failure of management and controls."
March 2021: Credit Suisse has $10 billion in funds frozen due to the collapse of Greensill Capital. Swiss regulators found that Credit Suisse "seriously breached its supervisory obligations" before the collapse.
October 2021: Credit Suisse pays a series of fines totaling $475 million to American and British authorities to resolve bribery and fraud charges in relation to a Mozambican corruption scandal.
March 2022: Following the invasion of Ukraine, the Financial Times reports that Credit Suisse asked hedge funds and other clients to destroy documents linking Russian oligarchs to yacht loans.
June 2022: Credit Suisse pays a $22 million fine for laundering money tied to cocaine trafficking by a Bulgarian organized crime ring.
March 2023: Credit Suisse admits it found material errors in its financial reporting over the past two years because of ineffective internal accounting controls.
What does this mean for the European Central Bank's interest rate decision?
The European Central Bank (ECB) is expected to announce an aggressive 0.5% interest rate hike on Thursday (March 16). It will be the first rates decision by a major central bank since the collapse of Silicon Valley Bank last weekend.
The collapse of SVB has caused some analysts to revise interest rate forecasts, with Goldman Sachs predicting the US Federal Reserve would hold steady when it announces rates next week. The bank had initially said the Fed would raise rates.
While economists believe the slide in Credit Suisse is not enough to a last-minute revision to raise borrowing costs for the ECB tomorrow, they expect it to increase wariness among regulators for planned future hikes this string.


Related stories:
🗺️ Silicon Valley Bank's collapse is hitting financial hubs around the globe

🏦 The loss of a major shareholder delivers another blow to Credit Suisse
🇨🇭Credit Suisse posted its worst loss in 15 years
This post was updated on March 16 with news of Swiss National Bank's lifeline to Credit Suisse.