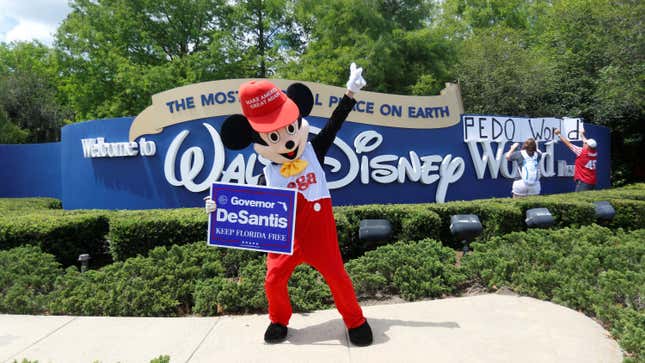 Florida's plan to exert more control over Disney by stripping it of its special tax district is not quite working out as planned.
3 considerations before your company takes a stance
A little over a month ago, on Feb. 27, Florida governor Ron DeSantis signed a legislation that ended Walt Disney World's control over its special tax district. While ending the Mouse House's self-governance, DeSantis sought to rename the area Central Florida Tourism Oversight District and pick out a new board to oversee it. The move followed Disney's opposition to the so-called "Don't Say Gay" law, which curbs classroom discussions on sexual orientation and gender identity in public schools.
But just before the new board took over, the previous Disney-allied board signed a long-lasting development agreement that appears to drastically limit the control that can be exercised over the district. Disney "quietly pushed through the pact and restrictive covenants that would tie the hands of future board members for decades," according to a legal presentation by the district's lawyers on Wednesday (Mar. 29), which was first reported by the Orlando Sentinel.
The agreement includes a royal clause that extends its term limit for years to come. The contract will be valid "21 years after the death of the last survivor of the descendants of King Charles III, King of England, living as of the date of this declaration." The contractual clause, which dates back to 1692 Britain, is most often used in the UK, usually when it comes to trusts. It provides a buffer against perpetuities, essentially letting attorneys establish a window of time that would legally never expire.
What does Disney's development agreement say?
The agreement has equipped Disney with maximum developmental power over the theme park resort's 27,000 acres territory in central Florida. Disney can build projects at the highest density and the right to sell or assign those development rights to other district landowners without the boards' approval.
"It completely circumvents the authority of this board to govern," said Brian Aungst Jr, a Central Florida Tourism Oversight District board member. He added that the board is hopeful Disney will work with the board and correct the agreement in a "very collaborative manner."
Meanwhile, the board is hiring legal counsel to challenge Disney's contract in court.
A brief timeline of Disney taking control in Florida
1967: An arrangement allows Disney to levy taxes, administer its own police and fire departments, and run its water and sewage systems, among other things.
Feb. 8, 2023: The previous Disney-controlled board, the Reedy Creek Improvement District, approves the development agreement. It will leave just the maintenance of the roads and basic infrastructure to DeSantis' new board.
Also Feb. 8, 2023: The Florida House votes to put the governor in charge of Disney's special district.
Feb. 27, 2023: DeSantis replaces Disney-allied board members with five Republicans he handpicked on Feb. 27.
Quotable: Central Florida Tourism Oversight District and Disney lock horns
Taryn Fenske, communications director for the Office of Governor DeSantis: 
"The Executive Office of the Governor is aware of Disney's last-ditch efforts to execute contracts just before ratifying the new law that transfers rights and authorities from the former Reedy Creek Improvement District to Disney. An initial review suggests these agreements may have significant legal infirmities that would render the contracts void as a matter of law."
Disney's company statement:
"All agreements signed between Disney and the district were appropriate and were discussed and approved in open, noticed public forums in compliance with Florida's Government in the Sunshine law."
Person of interest: Victoria Alonso
Among the spate of layoffs at Disney, one has close ties to the Florida fiasco.
The recent ousting of executive and producer Victoria Alonso likely stemmed from her role in producing last year's Argentine Oscar-nominated film Argentina, 1985 along with Amazon Studios, which released the film on Prime Video in October.
But Alonso's lawyers have alleged that the executive was fired for being critical of Disney's handling of Florida's "Don't Say Gay" bill—former CEO Bob Chapek took too long to take a stand.
"Victoria, a gay Latina who had the courage to criticize Disney, was silenced," they said in a statement quoted in the LA Times. Disney says she was ousted over "an indisputable breach of contract and a direct violation of company policy."
Related stories
🎢 Disney lost control of its Florida kingdom for opposing the "Don't Say Gay" bill
📍 How did Disney get its own special district in Florida