Hi Quartz Africa readers! [insertSponsor]
Data won't fall
"Data is as essential as food' shelter and clothing."
This is a quote from South African DJ Thabo "Tbo Touch" Molefe, the former, somewhat unlikely, leader of a campaign to bring down mobile internet data prices in South Africa. Molefe was right when he said this to South Africa's parliament last year. Internet access has become essential to our lives and making it affordable should be a priority for regulators and telecoms companies.
But this wasn't just about winning the argument. It's also about keeping the pressure on regulators even after the telcos cut prices. Organizers of the #DataMustFall campaign have been pushing for a weekly Social Media Blackout day to raise awareness. Unsurprisingly, these types of protests are difficult to coordinate as Lynsey Chutel writes from Johannesburg. But that doesn't mean the message isn't valid.
Relative to an average person's earnings, African countries, particularly the low income ones, still have some of the highest internet access prices in the world. It's particularly high with fixed line broadband, but it's also costly for mobile internet too, especially given the majority of Africans go online with their phones.
It's unlikely prices will come down without pressure. If you speak to a mobile operator in Africa they'll be quick to point out it costs $200,000 to put up a cell tower in Kampala just like it does in Kansas. You can't just wish away the realities of capital investment and running expenses.
As for South Africa, it comes 85th on a global list that compares the average price of 500 MB prepaid mobile data packages with the share of the average gross national income per capita, according to world telecoms body ITU.
But on the continent, South Africa, at just 1.4%, is one of just 13 African countries where mobile broadband prices represent less than 5% of GNI per capita, a threshold ITU believes is reasonable especially for low-income African countries. Several of the other African countries on that short list are also middle income countries like Mauritius, Botswana and Cape Verde. Based on previous trends, ITU expects that as more people come online in lower-income countries prices will start to come down.
So data will fall, it may just not fall quickly enough.
Yinka Adegoke, Quartz Africa editor
Stories from this week
Virtual reality is giving African filmmakers a chance to explore complex narratives. Across the world, virtual reality has gained new currency in the entertainment, gaming, and journalism industries. And for African filmmakers, it's providing a platform to dispel stereotypes and push the traditional fold of African storytelling, reports Abdi Latif Dahir.
Entrepreneurs are taking up Bitcoin in Africa as their countries financial systems falter. Across the world, cryptocurrencies have become a much more common method of payment. But as Lorenzo Fioramonti explains, customers in the unsteady financial markets of developing countries from Nigeria to Zimbabwe are embracing it as an alternative option for performing transactions, managing businesses and saving.
Ivorian scientists are studying what chimpanzees to help beat cancer. Researchers in Côte d'Ivoire are screening plants used by chimpanzees to treat ailments ranging from worm infestations to bacterial infections. And while a cancer drug discovery may be a long way off, the diversity of plant flora in Africa gives scientists an opportunity to widen their study, writes Linda Nordling.
Africa's governments should do more for literature says the Caine Prize winner. The Sudanese novelist Bushra al-Fadil became the first African writer to win the prestigious Caine Prize for his writing in Arabic. The exiled writer tells Farid Y. Farid why African economies need to make an effort to endow arts.
How overcrowded urban centers in Africa can become "smart cities." The idea of smart cities, or the use of big data and technology in urban planning, has become popular all over the world. Reporting from Kigali, Lily Kuo writes that in Africa, where urban populations are growing faster than ever, the idea is gaining traction but it's unclear if it's a realistic executable strategy or an aspiration.
A debate in Ethiopia over who owns Africa's diplomatic capital heats up. Almost a year into a state of emergency that was imposed to quell popular unrest led by by Oromo activists, Ethiopia's ruling party has unveiled a draft bill aimed at addressing some of the protesters' demands. But at stake in the proposed changes finds Tom Gardner is the highly charged question: who really owns Addis Ababa?
CHART OF THE WEEK
Africa will be home to more than half of the world's population growth. The world is set to experience rapid population growth over the next three decades, with an additional 2.2 billion by 2050. United Nations predicts the African continent will account for the highest population spurt than anywhere else.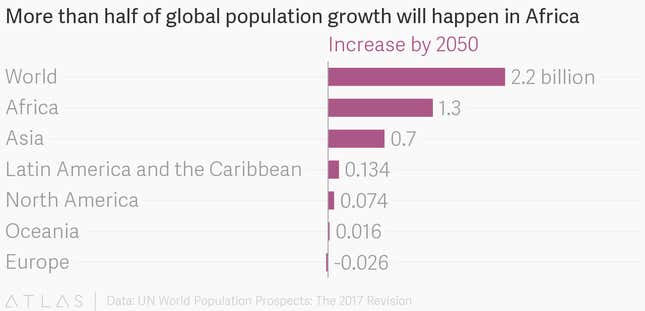 Other Things We Liked
The epic untold story of Nike's (almost) perfect marathon. Kenya's Eliud Kipchoge, Zersenay Tadese of Eritrea, and Lelisa Desisa of Ethiopia were all trained by Nike to become the perfect athletes to run the perfect marathon on the perfect time. Ed Caesar of Wired magazine dives into how the runners trained to mark this giant leap in human performance.
The new frontier for diamond mining: the ocean. As open-pit diamond mines get exhausted, mining sites across southern Africa are turning into ghost towns and threatening economic growth. But the dredging up of diamonds underwater is offering hope, and has sent companies scurrying for the precious stone buried under the Atlantic, writes Kevin Sieff in the Washington Post.
Lagos' recent land grabs have roots in its slave trade history. Earlier this year, armed forces evicted residents of the Otodo Gbame, a waterfront slum on the Lagos lagoon. As Nnamdi Ehirim writes in The Republic, the value of land in the city is traced back to the late 18th-century slave trade era, when land grabs were a major source of wealth creation in the city.
Keep an eye on
Quartz's Atlas for Africa training (July 10 & 15). As part of our ongoing training to bring Quartz's chart-building platform to newsrooms and organizations across Africa, we will be conducting training in Mombasa and Johannesburg this week. On July 11, we will also hold a video conference training. If you want to be part of that session, please email us at atlasforafrica@qz.com.
WTO's Aid for Trade Global Review (July 11-13). The Aid for Trade conference will take place at the World Trade Organization headquarters in Geneva. The Global Review is dedicated to providing an opportunity for stakeholders to look at how trade can allow developing countries to achieve the 2030 Agenda for Sustainable Development.
Our best wishes for a productive and thought-filled week ahead. Please send any news, comments, suggestions, Nollywood VR movies and African bitcoins to africa@qz.com. You can follow us on Twitter at @qzafrica for updates throughout the day.
If you received this email from a friend or colleague you can sign up here to receive the Quartz Africa Weekly Brief in your inbox every week.