Dear Quartz Africa readers,

With streaming services engaged in a global race for eyeballs, market leaders such as Netflix, Disney Plus, and Amazon Prime Video have to look beyond the borders of their home markets.

With rapidly increasing internet connectivity in Africa, a youthful population, and a growing middle-class, Africa offers a growth opportunity for streaming services. Video-on-demand subscriptions in Africa are projected to hit 13.7 million in 2027 up from 4.89 million at the end of 2021 with revenues tripling from $623 million in 2021 to $2 billion in 2027.

Global market leaders however need to prepare for local competition, from platforms such as MultiChoice-owned Showmax, which had over 861,000 subscribers at the end of 2021 in over 40 African countries, and several more in the diaspora including the UK, France, and Australia. This is in addition to legacy TV players that are also offering mobile subscription products.

"Showmax's audience prefers local content, with seven of the 10 most streamed titles in South Africa, eight of the top 10 titles in Kenya and Nigeria, and nine of the top 10 in Ghana last year being African. This has been a key driver of Showmax's growth," the streaming service's CEO Yolisa Phahle tells Quartz.

Getting a lion's share of the African streaming market has required Netflix to invest more in local content as well as user experience, since the continent is a mobile-first market. "Content is key, but having an app built with Africa in mind also helps," Showmax's Phahle says. "Showmax was the first streaming service in Africa to make mobile downloads possible for offline viewing and to launch a mobile-only plan, and currently offers the lowest data streaming option on the continent."

While Netflix's global spending on content declined 5% in 2022, the streaming service is investing more than ever on African original content. In 2021, Netflix, rolled out its first-ever free plan in Kenya in a bid to get more people to interact with the service, designing it to encourage users to upgrade to the paid tiers. For customers and Africa's creatives, this battle for African viewers has lots to offer.

—Martin Siele, Quartz contributor

---
Stories this week
Africa's share of global gas supply will almost double by 2050. This will make the continent responsible for the world's second largest growth in gas supply by volume, after the Middle East, Bonface Orucho writes.

Africa's internet is getting faster. In 2022, seven African countries moved up by more than five positions in the Speedtest Global Index of median mobile internet download speeds by Ookla, Conrad Onyango reports.

Cassava pasta could become a thing in DRC. Zita Amwanga looks at how University of Kisangani students are making pasta from homegrown cassava after the war in Ukraine disrupted wheat exports leading to shortages and hiked prices.

Netflix released a new show on African Queens. Priya Sippy takes a closer look at a docuseries produced and narrated by Jada Pinkett Smith, which has so far been picked up for two seasons covering the stories of Queen Njinga of present day Angola and Cleopatra.

---
Dealmaker
Terraa, a Moroccan B2B tech-enabled food distribution platform which sources fresh food directly from farmers and delivers it to resellers, raised $1.5 million in pre-seed funding in a round led by FoodLabs, a European early-stage VC investor. Other participants in the round were UM6P Ventures, Outlierz Ventures, Musha Ventures, and Africa-centric DFS Lab.
Qotto, a Burkina Faso and Benin-based provider of solar kits, has secured $8 million in a Series A equity-debt transaction sponsored by the IBL Group, a billion-dollar Mauritius-based conglomerate. Other participants in the round are The Off-Grid Energy Access Fund (FEI-OGEF), Cordaid, and Qotto's existing investors.

---
Quartz gems
US inflation is still too hot


Inflation in the US is much like a batch of cookies fresh from the oven: cooling, but still too hot to enjoy.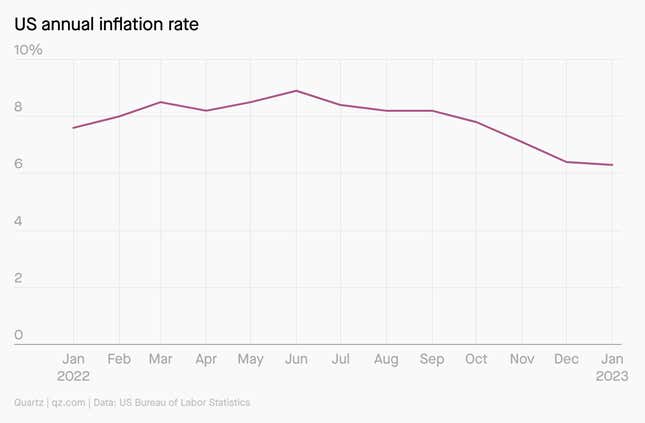 The US Federal Reserve said consumer prices rose 0.5% from December to January, faster than the agency is comfortable with. But if you hear whispers that wages are to blame for persistent inflation, think again.
---
Other things we are reading
Nigeria's cash chaos could impact elections. With Nigeria's elections just a week away, Foreign Policy Africa Brief's Nosmot Gbadamosi looks at how a cash and fuel crisis could hamper election logistics in Africa's most populous country.

Traditional medicine's role in addressing mental health issues. In this Aeon essay, Priya Basil returns to the coastal town of Malindi in the country of her birth, Kenya, and explores the balance between western medicine, traditional medicine, and culture, in the context of mental health.

Fixing pharma in Gabon. Ghanaian healthtech startup MPharma got a once in a lifetime opportunity to fix the pharmaceutical industry in Gabon.This business case by Financial Times' Andrew Jack and Prashant Yadav details what happened and what role covid played.

Shining a light on Congo-Brazzaville's other stylish residents. While much has been written about the eye-catching elegance, fashion, and exuberance of the male sapeurs of the central African country, National Geographic's Johnny Langenheim tells the story of their female counterparts, illustrated by Nigerian photojournalist Yagazie Emezi.

Ethiopian and Indian cuisine have something in common. The Jaggernaut's Mehr Singh describes how the two beloved, flavorsome, and spice-rich food cultures share a common heritage crafted over 2,000 years of trade.

Must-read African books for 2023. African Arguments' Samira Sawlani lists some of the upcoming novels by writers from Africa and the diaspora to look out for this year.
---
🎵 This brief was produced while listening to "Ngwa" by Blick Bassy (Cameroon)
---
This week's brief took you to 🇳🇬, 🇬🇭, 🇨🇬, 🇨🇩, 🇦🇴, 🇲🇦, 🇧🇫, 🇧🇯, 🇨🇲, 🇪🇹, 🇰🇪, 🇬🇦, and 🇪🇬
---
Our best wishes for a productive and ideas-filled week ahead. Please send any news, comments, suggestions, ideas, novel pasta, and African shows to africa@qz.com. You can follow us on Twitter at @qzafrica for updates throughout the day.
If you received this email from a friend or colleague, you can sign up here to receive the Quartz Africa Weekly Brief in your inbox every week. You can also follow Quartz Africa on Facebook.