Hi, Quartz Africa readers!
Day of reckoning
Amid the Covid-19 pandemic, with global economies grinding to a halt, demand for oil has plunged. As production is ongoing, the result is an oversupply and a sharp dip in oil prices. For Nigeria, Africa's largest oil producer, it's a major blow given the government's reliance on oil for up to 95% of its revenues.
Even worse, the uncertainty around the pandemic—with vaccines still only in development and not being close to mass deployment—means oil prices are unlikely to rebound soon. As such, Nigeria faces an immediate future in which it is shorn of revenues and on the brink of what the International Monetary Fund predicts will be its worst recession in 30 years.
"The economic impact is likely to be quite severe," World Bank country director for Nigeria, Shubham Chaudhuri told us for this in-depth analysis of Nigeria's challenge without the steady comfort of oil revenue.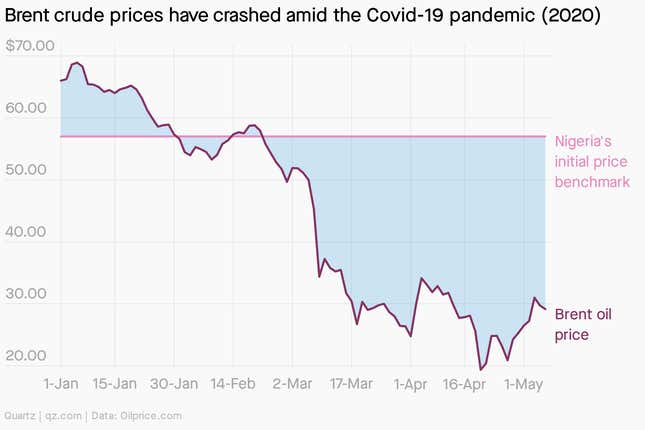 But current circumstances will require the government to invest and focus more on supporting other sectors, including agriculture and manufacturing, as well as plugging key infrastructural gaps that have handicapped economic growth. The scale of that painstaking task at hand, amid the Covid-19 pandemic, is significant yet it's one Nigeria cannot to afford to delay much longer. "It's always a slow painful process when dealing with very big issues. But if you don't deal with them, they will remain big issues," says Wale Okunrinboye, a Lagos-based economist.
It's yet unclear if the government's efforts to envision a future without oil will prove productive. Private sector insiders are calling for a range of measures, from increased liberalization of forex to a change in the government's protectionist policies which appear to have done more harm than good. Given president Buhari's known preference for stubbornly slow decision-making, it's also unclear if any of those measures will be implemented soon.
What is clear however is Nigeria must do things differently going forward. As Debisi Araba, managing director of African Green Revolution Forum says: "How do we keep dancing when the music has stopped? Even if the music hasn't totally stopped, the song has definitely changed and we need to move lock step with it."
— Yomi Kazeem, Quartz Lagos correspondent
*Read the full analysis piece today (Sunday, May 17) for free.
**Pro-Tip: Sign up with the "QuartzAfrica" code for a special 50% discount for membership access to all of Quartz's in-depth pieces, data, training and virtual conferences on the new global economy as well as upcoming exclusive Africa analysis.
Five stories from this week
The African who taught America how to vaccinate itself against smallpox. In18th century Boston, an enslaved African named Onesimus showed Cotton Mather an age-old process his people had used to inoculate themselves against smallpox. Carey Baraka tells the story of how Mather then became an advocate for vaccination against the received wisdom of doctors and scientists of the time.
African scientists sense a once-in-a-life opportunity to push for research funding. Scientists in Africa, who have long complained of poor funding, now see an opportunity to push governments and the private sector to prioritize R&D in the wake of the Covid-19 pandemic, writes Uwagbale Edward-Ekpu.
East Africa has made some gains against an imminent locust plague—but they're still coming. Djibouti, Ethiopia, Eritrea, Kenya, Somalia, South Sudan, Sudan, Tanzania, Uganda are all at risk from unprecedented swarms of desert locusts—the most destructive migratory pest in the world.  Despite successes recorded in saving some farmlands, food security is still at major risk especially with the ongoing Covid-19 pandemic concerns and heavy floods in the region, reports Samuel Getachew from Addis Ababa.
The economic resilience of African countries offers a template for growth in a post-Covid-19 era. African economies were largely able to avoid the worst of the negative effects of the global financial crisis in 2008. Amid the coronavirus pandemic, Brookings fellow and Stanford professor Landry Signé argues the continent's economies can draw on past experiences to face the economic challenges of Covid-19.
Lesotho's embattled prime minster wants to stay in power to avoid being charged for his wife's murder. Lesotho's prime minister Thomas Thabane, 81, is a wily politician alleged to have conspired with his current wife on the murder of his former wife but hopes if he can stay in office he'll be afforded immunity from any charges. Norma Young explains how this all happened as Lesotho became the last African country to have its first coronavirus case.
Dealmaker
•Egyptian trade platform Brimore raised $3.5 million in a pre-Series A funding round led by Algebra Ventures, with participation from 500 Startups, Disruptech, Vision Tech, and Flat6labs.
•South African grocery delivery startup Zulzi raised $1.6 million from an unnamed local investor. Launched in 2016, the startup now operates in Johannesburg, Pretoria, Durban and Cape Town.
Chart of the Week
Jumia is selling more groceries and digital services—but revenue fell in the first quarter. The largest e-commerce player across Africa saw its losses narrow slightly even as revenue dropped by 7% in the first quarter of 2020, as the impact of the coronavirus pandemic varied by product category and country.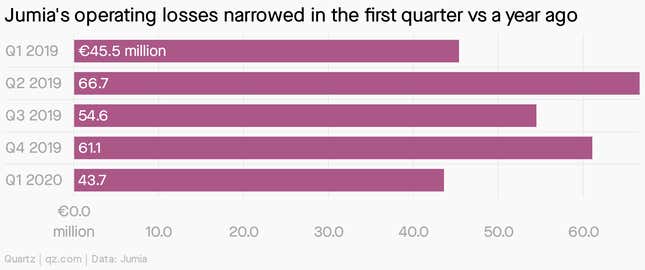 Quartz Membership
The future of professional events in the post-coronavirus economy will require a lot more than simply pivoting from in-real-life to virtual venues. The new meeting playbook will be created by the risk takers, the relationship-savvy, and those that embrace technology,
Other things we liked
Africa is not waiting to be saved from the coronavirus. "What will the archives say that Africans did during the Covid-19 pandemic? Will the archives tell the story of foreigners coming into help people who were already helping themselves?", asks Nanjala Nyabola in The Nation. The essay looks at a long history of international media reporting a fixed narrative on Africa and why telling a rounded story is more essential than ever during this crisis.
Putting Nigeria's informal settlements on the map. Nigeria's waterfront slum communities face the constant risk of being ousted from their homes, particularly in Lagos where history is replete with notable, fatal evictions. But, as Oluwatosin Adeshokan writes for Devex, mapping out these settlements digitally may help show the scale of human activity and depth of these communities as well as play a role in legitimizing them.
The forgotten African hero of Britain's colonial army. In the largest movement of African men overseas since the slave trade, around 600,000 Africans were mobilized to fight for Britain during the second world war. One of them, a 95-year old Zambian who passed away last week will be remembered for spending his latter years actively campaigning to improve the welfare of African veterans of the British army, Jack Losh writes in The Guardian.
ICYMI
Steve Sawyer Memorial Award. A €4,000 prize in recognition of young pioneers of renewable energy in developing countries. (June 7)
Working Group in African Political Economy research grants. The group is seeking to support junior African researchers with grants for research projects in economics and political science that can be executed rapidly. (June 10)
University of Salford Africa Scholarships. The university is offering scholarships to high-achieving students from Nigeria, Ghana, Cameroon, Kenya, Uganda and Tanzania, based on academic merit. (Ongoing)
*This brief was produced while listening to Mannenberg by Abdullah Ibrahim (South Africa).
Our best wishes for a productive and ideas-filled year ahead. Please send any news, comments, suggestions, ideas, African research funding tips and locust repellant to africa@qz.com. You can follow us on Twitter at @qzafrica for updates throughout the day.
If you received this email from a friend or colleague, you can sign up here to receive the Quartz Africa Weekly Brief in your inbox every week. You can also follow Quartz Africa on Facebook.