Hi, Quartz Africa readers!
Regionally integrated
Over the last few weeks, rumors—and then a few stories—have emerged that the long-expected implementation of the Africa Continental Free Trade Area (AfCFTA) agreement due on July 1 would be delayed for up to a year while the continent deals with an unprecedented economic crisis in the wake of the Covid-19 pandemic.
While the African Union and other bodies haven't formally confirmed any intention to pause their plans, it hasn't seemed totally unrealistic this would be under consideration during such unprecedented times.
AfCFTA, which was ratified by enough African countries last year, created the world's largest free trade zone with a combined GDP of $3.3 billion. Just by dropping trade barriers between African countries would boost trade on the continent by over 50%. This is particularly vital given Africa has the world's lowest intra-continental trade—AfCFTA could double it.
So, maybe delaying its implementation would be a wise move given the current economic upheaval? No, exactly the opposite, says everyone with whom we've spoken.
"The Continental Free Trade Agreement can be one of the most important tools of our economic recovery," says Paulo Gomes, a former World Bank executive director and chair of the executive committee of AfroChampions, an African Union-mandated network to coordinate private sector discussions around AfCFTA. "If I'm an African finance minister I don't have quantitative easing and the money printing money tools of the wealthier economies—trade can be our stimulus."
For Gomes and others this isn't simply about intra-African trade for the sake of it but better, intentionally structured regional integration as a way to enhance national and sub-regional economies.
"The private sector is the biggest beneficiary of AfCFTA and with supply chains being disrupted globally, it is even more urgent that we have a functioning system within the continent to create continental supply chains," AfroChampions wrote in a letter to African ministers to discourage delaying implementation.
The second Africa Regional Integration Index (2019) published last week reveals the continent's low integration average score of just 0.327 out of 1. The index measures regional integration through the lens of productive, infrastructure, trade, free movement of people and macroeconomic integration. Africa is particularly "poorly integrated on the productive and infrastructural dimensions."
By these metrics, South Africa is Africa's most regionally integrated country because it outperforms on productive and infrastructure integration. But it underperforms on the free movement of people. Its index score of just 0.625, is way ahead of the second best country Kenya (0.444) and third Rwanda (0.434).
An AfCFTA delay still seems possible if only for practical logistical reasons, but ministers are still talking and the hope is for a compromise to be agreed to enable a multi-part implementation to start this year.
— Yinka Adegoke, Quartz Africa editor
Five stories from this week
How ancient African societies used social distancing to manage pandemics. As the world faces the coronavirus pandemic, history shows African communities have long had several methods of dealing deadly disease outbreaks going back to the 11th century. Archaeological evidence establishes that ancient African communities, from Zimbabwe to Ghana, adopted various strategies, which included burning settlements before reoccupying them or shifting homesteads entirely.
African e-commerce is getting a much needed boost from coronavirus lockdowns. E-commerce ventures operating in African cities have long faced resistance from potential customers simply not used to or trusting of internet services. But, as Yomi Kazeem explains, amid Covid-19 lockdowns and restrictions, consumers in many pockets of the continent are exploring e-commerce out of necessity and safety.
Thousands of Ethiopian domestic workers are stranded in Lebanon by the coronavirus crisis. Economic turmoil in Lebanon has forced thousands of Ethiopian women out of work. But, in steadily worsening circumstances, these women cannot yet find a way home amid commercial travel restrictions and the Ethiopian government's default on promises to repatriate them, reports Zecharias Zelalem.
One of the world's largest telecom monopolies is coming to an end. After years of total dominance, Ethiopia's state telecoms operator is about to face some competition. With some of the continent's biggest telco players preparing bids, Africa's second most populous country is edging closer to liberalizing its phone networks. Samuel Getachew reports from Addis Ababa on some of the likely international contenders.
Chinese workers face a backlash across Africa over the Guangzhou racism incidents. The reverberations of the diplomatic race scandal sparked by the treatment of Africans residents in China last month are still being felt. As Kwasi Gyamfi Asiedu learns, Chinese migrant workers and businesses are increasingly coming under law enforcement in different countries with a particular spotlight on Nigeria, where politicians have got involved.
Dealmaker
An agro-processing venture trying to fix Nigeria's tomato waste problem has raised over $4 million. Despite being Africa's second largest producer, Nigeria relies on importing around half of tomatoes consumed locally because nearly half of it annual tomato harvest goes to waste. Tomato Jos, an agro-processing venture looking to fix that problem has raised $4.2 million in a Series A round led by Goodwell Investments through Alitheia Capital, its West African partner, with participation from Acumen Capital Partners and VestedWorld.
•Pan-African private equity firm Development Partners International invested $56 million in Tunisian tomato processing and agro-business venture, Société Industrielle des Conserves Alimentaires. It's the second investment from DPI's third fund.
•Sheer Music Publishing, the South African music publisher of artists including Cassper Nyovest (South Africa), Sauti Sol (Kenya) and Stonebwoy (Ghana), has been acquired by Downtown Music, a leading New York-based independent music publisher. Industry insiders estimate the deal to be around $5 million.
Chart of the Week
Africa passed 100,000 Covid-19 cases. On May 22, the number of confirmed Covid-19 cases topped 104,279, according to the Africa Centres for Disease Control. The continent has had 3,185 deaths but also seen 41,717 recoveries. While there are still concerns about hotspots across Africa in general the rate of transmission has still not turned exponential as it has in other regions of the world. But there are still warnings from public health experts for authorities not to let their guards down.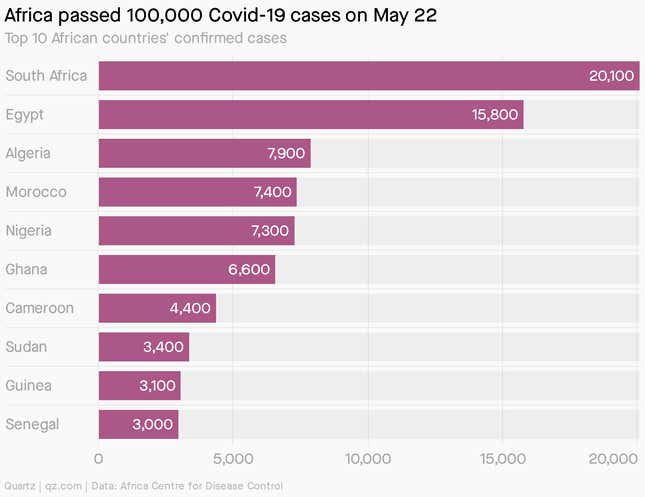 Quartz Membership
The global machine keeping hand sanitizer available during Covid-19. With a Covid-19 vaccine still months away at the earliest, demand for hand sanitizer is expected to remain high. Businesses are trouble-shooting processes and mapping out ways to deal with a global surge in demand alongside widespread supply and transport disruptions.
Other things we liked
The United States' questionable yearning for a central role in counter-terrorism efforts in the Sahel. The US is lobbying for an American national to lead the United Nations' counter-terrorism missions in Mali. But as Robbie Gramer and Colum Lynch explain in Foreign Policy, the move is yielding fears of America's intentions to wind down a mission of which it has long been skeptical.
The high-level squabbles at South Africa's Covid-19 committee. As South Africa deals with the implications of the Covid-19 pandemic, in-fighting within its medical and science community may yet jeopardize progress. Writing for the Bhekisisa Centre for Health Journalism, Mia Malan explains how tensions, which are already playing out, are reminiscent of the politics around the discovery of HIV.
The grossly under-reported successes of Africa's Covid-19 response. Despite infections in every country on the continent, Africa's infection and death rates remain lower than in Western countries and most projections. As Howard French points out in World Politics Review, the continued understatement of the successes governments on the continent have had in dealing with the coronavirus pandemic is in line with decades of ignoring Africa's best moments while reporting its worst.
ICYMI
Africa Data Science Intensive Program. Fully sponsored scholarships are available for the two-week training course on data science and skills. (May 31)
Microsoft Covid-19 grants. The software giant's AI for Health program is accepting grant proposals aimed at tackling Covid-19 . (June 15)
*This brief was produced while listening to Yeke Yeke by Mory Kanté (Guinea). Rest in peace.
Our best wishes for a productive and ideas-filled year ahead. Please send any news, comments, suggestions, ideas, Ethiopian phone licenses and African  e-tailers' vouchers to africa@qz.com. You can follow us on Twitter at @qzafrica for updates throughout the day.
If you received this email from a friend or colleague, you can sign up here to receive the Quartz Africa Weekly Brief in your inbox every week. You can also follow Quartz Africa on Facebook.