Hi, Quartz Africa readers!
Teacher!
One of Nigerian Afrobeat legend Fela Anikulapo Kuti's later albums was Teacher Don't Teach Me Nonsense (1986). It's his lampooning of African governments in the 1970s and 80s' for their tenuous relationship with democracy and the complicity of Western powers (the "Teacher"). But this isn't an essay about flawed democracies (👀 next section for that).
I was reminded of Teacher while reading a new white paper on the future of African startup funding. A long-running tension in the African startup investment ecosystem has been whether the Silicon Valley funding model, which seems to have been transferred wholesale to Africa's very diverse and different tech hubs, is right for our local ecosystems at this stage in their development.
Chasing Outliers: Why Context Matters for Early Stage Investing in Africa by East African venture advisory firm, Kinyungu Ventures examines those tensions and tries to explain how what it terms "African market realities" and "startup characteristics" should set the ground rules that influence how Africa-focused startups and funds should behave.
It's important to note that one of the reasons for a report with this focus is the disproportionate influence of Silicon Valley on Africa's top tech hubs in Lagos, Nairobi and, to a slightly lesser extent, Cape Town. Local tech investors are only really beginning to take root in African markets, and even where they are involved many have adopted the expectations of their better funded American counterparts.
This leads to "mismatches" say the authors. African market characteristics of price sensitivity and low purchasing power clash with an expectation of Silicon Valley-style high growth and super returns while startups have much fewer options for capital to drive that growth.
This is why many African startup founders (one could surmise, founders of startups that survive) have focused on "trying to solve large, foundational problems that could improve the lives of countless people"; building infrastructure such as supply chains and fintech platforms; pursuing (arguably, creating) mass markets across Africa; and leveraging local knowledge.
But the authors, who spent a year interviewing over 100 founders and investors, say despite some of these mismatches and concerns on whether to invest in African markets, "a more measured perspective is that significant, profitable opportunities exist despite, and arguably because, of the challenges.
These will be found by engaging "large, unexploited markets"; discovering huge opportunities through experimentation and stellar execution; and leveraging mobile infrastructure and nuanced local knowledge to digitize and organize analog markets.
— Yinka Adegoke, Quartz Africa editor
Uganda's election
All eyes were on Uganda's election this past week which started with Facebook taking down hundreds of mostly pro-government accounts for what it deemed "coordinated inauthentic behavior". By the next day (Jan. 12) the telecoms regulator had blocked all major social media platforms. Perhaps that was because social media had given democracy a voice in Uganda. In the end, president Yoweri Museveni had seen enough and cut off all internet on the evening of Jan. 13 just hours before the polls opened on Jan.14.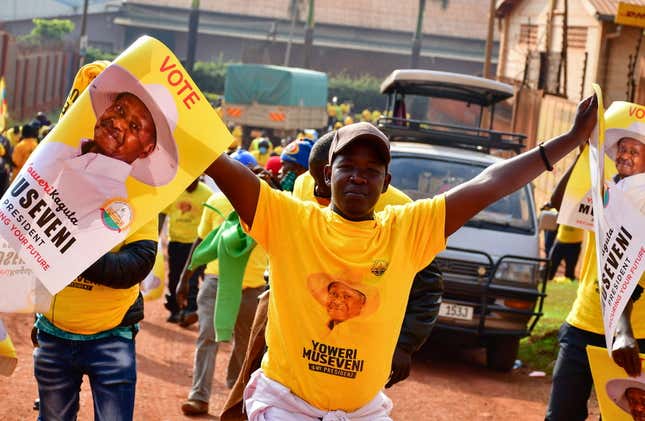 Museveni was declared winner on Saturday (Jan. 16) over his closest rival, the popular musician turned lawmaker, Robert Kyagulanyi a.k.a as Bobi Wine, who is under house arrest. If he completes his sixth term Museveni would have been in power for 40 years. Uganda's internet was still off as we went to press and expected to return on Monday (Jan. 18).
Stories this week
South Africa's variant problem. South Africa has had Africa's highest Covid-19 caseloads but the hope was the country's relatively strong health system and medical research centers would buffer it against the worst impact. That was until the South African Covid variant 501Y.V2 started to overwhelm the system, writes Uwagbale Edward-Ekpu.
African elections to watch in 2021. This is another big year for democracy on the continent and Stephen Kafeero looks at 13 key elections coming up.
WhatsApp's African users still love it, for now. When WhatsApp's new privacy policy this month seemed to suggest its owner Facebook would have more access to WhatsApp users' data people around the world kicked up a fuss and started downloading rival apps. But Tolu Olasoji learns African users are not as keen to switch—yet.
Fintech and solar light up African startups. Last year was expected to see a sharp downturn in funding for African startups but the tech seemed to hold its own and crossed the $1 billion-mark in 2020 again led by fintech and solar startups, writes Abubakar Idris.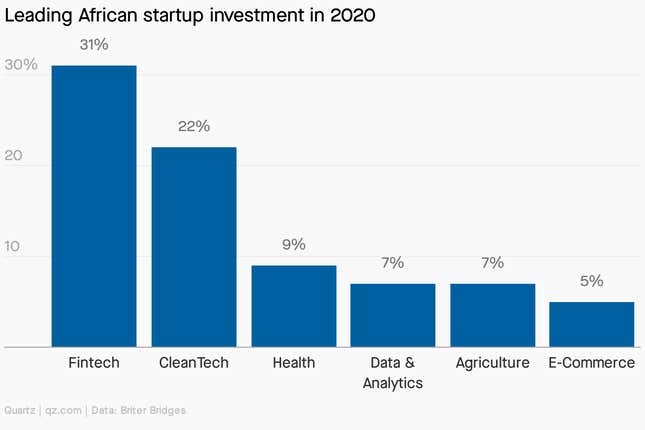 Scientist findings in Tanzania show how humans used ancient tools. Scientists found the earliest evidence for human activity in Tanzania's Olduvai Gorge from about 2 million years ago. It also showed early humans used a great diversity of habitats as they adjusted to constant change.
Dealmaker
Gro Intelligence, the Nairobi-based agriculture and climate data startup founded by 2015 Quartz Africa Innovator Sara Menker, has raised $85 million in a Series B funding round.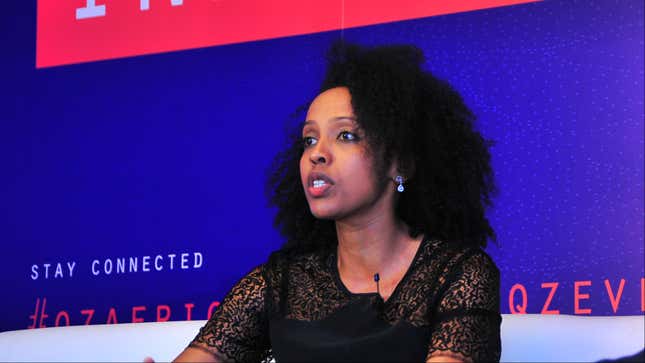 The round was co-led by Intel Capital, Africa Internet Ventures (a partnership between TPG Growth and Lagos-based EchoVC) and the family offices of Ronald Lauder and Eric Zinterhofer. Other participants included previous backers DCVC and GGV Capital and new investors including Rethink Food.
Daystar Power, the Nigeria-based provider of hybrid solar power solutions to businesses in West Africa, has raised $38 million in Series B funding. The round was led by the Investment Fund for Developing Countries (IFU), the Danish development finance institution. IFU was joined by new investors STOA, a French impact infrastructure fund, Proparco, the French DFI, and Morgan Stanley Investment Management. Previous investors included Verod Capital and Persistent Energy. Daystar Power has received equity investments totaling $48 million.
OZÉ, a Ghana-based fintech startup focused on small businesses, raised $700,000 in seed funding from venture funds including Anorak Ventures and Matuca Sarl, and angel groups including Nigeria's Rising Tide Africa joining existing investors Ingressive Capital and MEST.
Cassbana, a fintech startup based in Egypt, has secured $1 million in a pre-seed funding round led by Disruptech Ventures. The capital will be used to build financial identities for users, especially those who don't use conventional banking services.
Other things we liked
How Ghana's El Anatsui broke the seal on contemporary art. El Anatsui, 76, is the Ghanaian sculptor based in Nigeria, who "has transfigured many grand spaces with his cascading metal mosaics," writes Julian Lucas for New Yorker.  His work can be found at London's Royal Academy, Venice's Museo Fortuny, and Marrakech's El Badi Palace and they sell for millions of dollars. Now he is redefining Africa's place in the global art scene.
Did the world misunderstand the Chibok girls kidnapping? For BBC, Adaobi Tricia Nwaubani looks back at the infamous 2014 kidnapping which truly brought Islamist terrorist group Boko Haram to the world's attention. Looking back, there seemed plenty of evidence that night was simply a school robbery gone awry. There was also little evidence Boko Haram had any agenda against female education in particular but the global media believed a different story.
"Colonialism had never really ended": my life in the shadow of Cecil Rhodes. "Ignorance of history serves many ends. Sometimes it papers over the crimes of the present by attributing too much power to the past," writes Simukai Chigudu in The Guardian. After growing up in a Zimbabwe convulsed by the legacy of colonialism, he found out when he got to Oxford University how many British people still failed to see how their empire had shaped lives like his—as well as their own.
Archive
How a trip to newly independent Ghana inspired an iconic Martin Luther King Jr. sermon. "Before I knew it, I started weeping. I was crying for joy," – Martin Luther King Jr. of being at Ghana's independence in 1957.
Happy Martin Luther King Jr. Day to our US readers on Monday Jan. 18!
*This brief was produced while listening to African Woman (remix) by Roberto feat. Suldaan Seeraar & General Ozzy (Zambia/Somalia)
Our best wishes for a productive and ideas-filled week ahead. Please send any news, comments, suggestions, and ideas to africa@qz.com. You can follow us on Twitter at @qzafrica for updates throughout the day.
If you received this email from a friend or colleague, you can sign up here to receive the Quartz Africa Weekly Brief in your inbox every week. You can also follow Quartz Africa on Facebook.