Hi Quartz Africa readers!
On Monday, the World Trade Organization appointed its first African and first female director-general, Ngozi Okonjo-Iweala. The Nigerian-American has a stellar financial pedigree, having worked as Nigeria's finance minister, and at the World Bank for decades.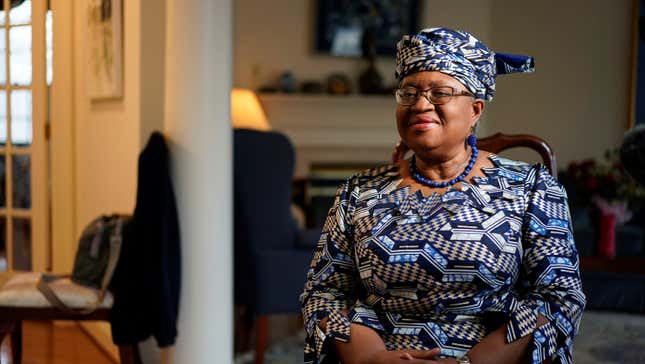 And last week, economist and deputy governor of Rwanda's Central Bank, Monique Nsanzabaganwa, was elected as the African Union's first female deputy chairperson. Effectively the commission's chief operating officer, Nsanzabaganwa will be tasked with overseeing desperately needed reform.
It's remarkable and inspiring to see African women reach such heights—a sign of the many strides the continent has made in gender parity. Africa has a remarkably high number of female entrepreneurs, and the highest representation of women at the board level than any other region in the world—25%, against the global average of 17%, McKinsey's 2019 report on gender in equality for African women noted.
At the same time, the report notes how uneven advances have been, with many success stories limited to "women at the top of the pyramid." Often women who start businesses do so out of necessity, not necessarily because they see it as an opportunity for economic empowerment. They face challenges at almost every rung of the business ladder, from getting access to basic finance and the internet, to being promoted to middle management or scoring venture capital funding.
This amounts to a lost opportunity at a time when the continent can't afford it. "Advancing women's equality can deliver a significant growth dividend," McKinsey notes. "In a realistic 'best-in-region' scenario in which the progress of each country in Africa matches the country in the region that has shown most progress toward gender parity, the continent could add $316 billion or 10% to GDP in the period to 2025."
Shifting more decision making in business, finance, and global health to women might help the region recover more quickly from the pandemic, and may make appointments like Okonjo-Iweala's and Nsanzabaganwa's the norm, rather than anomalies. And as Okonjo-Iweala has said, "every woman who steps forward makes more space for the women who come next." —Jackie Bischof
Five stories from Quartz Africa
Africa has a leg up in the distribution of Covid-19 vaccines. Africa faces major issues in the rollout of Covid-19 vaccines. But as Uwagbale Edward-Ekpu writes, maybe the world can learn a few lessons from agile scientists who dealt with 120 infectious disease outbreaks last year, and whose vaccinators have crossed streams, ridden camels, and dropped in from helicopters in conflict zones to vaccinate far-flung communities.
Côte d'Ivoire starts regulating social media-run businesses. Ivorians are flocking to social media to sell everything from makeup kits to baby clothes, and the government's not happy. Kingsley Kobo delves into new regulations cracking down on the sector, which is emblematic of the wider issue of how governments can profit from or control the rapid growth of social e-commerce without stunting the sector.
Covid-skeptical Tanzania is experiencing a spike in pneumonia. Tanzanians have been posting on social media about a sudden rise in pneumonia cases in the country. This would be unusual in normal times, but as Pirya Sippy writes, it comes after the country has done a complete U-turn on its approach to the coronavirus pandemic.
The cost of phones is keeping millions of Africans offline. Despite experiencing substantial growth in internet users Zimbabwe suffers from underutilized mobile internet capacity and low smartphone penetration. Tawanda Karombo analyzes the latest annual report of Econet Wireless, the country's main telecom provider, for clues on what's holding the region back.
A milestone for South Africa in its battle against Covid-19. After abruptly shifting its vaccine strategy from the Oxford/AstraZeneca shot, South Africa restarts its vaccine drive as the first country to administer the Johnson & Johnson Covid-19 vaccine this week. Brian Browdie unpacks the country's vaccine rollout strategy, as it battles to contain new variants of the virus.
Chart of the week
Tolu Olasoji dives into a recently published report by the Carnegie Endowment for International Peace, which highlights risks posed by the investment of funds into the UK education sector by "politically exposed persons"—so-called "PEPs"— from West Africa.
The report found that "stagnating salaries, rapidly increasing tuition and living costs, and declining currency values" have made this practice a leap too far for some senior government officials. "The gap between what west African PEPs pay for a UK education and what they can legitimately afford is a significant red flag," the author writes, yet one that is rarely investigated by admissions officers.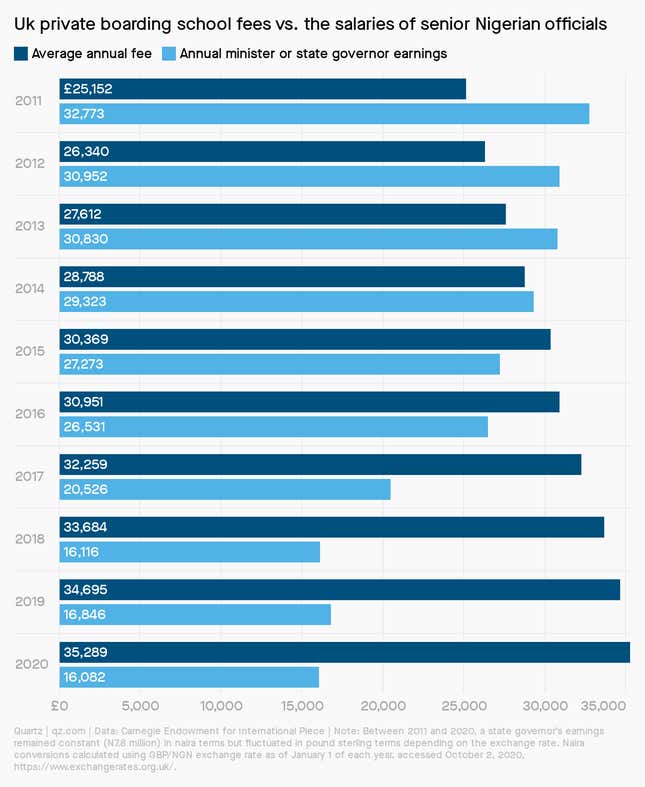 Dealmaker
Uncovered Fund, a Tokyo-based VC firm targeting early-stage startups in Africa, has launched a $15 million fund, with plans to invest between up to $500,000 in early and seed-stage startups in the retail, fintech, e-health, logistics, MaaS, agritech and the smart city space.
Stars From All Nations (SFAN), the Ghanaian edtech startup, has announced a $250,000 pre-seed raise to launch its career accelerator platform ReadyForWork. The funding was provided by Ghana-based investor King Solomon's Group. Founded in 2016, SFAN has focused on helping young Africans build capacity to increase employability.
Pngme, the Africa-focused, US-based unified financial data platform, announced a seed round of $3 million. The funding saw participation from Radical Ventures, Raptor Group, Lateral Capital and EchoVC. With the fund, the fintech startup is looking to expand its offerings to banks, financial institutions, and consumers across sub-Saharan Africa.
Quartz Gems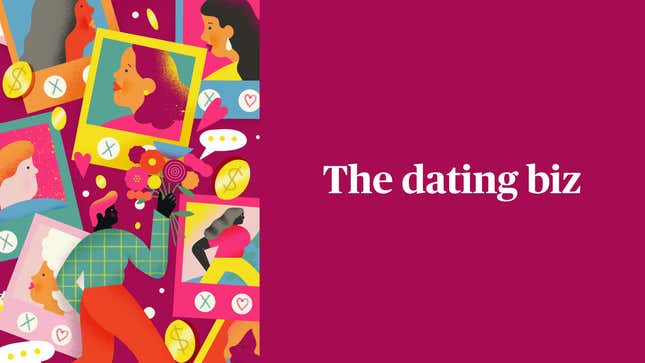 By the digits  
270 million: Monthly active users of dating apps
$1.4 billion: The revenue generated by Tinder, the most popular dating app in the US, in 2020
3-6 months: The average lifespan of an online dating app user
$29.99: Cost of a bouquet of digital roses on Hinge, or Tinder's most expensive monthly subscription
1.5 million: OkCupid users who say they are open to a long-distance relationship
47%: Americans who say dating is harder today than it was a decade ago; one third say it's because they are too busy
3: India's rank in revenue from online dating, after the US and China
Helping people find love is a multi-billion-dollar global industry, especially during the pandemic. Read our latest field guide to the dating biz.
Other things we liked
Nairobi's skyline is changing fast. In the latest Letter From Africa for BBC News, journalist Ismail Einashe describes the new highway that connects the Kenyan capital's airport to the center of town. "It already looks like a giant gash through the city," he writes, wondering who it's for, and whether it'll actually ease the city's infamous traffic congestion.
The test facing Rwanda. The trial of government critic Paul Rusesabagina, whose heroic efforts to protect a group of Rwandans from genocide formed the basis of Hotel Rwanda, has drawn international condemnation. Abdi Latif Dahir details for The New York Times' Daily podcast how the trial has turned into a battle for the soul of the country.
Outdoor workers are wilting in South Africa's rising heat. Climate change is affecting sectors that have high exposure to heat in the country, and circumventive measures aren't enough, writes Mail and Guardian's environment reporter Sheree Bega. Temperature rise means less productivity, with the potential to cripple the labour market and, inevitably, the economy.
Is a victory for Tshisekedi one for DRC? President Felix Tshisekedi's recent appointment of a new prime minister represents a huge leap in his gradual ascension to infinite power. As he seeks to form new alliances and keep existing state actors happy, Kris Berwouts asks in Africa Arguments whether Tshisekedi will be able to effectively and positively govern the country.
Netflix's Nollywood-Bollywood crossover is both embarrassing and ground-breaking. Namaste Wahala, or Hello Trouble, is cheesy, cliched, and "linguistically confused," writes Memuna Konteh for Gal-dem. But its casting breaks with Indian cinema's color bias, and if this particular fusion effort doesn't fulfill the promise inherent in a marriage of these two major film industries, a future co-production just might.
ICYMI
IAS Conference on HIV Science scholarship: The International Aids Society will cover registration for its biennial conference and a two-year membership for successful applicants working or volunteering in the field of HIV. (Feb. 26)
Hack the Normal. Teams and partners are invited to apply for this hackathon focused on tackling business challenges in sub-Saharan Africa, from improving financial inclusion to securing sustainable lifestyles. (Feb. 28)
United Nations University. Applicants are open for postgraduate programs at the Institute for the Advanced Study of Sustainability, with scholarships available through the Japan Foundation. (March 12/April 9)
Keep your eye on
Feb. 23: As part of its Africa Unconstrained series, Quartz Africa partners Development Reimagined will launch the first in a series of webinars on ways to rethink Africa's debt system. The first webinar asks: "An African Monetary Fund—a pipe dream or a necessity?"
Feb. 23: Speakers at the 20th International Economic Forum on Africa include presidents and representatives of the AU and OECD. The main session will focus on a sustainable and inclusive recovery from Covid-19.
Feb. 24: South Africa releases its annual budget, as it tackles pressures from the pandemic, a huge public sector wage bill, and record unemployment.
Feb. 22-26: The UN's biennial session on international environmental policy and law takes place virtually from Nairobi. African countries are among the world's worst hit by climate change, and the conference will focus on how to make the recovery from the pandemic "green."
---
🎵 This brief was produced while listening to Hi-Life by Wally Badarou (Benin/France.) 🎵
---
Our best wishes for a productive and ideas-filled week ahead. Please send any news, comments, suggestions, ideas, dating app recommendations, and UK scholarship opportunities to africa@qz.com. You can follow us on Twitter at @qzafrica for updates throughout the day.
If you received this email from a friend or colleague, you can sign up here to receive the Quartz Africa Weekly Brief in your inbox every week. You can also follow Quartz Africa on Facebook.