Hi Quartz Africa readers!
Flutterwave became Africa's latest tech unicorn this week, after announcing that it had raised $170 million in Series C funding. The round was led by US-based investment firms Avenir Growth Capital and Tiger Global Management, with participation from new and existing investors, including Salesforce Ventures.
Reaching unicorn status could aid Flutterwave's goal of transforming Africa into a single payments market, but it's not the only fintech company looking to capitalize on the continent's thriving digital payment scene.
Last year, Nigerian payment startup (and Flutterwave competitor) Paystack was acquired by the US payment processing company Stripe in a deal reportedly worth more than $200 million. Also last year, DPO Group, a Nairobi-based payment service provider for African businesses, was acquired by Network International, a Dubai-based digital payment company, in a deal worth $288 million.
There's room for more than one winner here—to a point, says Daniel Webber, founder of financial data company FXC Intelligence. "It's a big market and big continent," he told Quartz Africa. "I think if you said that there were 20, I would say that's a lot to kind of divvy up."
Webber says digital payments are now a proven business model—just look at Stripe or Adyen, Visa, or Mastercard—and have some of the best valuation multiples in the financial sector. The pandemic also strapped a rocket booster to that business model as fewer purchases were made in person. But the complexity of Africa's market requires local expertise.
"They are difficult markets to connect," Webber says. "If you can help countries trade with one another, I think that can only be good. That helps economic development."
If these companies can help more companies trade across borders, they will also go some way to support the goals of the African free trade area, which as it grows will enable more payments to flow.
"The interconnectedness of mobile money with the formal national and international financial systems will also be crucial in the coming years, as the industry transitions to what is now being called 'payments as a platform'," GSMA's Tapiwa Jakachira and Simon Andersson have written. "Africa is holding much promise in leading this transition."—John Detrixhe, Carlos Mureithi, and Jackie Bischof 
FIVE STORIES FROM QUARTZ AFRICA
Africa's first post-Covid protests. Anger over corruption and the arrest of opposition leader Ousmane Sonko have led to deadly protests in Senegal. But as Tawanda Karombo writes, what's sustaining the anger is frustration over economic conditions, including the devastating impact of the coronavirus pandemic, a warning sign for the region in the coming months.
Gig economy realities. African women are benefitting from the low barrier of entry, and the flexibility and autonomy offered by digital platform work, writes Tolu Olasoji. But they're also being prevented from taking full advantage of these opportunities, because of long-standing gender disparities.
Biden's new crusade in Africa. The US is getting out of the business of backing high-carbon energy infrastructure overseas, after five years and $9 billion supporting various fossil fuel drilling projects, pipelines, and power plants around the world, predominantly in sub-Saharan Africa. Tim McDonnell explores why cutting off funding for projects like these is not an easy climate win for the new administration.
Jacob Zuma's war metaphors. The trial of the former president is a significant democratic test for South Africa, not least because of Zuma's refusal to address an inquiry into corruption allegations. His choice of words is significant too, write Ansie Maritz and Bertus van Rooy, as it taps into the powerful language surrounding the fight for liberation from white rule.
YouTube's newest hero is a Kenyan girl with academic superpowers. Super Sema follows the adventures of Sema, a 10-year-old girl who lives in a futuristic African world, writes Carlos Mureithi. Her powers are fueled by STEAM—science, tech, engineering, the arts, and math—to save her village from a robot villain.
CHART OF THE WEEK
Africa's internet restrictions. Internet shutdowns have become increasingly common in Africa to fight dissent and restrict protest action, particularly during elections or moments of economic crisis. For Tim Berners-Lee, the inventor of the internet, these actions are violations that the world cannot ignore.
"It should not be tolerated," Berners-Lee said of shutdowns while speaking to Quartz Africa on the occasion of the 32nd anniversary of the web's creation. "We really have to fight against it."
As the continent has become more digitized, Carlos Mureithi reports, African governments have increasingly used shutdowns, particularly of social media platforms, as a blunt tool to wield control.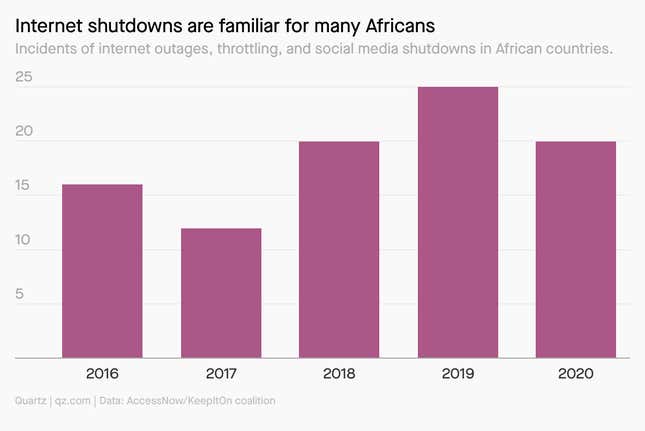 DEALMAKER
Koinz, the Egyptian customer engagement platform for restaurants, has secured a $4.8 million seed investment. American entrepreneur Justin Mateen led the round, with participation from 4DX Ventures, and angel investors from Egypt, Turkey, and Saudi Arabia. Koinz has transformed Egypt's food aggregation industry and with this capital, plans to hire more talent and expand across the Middle East.
Moja Ride, an Ivorian digital transportation startup, has secured an undisclosed amount of funding as it looks to build out its platform. The investment came from Toyota Tsusho, through its Africa-targeted Mobility 54 Investment fund, with proceeds via convertible notes.
Adumo, a South African fintech startup, has raised $15 million in new funding to expand access to electronic payment solutions and provide support for underserved small and medium-sized businesses. Funding came from IFC, a member of the World Bank Group, and the IFC Financial Institutions Growth Fund.
QUARTZ GEMS
Ever since healthcare providers started storing data digitally, their systems have been juicy targets for hackers. Health records store tons of sensitive, personal information that can be used to steal patients' identities.
As a result, cyber criminals can extort higher ransoms from hospitals they hack into, or sell that data at a premium on the black market. Stolen healthcare records, in fact, are more valuable than stolen credit cards.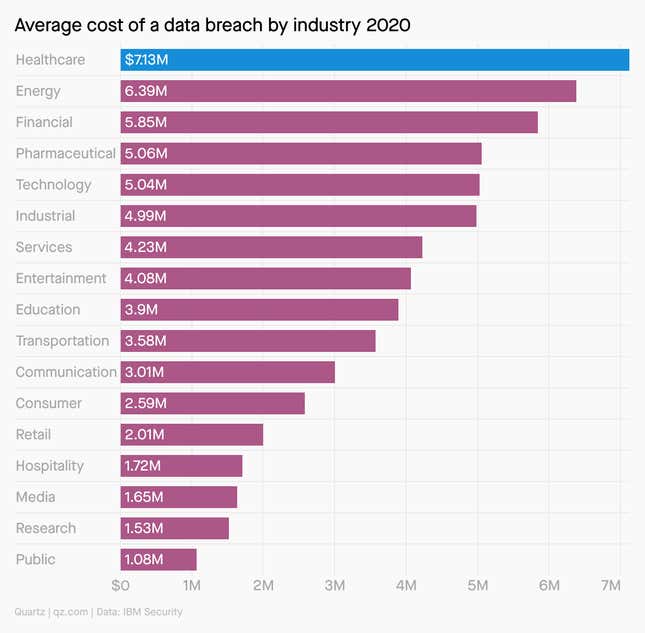 ✦ Quartz members can read more about how telehealth's success created a cybersecurity nightmare as part of our field guide on telehealth as the possible future of medicine. Not yet a member? Our prescription: try it for a week, free.
OTHER THINGS WE LIKED
Meet Africa's wealthiest bodyguard. On his salary alone, it would have theoretically taken Norman Chisale, who was responsible for the security of former Malawian president Peter Mutharika, 274 years to be worth his reported $2.2 million. Golden Matonga tries to add up the numbers in the Mail and Guardian, in the wake of a court order seizing some of Chisale's assets.
Senegal's silence. For African Feminisim, Nadia Ahidjo-lya argues that Senegal's protests shouldn't erase the charge opposition politician Ousmane Sonko was facing when he was detained—a rape allegation—or the young woman who brought it. And on Medium, Haddy Jatou calls the silence around Sonko's accuser an uncomfortable reminder of how easy it is for women's demands for justice to be "relegated to the side."
Capital rivalries. Cameroon's economic capital Douala, and its political capital Yaoundé, have long been in competition. But with political tensions and the Anglophone crisis thrown into the mix, this friendly rivalry is descending into antagonism. Georges Dougueli describes how the relationship turned unhealthy in The Africa Report.
Hollywood's African stereotypes. Eddie Murphy's Coming 2 America franchise has once again playfully challenged Africa's frequent misrepresentation on the big screen. For BBC Culture, David Jesudason questions if these perceptions could change permanently, with more truly African productions playing in Western cinemas.
Arsenal's "Visit Rwanda" sponsorship is under scrutiny. The Rwandan tourism logo adorning the sleeves of players for the London-based soccer team, which includes African superstars like Pierre-Emerick Aubameyang and Thomas Partey, is raising eyebrows. For the Guardian, Barney Ronay asks whether the commercial deal can—or should—be sustained, given the country's political situation.
KEEP YOUR EYE ON… VACCINE DIPLOMACY
The prospect of global health becoming a new arena for global power competition and rivalry should worry us all. Whatever benefits may have emerged from such rivalries in the past, they did so through cooperative rivalry. The global response to COVID-19 has thus far tended to be uncooperative and divisive, casting blame or seeking to spread distrust.—Michael Jennings, SOAS, University of London
As vaccine programs roll out across the world, countries are using their shots to strengthen regional ties and enhance their own status. That means vaccines are part of diplomacy now, for better or worse.
ICYMI
Olam Prize for Innovation in Food Security. The $75,000 bi-annual prize, awarded in conjunction with the agriculture and sustainability-focused Agropolis Foundation, is intended to help organizations scale their innovations. (March 15)
The future of work in Africa. A panel hosted by the London School of Economics will discuss how Africa can address employment issues in the midst of transformative growth. (March 16)
Sustainable finance for investment funds. IC Intelligence's panel will focus on the role of offshore developments in sustainable finance. (March 18) 
Oxford Africa Conference Innovation Fair. Young businesses are invited to apply for this two-day event, which will bring together entrepreneurs addressing critical challenges in key sectors, and include mentorship, masterclasses, and a pitch competition. (March 31)
---
🎵 This brief was produced while listening to "Midnight Train" by Sauti Sol (Kenya).
---
Our best wishes for a productive and ideas-filled week ahead. Please send any news, comments, suggestions, ideas, Coming 2 America reviews, and protest chants to africa@qz.com. You can follow us on Twitter at @qzafrica for updates throughout the day.
If you received this email from a friend or colleague, you can sign up here to receive the Quartz Africa Weekly Brief in your inbox every week. You can also follow Quartz Africa on Facebook.