Hi Quartz Africa readers!
From e-commerce to edtech to fintech, Egyptian startups are emerging as the preferred destination for global and regional investment, threatening to overtake South Africa, Kenya, and Nigeria.
In June alone, Egypt's startups came close to surpassing the $190 million they raised in 2020. Key deals include Cairo-based digital trucking marketplace startup Trella raising a $42 million funding round for expansion of its services; and Tejarra and MoneyHash, e-commerce and fintech startups, respectively, both raising undisclosed six-figure sums.
The funding deals were in addition to the National Bank of Egypt securing $100 million from the European Bank for Reconstruction and Development to help the country's small and medium-sized companies work on energy efficiency and climate change mitigation. These make Egypt even more attractive as an investment destination, as South Africa and Nigeria struggle with power outages, a possible deterrent to some investors.
Egypt also seems to be reaping the rewards for efforts made in strengthening the startup sector in the past years, including a new law allowing the central bank to give out banking licenses to fintech and digital commerce firms. The sector is also one that has been prioritized in policy and through development partnerships.
Rahul Shah, an emerging markets finance and equity expert, told Quartz that this trend is expected to continue. "Elevated valuations in other markets are forcing international investors to take a closer look at African startups, where the risk-reward profile looks much more compelling," he says. "We are likely to see more venture capital funding interest in the region. —Tawanda Karombo, Quartz contributor 
🌍 Have your say in the future of Quartz Africa! We want to serve you as best we can—to do that, we need to hear from you. Take this five-minute survey to tell us a little about yourself and the content you care about most.
---
Stories this week
A fast-food roast divides South Africans. Nando's, one of the country's biggest chains, is known for its spicy, satirical commercials, which take aim at the most powerful. Still, writes Aanu Adeoye, it surprised some—and outraged others—that its latest potshot was aimed at former South African president Jacob Zuma, who was sentenced to 15 months in prison this week.
Startups are diversifying to scale up. African fintech startups are increasingly moving from focusing on niche areas such as payment, lending insurance, and investment to offering a wide range of services. Carlos Mureithi unpacks a new report on the strategy..
Business trumps morality in Africa's cannabis industry. The prospect of legalized cannabis in Africa, unimaginable less than a decade ago, is accelerating, driven by the potential for much-needed revenue and the impact of the Covid-19 pandemic. Stephen Kafeero talks to the entrepreneurs and lobbyists pushing for more progressive views on the plant.
The EU takes a limited view of vaccine passports. Covishield is biologically identical to Vaxzevria, but made in India and distributed widely there and in Africa. Hasit Shah explains how millions of fully vaccinated Africans and Indians, who have taken the same vaccine as millions of Europeans, could remain locked out of the EU unless the rules change.
Decolonizing aid. African NGOs and intermediary firms in the local private sector provide essential services, yet continue to be exposed to highly politicized and opaque bid processes. Amma Gyampo argues that leaders in philanthropy, development finance, and corporate sustainability should take on a more entrepreneurial and radical approach to funding development initiatives.
---
Charting the cost of internet speed in Africa
High internet prices in Africa are rarely matched by fast connection speeds. And a new report finds that even though there are instances where internet speeds on the continent might be faster than those elsewhere, customers are still paying exorbitant rates for their connections.
Speedcheck analyzed the mobile broadband speeds experienced by the users of its service in 89 countries in five continents and compared this to the cost of data in each of the countries. The result is a speed-price index (SPI). The higher the index, the more value for money for mobile internet users, Carlos Mureithi reports.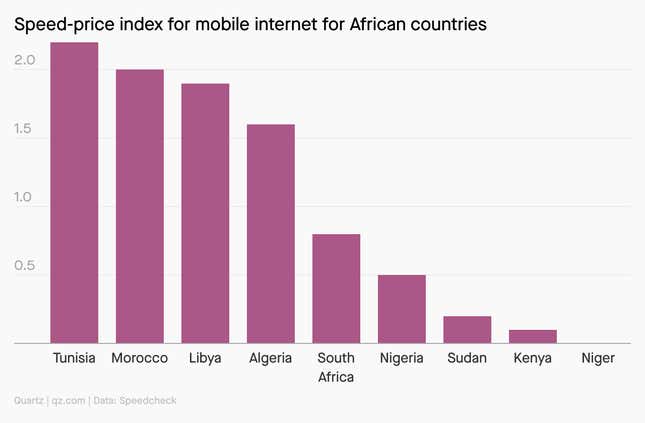 ---
Dealmaker
MDaaS Global, the Nigerian healthtech company, has announced a $2.3 million seed extension to scale its operations and launch SentinelX, a digital health solution product. The funding was led by Newtown Partners via the Imperial Venture Fund, with participation from CRI Foundation, FINCA Ventures, Techstars, and Future Africa, among others.
Zeepay, a Ghanaian fintech startup, has announced a $7.9 million Series A funding round to aid its expansion process. which was made up of both hybrid of equity and balance sheet funding. I&P led the former, with support from ARK Holdings and GOODsoil VC. Absa Bank Ghana led the balance sheet lending, with participation from First National Bank Ghana.
Zipline, the healthcare drone delivery startup with African roots, has raised $250 million in new funding, shooting its valuation to $2.75 billion. The investment was led by Baillie Gifford with support from Temasek, Katalyst Ventures, Fidelity, Intercorp, Emerging Capital Partners and Reinvest Capital. It will be used to build out the infrastructure for new contracts in Ghana, Nigeria, and the US.
---
Quartz Gems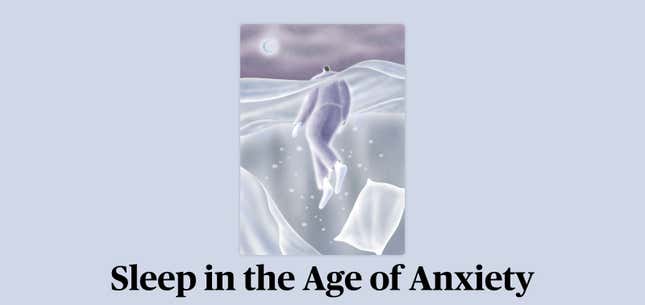 As humans evolved, certain frequencies of light set our circadian rhythms (the body's 24-hour internal clock that regulates sleep and other processes). We're used to more blue and green wavelengths in the day, and more red at night.
But the way we live now tends to scramble that natural inclination. The screens we stare at during many of our waking hours emit blue light, which wakes us up (screen time has been connected to sleep problems). And we never fully get the "quiet down" signal because we don't go to bed with the sun, instead staying up past dark with our artificial lights.
"We've sort of made the night optional," says Michael Grandner, director of the Sleep and Health Research Program at the University of Arizona. Darkness might be optional, but sleep certainly isn't.
This week's field guide is about sleep in the age of anxiety. Get 40% off a membership using code SLEEPWEEK for even more content.
---
Quotable
"We have grandmothers that are dying. You can watch the Euros without masks on."
Strive Masiyiwa, the Zimbabwean billionaire founder of Econet Global, knows who is responsible for Covax's inability to deliver on its promises: Rich countries. "This was a deliberate global architecture of unfairness," Masiyiwa, who was tasked to help procure vaccines for the African Union (AU), said on June 23 at a summit on vaccine equity. Annalisa Merelli writes on Masiyiwa's comments, which capture Covax's failings on the continent so far.
---
Other things we liked
US groups are funding "anti-gay therapy." Major hospitals in Uganda are offering conversion therapy to LGBTQI+ folks, an openDemocracy investigation found. While these clinics have received US funding, it remains unclear if it was used on this widely condemned initiative, Khatondi Soita Wepukhulu reports.
Nigeria nets a Biafra separatist. While the Nigerian government focused on tackling separationist group IPOB for years, its master planner Nnamdi Kanu has been operating beyond its jurisdiction. This week, however, the UK resident was somehow arrested and arraigned in a Nigerian court for charges including treason. The details, as The New York Times reports, are murky.
The fall of a billionaire Gucci Master. Widely known for his flamboyant lifestyle on Instagram, Ramon Abbas, a.k.a. Hushpuppi, was extradited to the US in 2020 after his cover as an internet fraudster was blown. In Bloomberg, Evan Ratliff chronicles the Nigerian's ruthless Business Email Compromise (BEC) methods, and the larger problem of phishing.
An African ski resort gets creative to stay afloat. Afriski Mountain Resort, one of Lesotho's biggest tourist attractions, is pivoting as the pandemic slowed the flow of tourists to a trickle. The Guardian's Silence Charumbira describes how ingenuity has revived the resort and its workers.
The rise in fame of an Ivorian artist. Aboudia has been producing art since 2005, drawing inspiration from the streets of Abidjan. Misunderstood and oft-ignored, his work initially received only a lukewarm response. But Artsy's Ayodeji Rotinwa explores the changing tides are now leading to bidding wars by collectors.
---
ICYMI
The economics of Africa. A three-day webinar hosted by the African Economic Research Consortium, the African School of Economics, and Northwestern University will focus on a range of continent-focused topics, from taxes to financial literacy to bureaucracy. (July 7-9)
New markets for women-owned businesses. "Rise to the challenge" is the theme for this year's conference for the WEconnect female-owned company network, which will focus on opportunities and challenges presented by AfCFTA, financing, and more. (July 7-8)
Supporting Black-led startups. Google's Black Founders Fund Africa will provide funding, technical, and business support to 50 early-stage startups, in conjunction with the Co-Creation Hub. (July 7)
---
🎵 This brief was produced while listening to "Mali Nialé" by Oumou Sangaré (Mali)
---
Our best wishes for a productive and ideas-filled week ahead. Please send any news, comments, suggestions, ideas, Gucci bags, and ski masks to africa@qz.com. You can follow us on Twitter at @qzafrica for updates throughout the day.
If you received this email from a friend or colleague, you can sign up here to receive the Quartz Africa Weekly Brief in your inbox every week. You can also follow Quartz Africa on Facebook.