Hi Quartz Africa readers!
Residents of Nairobi have a love-hate relationship with boda bodas—commercial motorcycles also known as motos or okadas in other parts of the continent—depending on the occasion.  As a road user, I find them to be menaces that flout traffic rules, drive on sidewalks, terrify pedestrians, and are quick to mobilize other bike riders for mob justice if involved in an accident. Yet as someone trying to adhere to social distancing, I value the creature comforts that they afford me. From the convenience of my home, I can order anything I need at the touch of a button and have it delivered in minutes, saving me hours in traffic.
They have also created hundreds of thousands of jobs. My favorite delivery person has sent all four of his children to university from the money he has made as a boda driver. His efficiency, reliability, and intimate knowledge of the city means that sometimes he is fully booked for deliveries days in advance. He knows the times to avoid downtown so as not to be harassed by the notorious city council and all the panya-routes to avoid during rush hour.
Recently, at least in Nairobi, boda bodas are making news for all the wrong reasons. Crime has been on the rise as deliveries become the norm during lockdown. The government's national crime research center has pinned thousands of murders, cases of death by dangerous driving, violent robberies, and kidnappings on boda boda drivers.
But boda bodas are a vital part of Nairobi's story. They have helped to relieve the pressure of an infrastructure that hasn't grown at the same pace as the urban population—often resulting in Africa's busiest cities being clogged by standstill traffic for hours on end. In the same way that Mpesa saved us from lining up for hours at the end of the month to pay our utility bills, boda bodas have taken some of the minor inconveniences of our lives out of our hands.
One thing is clear, despite their issues, boda bodas will prevail—as they have in cities like Lagos—as long as the infrastructure struggles to keep up. —Ciku Kimeria, Quartz Africa editor
---
Stories this week
A football match raises questions of identity. Bukayo Saka, one of the breakout stars of the recently concluded 2020 European Football Championship, was born and raised in London to Nigerian parents. Tolu Olasoji looks at how Nigerians identify with the England soccer hero.
Understanding Africa's unicorns. The continent now has four fintech and e-commerce companies that are valued at over $1 billion. Three of them hail from Nigeria, one from Egypt. Tawanda Karombo reports on how these giants—and the startups hot on their heels—are paving the way for Africa's tech entrepreneurs.
Fintech could be the key to AfCFTA's success. Fintech companies in Africa are thriving by creating digital systems and infrastructure to make financial services more efficient. Carlos Mureithi explores how fintech companies are well positioned to provide solutions for the African Continental Free Trade Area launched earlier this year.
A shattered South Africa cracks down on social media. As protests continue to rock various cities in South Africa, Tawanda Karombo reports on the government's move to monitor social platforms, with the aim of rooting out those it believes are inciting protests or sharing fake news.
Human waste is an unexpected ally in cities. In 2018, Kenyan scientists were able to prevent a major polio outbreak by studying stool samples from sewage in Nairobi's slums. Verah Okeyo reports on how similar samples are helping scientists affordably assess antibiotic resistance.
---
Charting 5G projections
Sub-Saharan Africa is expected to see the lowest adoption of 5G mobile phone technology of all regions over the next five years, according to a new report by Ericsson, the Swedish networking and telecommunications company.
Currently, less than 1% of mobile phone connections in the region are on 5G, and this number is not expected to grow this year. The report says the next five years will only see 5G adoption reach 7%. Only a handful of African countries have launched or piloted commercial 5G networks so far. Carlos Mureithi explains why.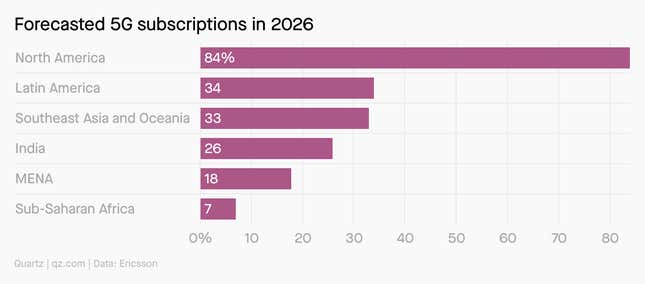 ---
Dealmaker
AIfluence, the Kenyan adtech platform, has raised $1 million in seed funding to accelerate the expansion of its AI-powered marketing platform across Africa, the Middle East, and Asia. The round was led by EQ2 Ventures, with participation from Antler East Africa, OUI Capital, and ArabyAds.
GetEquity, a Nigerian fundraising and venture portfolio management company, has secured six figures in pre-seed funding. The round was led by GreenHouse Capital, as the startup launches its first product: a venture-funding platform that democratizes access to startup funding while acting as a conduit between investors and founders.
Yodawy, an Egyptian e-health startup, has raised a $7.5 million Series B funding round to aid its expansion into new markets and increase its product offerings. Middle East Venture Partners, Global Ventures, and Algebra Ventures led the round, with participation from CVentures, P1 Ventures, and Athaal Angel Investors Group.
---
The billion-dollar question
Which model works best in African e-commerce: B2B or B2C?
While 90% of sales in many parts of sub-Saharan Africa take place through informal channels—such as retail stores, markets, kiosks, tabletop sellers and street hawkers—e-commerce companies are finding that reaching the end customer is much more difficult than serving aggregators. Carlos Mureithi reports on how they are pivoting as a result.
---
Quartz Gems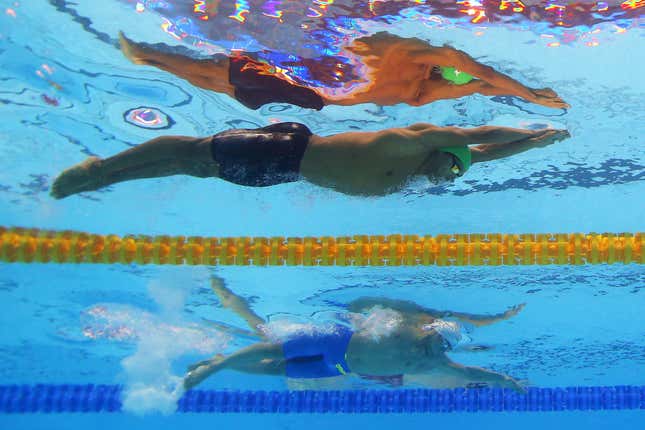 FINA, the global ruling body for competitive swimming, has told a company named Soul Cap that its headwear for swimmers with voluminous hair—including Afros, dreadlocks, and weaves—will not be permitted in any competitions FINA recognizes, including the upcoming Olympics. Soul Cap's headwear, the ruling said, did not follow "the natural form of the head." Samanth Subramanian explores what the ruling means against the backdrop of swimming's history of racism.
Sign up for Need to Know: Tokyo Olympics, Quartz's pop-up guide to the Games, with highlights, histories, and surprising discoveries.
---
Mapping travel requirements for Africa's top travel destinations
The coronavirus pandemic has been harsh for Africa's $50 billion tourism industry, with the fall-off in foreign visitors likely to knock out more than 6% of countries' GDP on average in 2021, according to the UN. Tim McDonnell mapped out the various rules that the continent's top tourist destinations have for visitors at this time.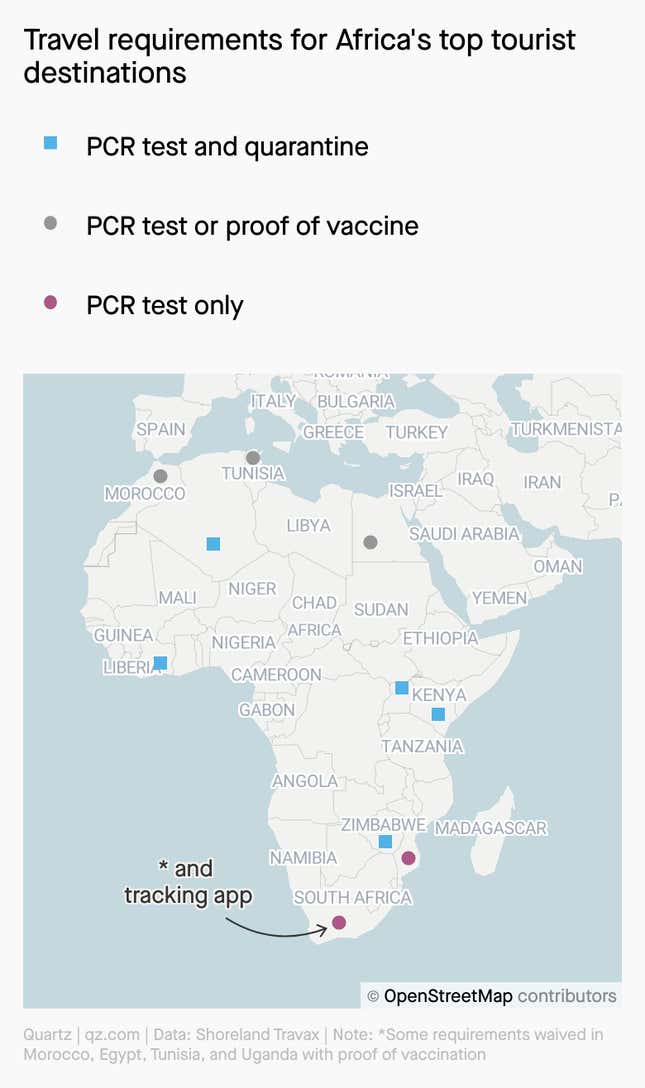 ---
Other things we liked
How local guerrilla fighters routed Ethiopia's powerful army. In an unprecedented comeback, Tigray Defense Forces, including locals, professionals, women, and diaspora Tigrayans, have scored a cascade of battlefield victories against the Ethiopian military. In vivid detail, The New York Times's Declan Walsh reports on a decisive week in an eight-month civil war.
Providing context to vaccine hesitancy. In Unbias the News, Mahdi Garba and Modupe Abidakun tell the story of how the adverse outcomes of a 1996 Pfizer drug trial are driving Covid-19 vaccine boycotts in some Nigerian communities. It bears a resemblance to situations in other countries, where vaccine hesitancy isn't borne out of availability or conspiracy theories, but by lived experience.
Africa's table tennis star battles Chinese dominance. At the 2016 Rio Olympics, Africa's hope for a gold medal in table tennis was dashed as a Chinese player saw off Quadri Aruna. For DW, Lolade Adewuyi writes about the Nigerian's goal to end Chinese dominance in the upcoming Tokyo Games.
Rebuilding a jewel of a city. Decades of civil war in Somalia have all but destroyed the beautiful architecture of its capital Mogadishu. For The New York Times, Abdi Latif Dahir writes the tale of a Somali-Italian architect who wants to return a city once called the "White Pearl of the Indian Ocean" to glory.
The changing face of LGBTQI+ in Nigeria. Bolu Okupe, a 27-year-old Nigerian fitness model and bodybuilder, is making waves on OnlyFans, a platform that allows users to earn money from their fans and is best known for adult content. Elvis Kachi reports for Rest of World how this news has been received by Nigerians and Bolu's father, a powerful politician known for his homophobia.
---
ICYMI
Sustainable development. Africa Innovate, a free online conference and hackathon, is offering a program for students, educators, researchers, entrepreneurs, and industry experts to exchange knowledge and develop solutions for sustainable development. (July 21-23)
Financial inclusion. A competition hosted by Accion's Center for Financial Inclusion, Inclusive Fintech 50, seeks to identify early-stage fintechs driving access to finance and resilience. (July 23)
Startup connection. Startups can participate in a deal room with investor organizations at VC4A, a program that connects startup entrepreneurs with the knowledge, support programs, mentors, and investors, as part of the Africa Early Stage Investor Summit. (July 24)
---
🎵 This brief was produced while listening to "Cadence Mudanda" by Mbilia Bel  (DR Congo)
---
Our best wishes for a productive and ideas-filled week ahead. Please send any news, comments, suggestions, ideas, XL swim-caps, and unicorn dust to africa@qz.com. You can follow us on Twitter at @qzafrica for updates throughout the day.
If you received this email from a friend or colleague, you can sign up here to receive the Quartz Africa Weekly Brief in your inbox every week. You can also follow Quartz Africa on Facebook.