Hi Quartz Africa readers!
When it comes to discussing China-Africa relations, debt is a common theme, with many saying Africa is overburdened by Chinese lending.
A new survey has found that despite these concerns, most African respondents view China's economic and political influence on their countries favorably, describing the relationship as "somewhat positive" or "very positive."
The survey, which was carried out by Afrobarometer, a Ghana-based pan-African nonprofit and research network, polled 48,084 respondents from 34 countries.
China is Africa's largest economic partner, providing huge financial support for infrastructure development projects around the continent. Between 2000 and 2019, China loaned African countries $153 billion, according to the China Africa Research Initiative at Johns Hopkins University.
But China's activities on the continent have been marred by accusations of debt-trap diplomacy because of the secretive nature of its loan contracts. Its infrastructure projects have also been accused of environmental and human rights abuses. Despite this, the Afrobarometer survey found that Africans hold broadly positive views of China's assistance. They also felt that China's level of influence on countries' economies has declined over the past five years.
The survey responses don't demonstrate an uncomplicated love for China. While respondents may view the relationship between their governments fairly positively, when asked which country they thought provided a better model for their future development, more people chose the US over China (only 11% chose former colonial powers).
Still, the survey paints a more positive picture of Africa's perception of the Asian giant's engagement with the continent, despite concerns over issues such as debt, which often dominate the narrative. It's also a helpful reminder that the Africa-China relationship is a nuanced one. —Carlos Mureithi, east Africa correspondent
---
Stories this week
Diabetes is complicating Africa's covid-19 fight. Global studies have found that diabetes increases the risk of severe illness and death among covid-19 patients. Carlos Mureithi reports on a World Health Organization analysis that says ​​Africa's death rates from the disease are four times higher in patients with diabetes.
Nigeria will punish abusive loan apps. Digital lenders in Africa sometimes send embarrassing messages to the contacts of borrowers in order to get those borrowers to pay up. But the consumer protection watchdog in Nigeria has now banned such tactics, Alexander Onukwue writes, citing a commitment to user privacy.
A disappointing COP26 for Africa. With the UN's climate summit wrapping up last week in Glasgow, questions remain over how successful it was for poorer nations that bear the brunt of climate change. Priya Sippy looks at the conference's underwhelming commitments and what can be done.
---
Charting Jumia's lackluster third-quarter performance
Jumia, Africa's e-commerce leader, gained 500,000 active customers between the third quarters of 2020 and 2021, which led to 1.9 million more orders, according to an earnings report published on Nov. 16. The dollar value of the company's all-time quarterly record of 8.5 million orders was 8% more than the same period in 2020. Revenue for the quarter also grew 8.5% year-on-year.
Jumia's growth rate is still not exciting enough for analysts, Alexander Onukwue reports. The $238 million in gross merchandise value is over $50 million less than in the same period in 2019, before the pandemic, and the average value of a Jumia sale has fallen from $41.50 in 2019's third quarter to $28 this year. But the company argues its investments in logistics and tech infrastructure will help its profitability ambitions sooner rather than later.
---
Spotlight on a Quartz Africa 2021 innovator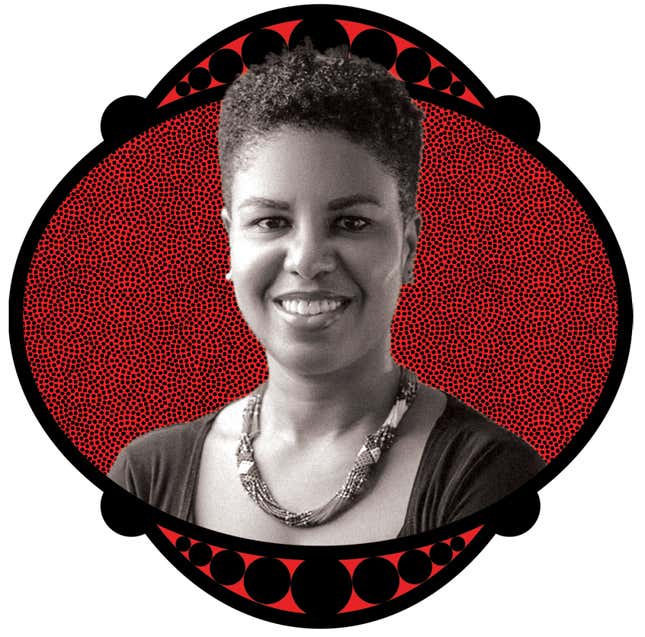 Miishe Addy is using digital technology to tackle inefficiencies that make shipping difficult in Africa.
Jetstream Africa, which she co-founded in 2018, provides a supply chain management platform that quickly connects importers, exporters, and logistics providers with trade finance. The effect is that cargo spends less time at ports, ensuring that goods are cleared faster, and that trade is more predictable on the continent.
Addy has driven the company to grow recurring revenue six times year-over-year for the 2020 financial year, and is motivated to make the company the essential first-mover for logistics providers and entrepreneurs powering cross-border trade in Africa.
Check out Quartz Africa's Innovators 2021 list, which showcases the pioneering work being done by Addy and other female African innovators.
---
Dealmaker
South African fintech Ozow raised $48 million in a round led by Tencent, the Chinese tech conglomerate. Endeavor Catalyst and Endeavor Harvest Fund also participated. Until now, Ozow had only raised $3.7 million but the company says it has grown 100% year-on-year since 2019 and processes over $100 million in transaction volume per month.
Kippa, a Nigerian provider of accounting services to small businesses, raised $3.2 million in pre-seed funding in a round led by Target Global, the venture capital firm based in Berlin. Other investors in the nine-month-old startup include Entrée Capital, Alter Global, Rally Cap Ventures, and angel investors.
And in a notable win for African female founders, Nigerian bus-booking startup Shuttlers raised $1.6 million to scale its intercity transportation platform. The round was led by Chicago-based VestedWorld, while Interswitch, Rising Tide Africa, Launch Africa, EchoVC, and other firms participated.
---
Quartz Gems
No country is doing enough about climate change. Prior to COP26, there was one country in the world pulling its weight on climate change—The Gambia. It was the only nation, according to the analysts at Climate Action Tracker (CAT), that had targets and plans compatible with 1.5ºC warming. Last week, however, the country's updated climate plan was assessed and its rating downgraded from "Paris Agreement compatible" to "almost sufficient." Now, none of the nearly 40 countries in the CAT's analysis are on track.
See the most recent data on how well countries are doing with their pledges and promises. We've updated our interactive with new analysis released by CAT during COP26.
While you're here… get the best of Quartz with 40% off your membership by using the code QZEMAIL40. Enrich your perspective with paywall-free access across our platforms. Take advantage of members-only newsletters. Deep dive with our field guides and stay informed and competitive with our suite of market insights reports. Sign up now!
---
Other things we liked
Ethiopia needs an immediate intervention. As the cloud of conflict advances towards Addis Ababa, the clock on a possible civil war in Ethiopia is ticking fast. Aanu Adeoye argues in Time that the international community should step in to negotiate a lasting truce between prime minister Abiy Ahmed and his opposition.
Barrow faces a big test in The Gambia. Adama Barrow may not have become president of The Gambia in 2017 if Ousainou Darboe had not been detained months earlier by the ousted dictator Yahya Jammeh. For African Arguments, Eromo Egbejule reports on how the upcoming election pitting the incumbent against Darboe and five others is a test of the west African nation's stability.
Nigeria's shifting views on looks. On the 20th anniversary of Nigerian beauty queen Agbani Darego's Miss World win, Bernard Dayo explores in OkayAfrica how social media and the body positivity movement have changed what (or who) Nigerians consider beautiful.
A dollar shortage creates an opportunity. For the Guardian, Nyasha Chingono reports how buying and selling torn US dollars has become the newest business in Zimbabwe, as the country struggles with hyperinflation and a dollar shortage.
A long wait for justice. About 250,000 people were killed in civil wars in Liberia between 1989 and 2003, but no one has ever been convicted. The Economist details efforts by activists and politicians to make warlords face trial.
---
ICYMI
A discussion on African development. The African Economic Conference will look at how to finance development for the continent after the covid-19 pandemic. (Dec. 2-4)
Study at a British university. Commonwealth Shared Scholarships will offer people from Commonwealth countries opportunities to study in the UK.
---
🎵 This brief was produced while listening to "Isii Nafta" by Nimco Happy (Somalia)
---
Our best wishes for a productive and ideas-filled week ahead. Please send any news, comments, suggestions, ideas, torn dollars, and affordable freight to africa@qz.com. You can follow us on Twitter at @qzafrica for updates throughout the day.
If you received this email from a friend or colleague, you can sign up here to receive the Quartz Africa Weekly Brief in your inbox every week. You can also follow Quartz Africa on Facebook.