Hi Quartz Africa readers!
When I began to make plans to see my South African parents a few months ago, after nearly two years of being apart as a result of the covid-19 pandemic, I was at pains not to get my hopes up. After all, if there is one lesson the pandemic has taught us, it is that planning too far out into the future can be futile, and that uncertainty needs to be baked into everything we do.
But with only three weeks to go before we are reunited, I couldn't help but get excited. The UK had reopened, I was double vaccinated, and South Africans had just been allowed to fly again to international destinations without restrictions. I began talking to my two-year-old about traveling on a plane. I bought my mother fleece-lined slippers as a Christmas present. I started to prepare to self-isolate a week before the flight.
Then, the news broke: a new and worrying covid-19 variant, B.1.1.529 has been detected in southern African countries including South Africa and Botswana. Several countries responded by immediately shutting their doors. It's now unclear when I will be able to see my parents again.
Africa's economies and its people have been devastated by this pandemic in ways that we are only beginning to understand, and the world's attitudes towards the continent only make things worse. If we are to get through this latest turn of events, then humanity must be at the heart of our response.
"We have been very transparent with scientific information," Tulio de Oliveria, the director of South Africa's Centre for Epidemic Response & Innovation has said. "We identified, made data public, and raised the alarm as the infections are just increasing. We did this to protect our country and the world in spite of potentially suffering massive discrimination. "
We don't know yet if countries are justified in their travel bans. But we do know that what southern Africa needs now is not a policy of isolation and discrimination, but of empathy and most importantly, backing, de Oliveria argued. "By protecting and supporting [Africa], we will protect the world."
Will the world listen?—Jackie Bischof, Talent Lab editor
---
Stories this week
A battle over the reality of Ethiopia's conflict. Ethiopia's prime minister stunned the world when he announced he would lead his country's soldiers on the front lines of the war against the Tigray People Liberation Front (TPLF), releasing video footage of himself on the battlefield. A Quartz Africa contributor reports on how media restrictions are forcing the story of the conflict to play out in political messaging.
Kenya turns on the unvaccinated. Kenya is preparing to restrict people who haven't been vaccinated against covid-19 from receiving government services. Carlos Mureithi explains the debate the move has ignited in the country.
Can consolidation save Africa's airlines? Africa's aviation industry is highly fragmented, with hundreds of independent airlines, many of which are unprofitable and on the brink of collapse. In an interview with Carlos Mureithi, Kenya Airways CEO Allan Kilavuka argues that innovation and consolidation are key to making aviation on the continent sustainable.
Ghana's sky-train plan crashes to earth. The country's railway development minister has called off a $2.6 billion plan to build 194 km of super terranean train tracks within Accra, Alexander Onukwue reports. Ghanaians, already dealing with unemployment, inflation, and fuel hikes, were not surprised.
Holding #EndSARS abusers accountable. Anthony Blinken's first official visit to Africa as the US secretary of state was mostly forgettable, but he spoke rather frankly on the subject of what Nigeria should do about security officials who allegedly abused anti-police brutality protesters during the 2020 EndSARS movement, Alexander Onukwue reports.
An Afrobeats star's charity appeal turns into a phishing attempt. Alexander Onukwue reports on how an attempt by Davido, the Nigerian multimillionaire musician, to raise $600,000 for Nigerian charities didn't just attract donors, but scammers as well.
---
Dealmaker
Crossfin Technology Holdings, a South African fintech, is being sold for 1.5 billion rand ($94 million) to a consortium of private equity investors led by South Africa-based Ethos' Mid-Market Fund I. Capital Eye Investments and the Multiply Group—both founding investors in the payment technology company—will achieve exits from this transaction.
West Indian Ocean Cable Company (WIOCC), a Mauritius-based communications infrastructure company, raised $200 million in equity funding. One of the investors in the raise is Africa Capital Alliance, a private equity firm. WIOCC's platform comprises more than 75,000 km of terrestrial fiber and serves clients across 30 African countries.
Busha, a Nigerian crypto exchange, raised $4.2 million seed funding in a round led by Jump Capital, an American venture capital firm. Other participants include Cadenza Ventures, Blockwall Capital, CMT Digital, Greenhouse Capital, and Raba Capital. The 3-year-old startup claims to have 200,000 users and, in light of Nigeria's official resistance to crypto, wants to expand to other west African countries.
---
Quartz Gems
Retail investors are moving from stocks to options, which offer a cheap way for traders to bet on a stock going up or down in price without having to actually purchase the shares.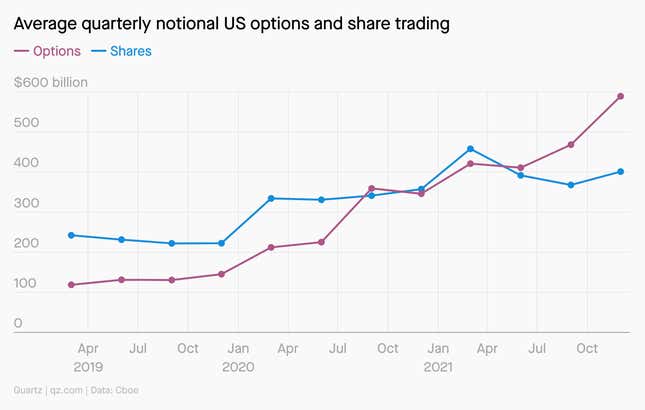 The boom in options could be making financial markets more volatile, but it's possible to overstate their influence. While trading in options linked to GameStop skyrocketed in early 2021, a report by the US Securities and Exchange Commission found no evidence it had unintended consequences on the share price from market makers racing to hedge the options activity. Quartz came to a similar conclusion when reporting on Robinhood options.
It's better to give back this holiday season. And we're starting with how we can do that for our planet. Become a Quartz member at 50% off, and we'll make a 5% donation to emerging carbon removal technology projects for every new subscription, powered by Stripe Climate. Sign me up!
---
Other things we liked
Building a better world after the covid-19 pandemic. For The Guardian, Kwame Anthony Appiah writes about how different responses to the pandemic in the global north and south call for a fairer international system for future crises.
Bidders for Unilever's tea business balk over human rights concerns. The Financial Times reports that two final bidders for the division pulled out because of concerns about working conditions on plantations.
What Nigeria's eNaira needs to succeed. Africa's first central bank digital currency had a dire first week and has remained underwhelming since launch. For Stears Business, Adesola Afolabi explains why the eNaira has failed to excite.
How Liberians remix Thanksgiving. For NPR, Vicky Hallett spoke to Brenda Brewer Moore, a Liberian author, women's rights activist, and mother of two to understand how Liberians have adapted US Thanksgiving, even as some question the wisdom of commemorating a former enslaver's holiday.
---
ICYMI
Talking about information technology. The World Congress on Information Technology and Computer Science will provide a platform to exchange knowledge and gain insight into technology, techniques, and solutions in computer science. (Dec. 1 and 2)
Connecting international investors with entrepreneurs. The Nest Emerging Markets Pitch Event for December will highlight the most promising startups from emerging markets. (Dec. 2)
---
🎵 This brief was produced while listening to "Lágrimas Negras" by Oum (Morocco)
---
Our best wishes for a productive and ideas-filled week ahead. Please send any news, comments, suggestions, ideas, airline miles, and skytrains to africa@qz.com. You can follow us on Twitter at @qzafrica for updates throughout the day.
If you received this email from a friend or colleague, you can sign up here to receive the Quartz Africa Weekly Brief in your inbox every week. You can also follow Quartz Africa on Facebook.