Hi Quartz Africa readers!
While fintech still remains the most attractive sector for venture capitalists in Africa, it only accounts for less than a third of the deals made in 2021. But the $100 million-plus rounds by the likes of Flutterwave, OPay, Chipper Cash, MFS Africa, and Wave have driven fintech to capture 63% of the $5.2 billion venture capital pie, according to a report by tech investment platform Partech. On the evidence of Flutterwave's $250 million Series D, this trend may continue this year.
Something else could be happening too: tighter competition between these companies in areas beyond what each originally set out to do.
Flutterwave announced last week that Barter, its mobile payment app, is now integrated with Twitter's tipping feature that allows users to receive money from followers. With that, the company joins Chipper Cash, which launched the feature last November. And that's just one example—at least four of the five companies named above are now competing in Africa's $45 billion money transfer and international remittance market, jostling for integrations with giants like PayPal and WorldRemit for the right to connect Africa to the world.
What's driving this trend? One expert at an early-stage investment firm describes it as a function of startups having to adjust to the small addressable market for their initial services, with "fintechs having to explore other/multiple sources of revenue to justify their high raises and valuations."
As this competition gets fiercer, mergers and acquisitions could become a possibility, something Flutterwave plans to do with its new war chest. But that isn't a given, the expert says. "High valuations are pricing many startups out of the market and the fact that there's a lot of cheap money flowing around means there's almost no incentive for many of these startups to sell."
In other words, it has become a game of who blinks, or breaks, first. —Alexander Onukwue, west Africa correspondent
---
Stories this week
The new African EV hub. Many e-mobility startups have set up shop in Kenya to try to put electric vehicles on Kenyan roads. Carlos Mureithi profiles BasiGo and Opibus—two e-mobility vehicles—on why they've chosen Kenya as their base of operations and their plans for the future.
Kenya makes strides on a central bank digital currency (CBDC). With the Central Bank of Kenya having issued a discussion paper assessing the applicability of a CBDC, Carlos Mureithi looks at how the technology could work in a country that already has a robust digital and mobile money market.
Even soccer clubs can be startups. Paystack CEO Shola Akinlade has set his sights on challenging how the business of soccer is done in Nigeria. After watching the new team play, Alexander Onukwue has thoughts about Akinlade's Paystack-like game plan.
Africans are fixing Wikipedia's language problem. Wikipedia has a scarcity of content in African languages. Carlos Mureithi writes about a growing movement to increase African-language content in the online encyclopedia by equipping Africans with tools to create Wikipedia articles in their own languages.
Why are China and Somaliland beefing? Somaliland—an autonomous though largely unrecognized region of Somalia—is making friends with another diplomatically isolated state. Carlos Mureithi reports on how a visit to Taiwan by a high-level delegation from Somaliland provoked a negative response from China.
Nigeria's super cop had a bad Valentine's. Abba Kyari, an FBI-indicted Nigerian police officer, was arrested at the beginning of the week for allegedly trying to resell seized cocaine. Alexander Onukwue explains why it's a big headache for the Nigerian police.
---
Charting where your Valentine's roses came from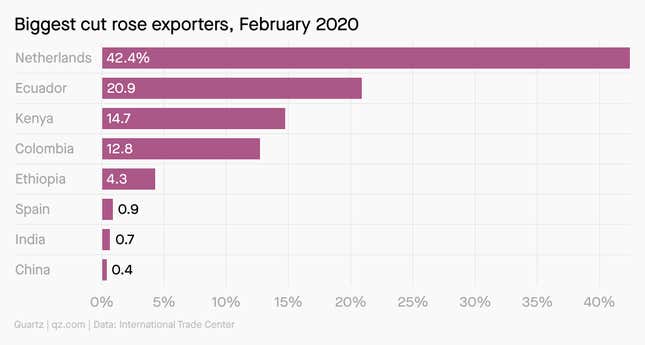 Kenya, the largest exporter of roses to Europe, struggled to find enough cargo space to deliver its usual shipment of flowers to European and Middle Eastern markets this year. Normally, Kenyan roses travel to their destinations in the cargo holds of passenger flights—but as passenger travel has fallen during the pandemic, the country was left with less than half its usual air cargo capacity in the run-up to Valentine's Day.
To fill in the gaps, the Kenyan government granted Ethiopian Airlines and Qatar Airways permission to run dozens of last-minute flights to airlift Valentine roses out of the country. Those rescue flights didn't come cheap; Clement Tulezi, CEO of the industry group Kenya Flower Council, told Bloomberg that the airlines charged an average of $5.70 per kilogram to deliver the flowers, up from $2.40 per kilogram last year.
Nicolás Rivero reports on how increased freight rates sent the cost of roses into full bloom.
---
Dealmaker
Stitch, a South Africa-based startup for open finance, raised $21 million, bringing the total raised since launching in February 2021 to $27 million. Investors in this round include The Spruce House Partnership, PayPal Ventures, and CRE Venture Capital, and the founders of Chipper Cash, Quovo, and Unit.
Freterium, a Moroccan freight management startup, raised $4 million in a round led by Partech, with CDG Invest, Y Combinator, Flexport, and other investors participating. Freterium adds to the number of logistics startups in the Middle East and North Africa region seeking to provide one-stop digital platforms that give full visibility to participants in the shipping value chain.
Earnipay, a Nigerian startup providing flexible access to salaries for employees, raised $4 million in a round led by Canaan, a US venture capital firm. The startup has been in beta since September 2021 and has a target of having 200,000 users by the end of this year. Other investors in the startup include XYZ Ventures, Village Global, Musha Ventures, Voltron Capital, Ventures Platform, and Shola Akinlade, Paystack's CEO.
---
Spotlight on a Quartz Africa 2021 Innovator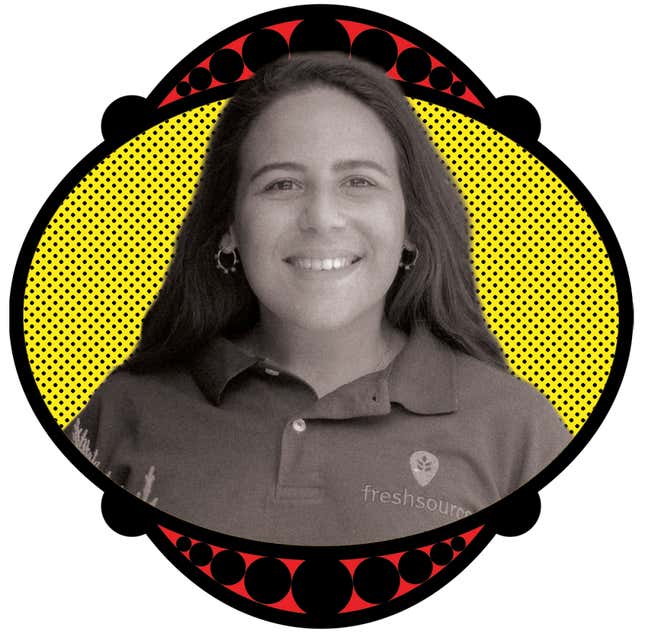 Farah Emara grew up immersed in Egypt's agricultural supply chains. Her family owns one of the country's largest cold-storage companies that hauls fruits and vegetables from rural areas into the supermarkets and restaurants of Cairo.
It's a tedious process. On its journey from farmers to end buyers, produce often changes hands between several middlemen, each one eroding a bit of the farmers' profit margins and raising the odds that some produce will go bad. Overall, she says, 45% of Egypt's produce rots in this way before it reaches a market. FreshSource is Emara's solution: A digital marketplace that connects farmers directly to buyers. It's web-based for now, with an app in the works.
Supply chain efficiency is critical for climate change adaptation, and with Egypt facing a water scarcity crisis, waste is unaffordable. On average, FreshSource users' food waste has dropped to 5%, she says.
Check out Quartz Africa's Innovators 2021 list, which showcases the pioneering work of female Africans.
---
Quartz Gems
Our latest Forecast email—one of our exclusive member emails—explores the future of reproduction. Try a free week of membership for the full experience.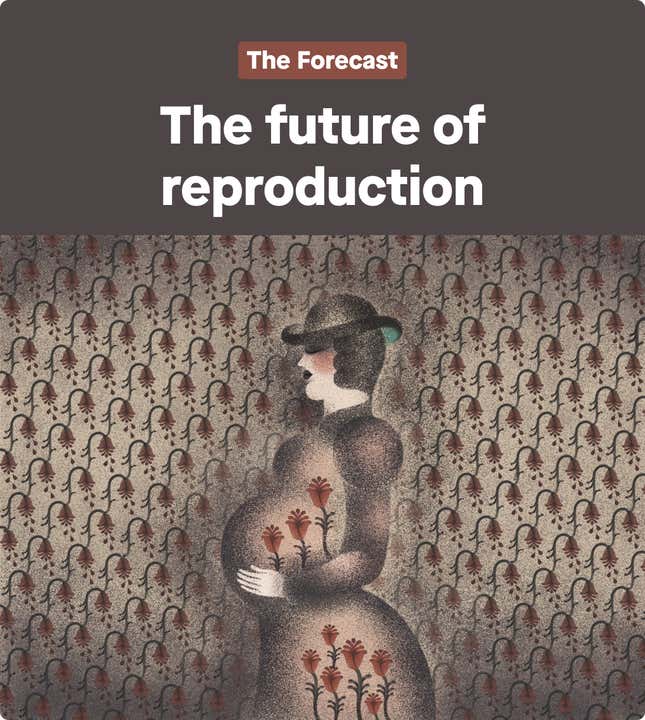 People are having fewer babies than ever before. The global fertility rate is half of what it was at its peak in the 1960s. South Korea forecasts that its fertility rate, which already was the world's lowest, will plunge to just 0.7 by 2024—meaning that each woman is expected to have fewer than one child on average. The precipitous drop in fertility means countries are facing aging populations and shrinking workforces, placing greater strain on social safety programs and government budgets.
A few reasons people are having fewer babies:
Governments are trying to encourage baby-making by implementing improved parental leave, free child care, or child benefits payments. In the private sector, companies like Facebook, Google, and Apple have begun offering fertility services such as egg freezing to attract and retain employees.
Now, pioneering research is moving past traditional biological barriers to having children, making it more accessible to more people (as long as they can afford it).
---
Speaking of reproduction productivity….
What's up, Docs? When Google unveiled the precursor to Google Docs back in 2006, it was a pretty obvious shot at Microsoft Word. Then things got interesting. By focusing its software on accessibility, scale, and collaboration, Google succeeded at redefining productivity software—but also stumbled onto a different way of building community.
🎧  Learn more about the Google Docs backstory with this week's episode of the Quartz Obsession podcast.
☁️  Listen on: Apple | Spotify | Google | Stitcher
---
Other things we liked
An investigation into outsourcing content moderation. For Time, Billy Perrigo investigates the content moderation work done for Facebook by Sama, an American outsourcing company with operations in Nairobi. He finds a workplace culture characterized by mental trauma, intimidation, and alleged suppression of the right to unionize.
Women, bicycles, and motorcycles. Lara Reffat writes for African Arguments about how women and girls are defying stigma and sexism by riding bicycles and motorbikes in Cairo.
Lagos has more fun spots for visitors. For the Financial Times, Neil Munshi reports on the rise of new, cool hangout spots in Lagos, Nigeria, thanks to the pandemic forcing a few people with disposable income to open local alternatives to foreign getaway spots.
A super cop's original sins. Evan Ratliff and William Clowes provide the backstory in Bloomberg on how a celebrated Nigerian police officer got entangled with a now convicted fraudster, focusing attention on the officer's previously shady ethical history.
---
ICYMI
A focus on Africa and the Middle East's outlook. At the Allianz Risk Barometer 2022 webinar, experts from Allianz will discuss insights from the report, focusing on the two regions. (Feb. 22)
 A webinar on long-term financing. The Making Finance Work for Africa Partnership and the Capital Markets Development Trust Fund will hold a webinar aimed at promoting long-term financing through local currency bond markets in Ghana and Mauritius. (Feb. 24)
---
🎵 This brief was produced while listening to "Ameno Amapiano Remix" by Goya Menor and Nektunez (Nigeria and Ghana)
---
Our best wishes for a productive and ideas-filled week ahead. Please send any news, comments, suggestions, ideas, remittances, and roses to africa@qz.com. You can follow us on Twitter at @qzafrica for updates throughout the day.
If you received this email from a friend or colleague, you can sign up here to receive the Quartz Africa Weekly Brief in your inbox every week. You can also follow Quartz Africa on Facebook.