Hi, Quartz Africa readers!
Five stories from this week
Nigeria killed its controversial anti-social media bill. Last year, Nigerian lawmakers introduced a 'Frivolous Petitions Bill' to prevent deliberate malicious claims against public office holders. But the bill was seen as an attempt to restrict freedom of expression and regulate social media. Months of concerted opposition won this week as the Senate formally withdrew the controversial bill, writes Yomi Kazeem.
A former Boko Haram stronghold is now one of Nigeria's fastest growing property markets. Three of Nigeria's biggest northeastern towns are seeing a resurgence as people return after several years of fleeing the region after Boko Haram insurgents took control of the region a couple of years ago. Mark Amaza writes from Abuja on how some canny investors, who took a chance when the market was down, are now seeing returns of up to 200% and in some cases higher.
East Africa's $18 billion 'coalition of the willing' is falling apart. Uganda and Rwarda are reassessing their roles in the Kenya-led partnership which includes a $13 billion rail line and a $5 billion oil pipeline. Joshua Masinde in Nairobi examines how Kenya's influence seems to have waned as a John Magufuli-led Tanzania is now on the rise and explains what that might mean for the region's future.
These South African innovations could help the world finally beat tuberculosis. South African scientists are testing two separate innovations that could help the medical professional detect tuberculosis much earlier than ever before, writes Lynsey Chutel. One process called fluorescence dilution isolate the bacteria earlier in order to track its development while another accelerates detection via blood tests.
Ahead of Kenya's 2017 elections there are worrying signs on the ground and from the data. Photos this week captured the brutality of Kenya's police ahead of the country's presidential election next year. As if that wasn't bad enough, Lily Kuo in Nairobi reports on data that shows how Kenya's economy always takes hit in an election year and is expected to do the same in 2017.
[insertSponsor]
Chart of the week
Mobile data needs to get this much cheaper before most of the world can afford it.
 About 43% of the world's population can afford 500 MB of mobile data a month right now,
. In order to double that number, data costs have to fall by 70% globally, according to a new study conducted on behalf of Facebook's controversial Internet.org service.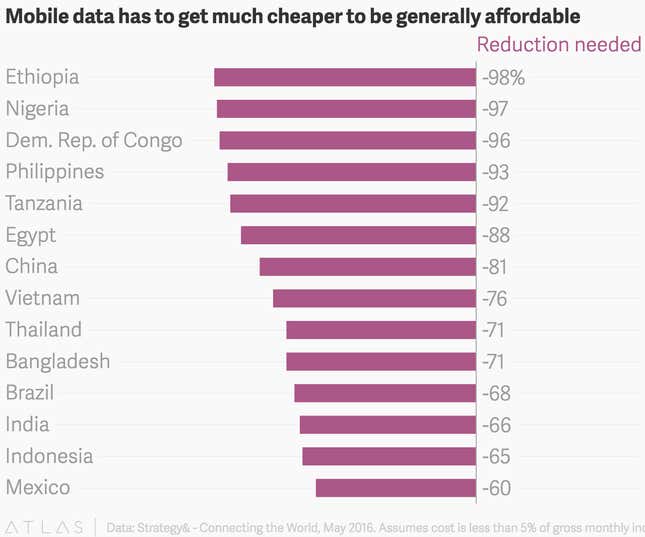 Other Things We Liked
The new face of African art. Contemporary African art is no longer the old mix of tribal masks, woven masks and carved figures, finds Kelly Crow for the Wall Street Journal. Instead today's artists are influenced by the challenging themes of modern African life from migration and gay life to China's investment in the continent. Crucially, the artists are benefiting most from their own hometown support.
An economic boom is bringing Ethiopia's diaspora home. The Ethiopian government is actively involved in trying to bring its large diaspora back home to help with money and skills acquired in the West, writes Paul Schemm in Washington Post. The hope is to help to transform a society "still hobbled by the legacy of the 17-year communist dictatorship that ended in 1991."
When it comes to Nigerian Scrabble, less means more. Last year, Nigeria's Wellington Jighere became the first African to win the World Scrabble Championship. Drew Hinshaw and Joe Parkinson write for WSJ  on Jighere's peculiar championship winning technique which sees Nigerian players choose to play shorter five word letters in a bid to limit their opponents' choices.
Keep an eye on
Nigeria's president Buhari will formally mark his first year in office on May 29.
 Unfortunately it's coincided with confirmation that Africa's largest economy shrank in the
. This week, Buhari will be
paying his first working visit
 since being elected to commercial capital Lagos. Lagos continues to do well and on its own
is Africa's seventh largest economy
.
Burundi talks in Arusha—again. The talks taking place in Tanzania this weekend aim to bring rival parties to the table after a year of political instability and uncertainty in the landlocked country. Its troubles have threatened to destabilize its neighbors as well. The hope is that this will be the last with a promising resolution to be announced next week.
Our best wishes for a productive week ahead. Please send any news, comments, unmonitored social media accounts and great African art to 
. You can follow us on twitter at @qzafrica for updates throughout the day.