Hi, Quartz Africa readers!
[insertSponsor]
Five stories from this week
What Muhammad Ali meant to Africa. Ali was a hero to Africans writes Yomi Kazeem and the love and respect was mutual. Ali, who first toured Africa in the sixties, self-identified as 'African' long before it was fashionable.
University degrees aren't the answer. Africa's youth unemployment problem needs creative thinking and a readjustment of our approach. Getting more people into universities isn't the answer, argues Misan Rewane, who thinks the focus should be on much-needed skills training.
What would an African Game of Thrones look like? Man Booker Prize-winning author Marlon James imagines an African GoT would tap into the history and myths of the continent's great kingdoms. The Jamaican writer tells Rebekah Kebede he's working on this research for his next book.
Uber will finally face a tough African rival. Kenya's No.1 mobile network Safaricom, which built M-Pesa into the world's largest mobile money business, is getting into the ride-sharing game writes Lily Kuo. 
As hydropower dries up, Zambia looks to the sun. Lake Kariba, the main source of Zambia's electricity, is at just 12% capacity due to the regional drought this year. The land-locked country hopes to have cheaper and regular electricity by turning to solar power, writes Lynsey Chutel. 
Chart of the week
The missing 'trickle down' effect. The last decade has seen a boom in global commodity demand which has helped many resource-dependent African economies to grow rapidly. But research shows growth in local economies hasn't translated into prosperity for many everyday Africans.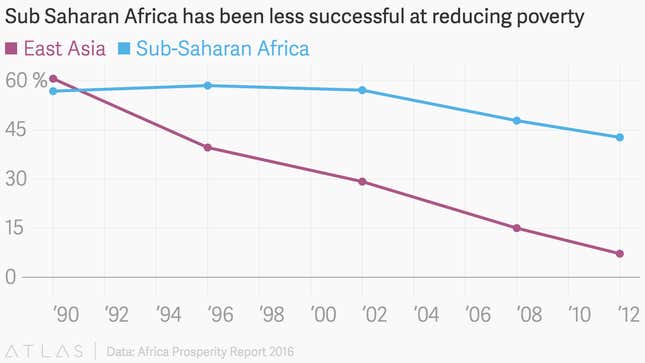 Other things we liked
Zimbabwe's expensive US dollars. Seven years ago Zimbabwe gave up its currency in favor of more stable global currencies like the US dollar. Bloomberg's Brian Latham and Chengetai Zvauya find the country is currently facing some of the same problems it was trying to avoid by giving up its own legal tender. The shortage of dollars right now means you can buy one US dollar for $1.07.
Rocking in the Kalahari. Dressed in black leather, studs and chains, local hard rockers get together every year for a heavy metal festival in the middle of the Kalahari desert in Botswana, some 400 miles from capital city Gaborone. Patrick McGroarty and photographer Charlie Shoemaker depict a colorful story for the Wall Street Journal.
A Somali community in Minneapolis is conflicted. The conviction of nine young Somali-Americans,  accused of conspiring to join and kill for the Islamic State in Syria, has left a Minneapolis community divided. While some think a conviction might deter copycats, others believe  the convicted were scapegoats for the authorities, write Jack Healy and Matt Furber in the New York Times.
Keep an eye on
More political protests in Kenya (June 13). Since Kenya's main opposition party, the Coalition for Reforms and Democracy (CORD), made clear it plans to ignore a government ban on demonstrations, Monday's protest could be the most contentious yet. The protests are aimed at forcing the government to reform the electoral process and personnel ahead of the 2017 elections.
Inflation Wednesday (June 15). The governments of Botswana, Ghana, Namibia and Zimbabwe will all share their countries' latest inflation figures. South Africa will release retail sales data that day.
The Nigerian naira might get flexible. Speculation is mounting the Central Bank of Nigeria (CBN) might clarify earlier statements about introducing some flexibility in the exchange rate of the naira, and that could ease pressure of the currency next week. The local currency was quoted at 368 to the dollar on the black market at the end of last week, according to Reuters, while its official rate was 197.50 to the dollar.
Our best wishes for a productive week ahead.Please send any news, comments, Ali in Africa memorabilia and unused college degree certificates to africa@qz.com. You can follow us on twitter at @qzafrica for updates throughout the day.