Bonjour, delegates!
Or, rather, ex-delegates. We hope that you have re-acclimated to life outside the very warm bubble that was Cannes Lions 2017. Aside from sunburns and swag, what are we taking back from the festival? Three things:
Existential angst
When you return to the Riviera next year, things may be different. There has been a lot of hand-wringing about the future of the festival this week, amid widespread feeling that the advertising industry has been slow to adapt to the turbulent global economy.
"There's just a sense of vulnerability that there wasn't a year ago," Joanna Coles, Hearst's chief content officer, told us. "It felt more confident and robust. Now, I think people are jangly and there's a different level of anxiety."
That said, the first thing delegates encountered at the Palais was a big, bold brand promotion: Snap's lurid yellow Ferris wheel. But the week's most impactful stunt, as it were, was Publicis boss Arthur Sadoun announcing midway through the festival that the agency was pulling out of all awards shows next year, including Cannes. For his part, WPP's Sir Martin Sorrell cut the group's delegation in half this year, citing costs.
As a result, during what should have been a triumphant week for Ascential, the parent company of the festival organizers, investors took fright and put a big dent in the group's share price.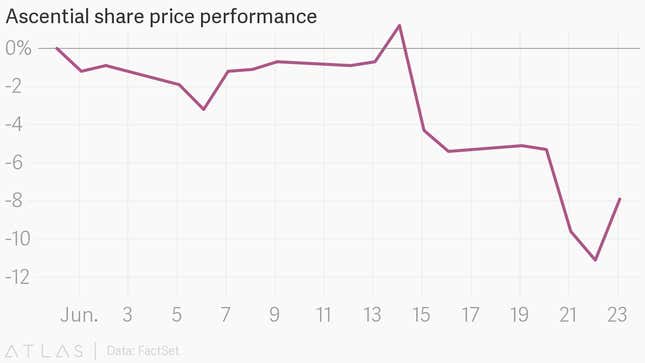 On Friday, the Lions announced a new advisory committee for key players to air their grievances and "create the right Cannes Lions experience for all participants." The first batch of bigwigs on the board were not agency heads from the likes of Publicis and WPP, but marketing execs from brands like Burger King, Unilever, and Procter & Gamble—that is, the people pulling the strings on ad budgets.
Chief marketing officers appreciate creativity, but they are ultimately judged for their effectiveness and efficiency. This means more focus on data and results, and a more sober atmosphere in Cannes, despite all the rosé.
Hope for the future
So, is Cannes just for suits now? Not exactly.
As some agencies back away from awards—overall, entries were down 4% this year—investing in them could serve as a powerful recruiting tool for others to attract up-and-coming talent. That's one reason Ogilvy sponsors the Young Lions competition and brought nearly 20 creatives to compete in the category, despite the cutbacks made by owner WPP.
"If we could afford it, we would send everyone in the global network," said Ogilvy CEO John Seifert, "particularly the youngest." Elaine Li, a Hong Kong-based Ogilvy art director whose "super viral" campaigns for Nike and KFC helped get her to Cannes to compete for a Young Lion, said the exposure to her global competition was an inspiring eye-opener.
"If you don't win awards, people are less likely to want to work at your place," Jeff Goodby of Goodby Silverstein told AdWeek. "It's the only way we have to keep score in the creative department."
Li didn't win a Lion this year, but she—and her 182,000 Instagram followers—might disagree that it's the only way for a creative to keep score.
A sense of balance
The good news for those fretting over how to marry creativity with efficiency is that some of today's most effective marketing messages do not rely on big budgets.
"Our audience doesn't pay us in finance—they pay us in attention," said YouTube star Grace Helbig, a sought-after brand spokesperson.
There's a reason social-media platforms were so prominent in Cannes this week: that's where people increasingly spend their time. (That is, in the 51 weeks per year when they're not pillaging the free food at Facebook Beach.) But the traditional tricks of the trade don't always translate on social networks, given their intimate, interactive nature.
A theme throughout the week was the need to foster unfiltered relationships with people who have short attention spans and finely tuned BS filters. In other words: authenticity, man. But how to bring that to advertising—an industry obsessed with control and, you know, selling stuff?
For one thing, it's okay to be raw and rough-edged. Consider the award-winning campaigns that cleverly leveraged social and sharing platforms, like Burger King's TV ad designed to trigger voice-activated devices and Jet.com's low-budget search-engine hacks.
And there's the "Creative Effectiveness" award category, which accounts for "tangible business effects" in addition to creative execution. For the Art Institute of Chicago, Grand Prix winner Leo Burnett built a real-life replica of a bedroom as painted by Van Gogh, and rented it out on Airbnb. The project only cost $31,000 to run, but garnered media coverage worth $6 million and led to the best-attended exhibit in 15 years. (Leo Burnett is part of Publicis, by the way.)
Industry veteran David Droga captured the prevailing mood, accepting his Lion for lifetime achievement this week. "I used to try to sell things just on the creativity of something, and I'd be furious if they didn't see the genius I saw," he told the crowd in the Palais. Now, "if I was a client, I wouldn't want to buy something just because it's creative… They should buy something because it's right, and good for their business, and answering their needs."
Coles of Hearst has been mulling the meaning of all this from the Ferris wheel—an appropriately on-brand anecdote, since she's on Snap's board. "Everybody is being asked to talk about the future of media, and it's not really clear anyone really knows," she said. "I've spent a lot of time riding around thinking about things. It's quite a good metaphor for Cannes."—Jason Karaian and Jenni Avins
Au revoir
Et voilà, c'est tout. Thanks for letting us be a part of your inbox this week—we look forward to seeing you at the beaches, bungalows, and boats in Cannes next year. In the meantime, keep in touch: jason@qz.com and jenni@qz.com.