Bonjour!
We're halfway there. You can do this!
The weather today is what it always is: sunny, with a high of 28°C (82°F).
Today at the Palais
Sheryl Sandberg speaks. Facebook's COO and leaner-in-in-chief, will shed light on "consumers and their changing behavior on mobile" (for example, not using Facebook), and Facebook's focus in 2019. (Spoiler: it's groups.) If you thought Sandberg's high-profile appearance at the Palais means that the programming at Facebook Beach shuts down, think again: Pippa Seichrist, a sculptor who specializes in dog face pottery, will speak about turning a hobby into a career. She will "turn a clay jug into a dog that will make you smile." You decide which 1pm session is more for you.
Shenzhen calling. The CMO of Chinese tech behemoth Tencent, owner of mega-app WeChat, pops into the Palais to talk about using technology to make the world a better place at 2pm. Seng Yee Lau will explain the company's goal of "enabling AI to provide the greatest good for the greatest number of people, worldwide." Good luck with that!
The beauty of blockchain. Simon Gill of creative agency Isobar answers the question on everyone's lips: How do you "make a blockchain artwork that will live forever and generate a unique crypto collectable?" The interactive session starts at 4:45pm, so bring your blocks, your chains, your creative juices, and let the alchemy begin.
And the winner is… Tonight's awards are for PR, Social & Influencer, Direct, Creative Data, and Creative Strategy (is there any other kind?). The judges also name the media network of the year and Young Lions competition winners in marketing and print. Hollywood dealmaker Jeffrey Katzenberg is honored as Media Person of the Year. (Katzenberg also pitches his short-form, mobile-first video platform Quibi, which is run by ex-HP and Ebay boss Meg Whitman, on the main stage at 10am.)
Away from the Palais
Star power. Supermodel Naomi Campbell is speaking at 11am at Inkwell Beach (a beach with a motto: "Don't talk about it. Be about it!"). At 12.30pm, actress Rose McGowan takes to the Open Mic Beach Lounge (a beach lounge with a motto: "Listen in. Speak up. Act.") to talk about a "bold and unapologetic" approach to her life and career so far.
Cartoons need body positivity too. Heading into year two of Dove's partnership with the Cartoon Network's Steven Universe, brand director Dinara Bekmansurova discusses research on the media's effects on body image with the show's creator Rebecca Sugar, CN's Jill King, self-esteem researcher Helena Lewis-Smith, and singer-songwriter Estelle (who you may know as the voice of Garnet). Refinery29's Piera Gelardi, who is quite animated herself, moderates at WarnerMedia House at 3pm. Another reason for these cartoons to feel positive: news broke yesterday that they're getting a TV movie with a high-powered cast that includes Patti LuPone and Chance the Rapper.
Screen time. Ever feel like you and your TV are getting more… connected? Innovid's side-event at Le Rooftop explores the future of TV, which could take in everything from ad personalization to that thing that happens where the credits on the show you were watching become a small box in the corner and you can't read the names. Top billing goes to Hulu CEO Randy Freer, interviewed by journalist Katie Couric at 9.30am.
Clean-living Cannes
Get moving—or not. Ad exchange JustPremium is hosting a charity swim at Majestic Beach, starting at 8:30am. Video agency Viduate rented some football—fine fine, soccer—pitches in town for some casual kickabouts from 11am-1pm. If that's all a bit much, music licensing firm Tracks & Fields is running a "hangover rehab" clinic that starts bright and early at noon, featuring "plenty of food, all kinds of beverages from coffee to cocktails, as well as painkillers, antacids and multivitamin supplements."
Party planner
Life finds a way. If you've got an in with Havas, there's an invite-only VIP soirée with actor Jeff Goldblum at the agency's cabana complex. Over at Twitter Beach, it's #CannesAfterDark with Ciara, who was sporting an "Old Town Road" inspired look yesterday (black leather bell-bottoms are a bold choice in this heat). Spotify Beach is throwing a concert with Bebe Rexha and Tove Lo to close out its last full day of programming.
What everyone is talking about
The weed farm tour. About a year ago, the US Food and Drug Administration (FDA) approved its first ever cannabis-derived drug: Epidiolex, a fruit-flavored CBD liquid that helps prevent severe epileptic seizures in children. It sounds like an easy sell. But at a standing-room-only session, GW Pharmaceuticals' marketing director Julie Baker said gaining physicians' trust was a hurdle. To show doctors there was nothing sketchy about Epidiolex, GW partnered with New York-based creative agency The Bloc. They built rigs, flew drones, and used remote control cars to create a virtual reality tour of the entire production process—from the sprawling grow-houses outside London all the way to the bottling facility.
Tell me a story. One of the buzziest buzzwords we've heard along the Croisette this year is "storytelling." NBCUniversal, for example, is pitching its ability to "be the storytellers on behalf of brands," according to marketing exec Josh Feldman. The entertainment giant offers newfangled ways to incorporate ads into programming via things like picture-in-picture placements; integrated shopping overlays; and a forthcoming AI tool trained on 15,000 scripts to pinpoint the most relevant ad breaks for sponsor messages to appear. (WarnerMedia is at Cannes with a similar Hollywood-meets-Silicon Valley message.) And if storytelling isn't enough, both "storyliving" and "storydoing" have also been name-checked on the main stage.
You're Dern tootin'. Onstage with HBO's Big Little Lies star Laura Dern, WarnerMedia chief Bob Greenblatt made the quality-over-quantity case for his company's new streaming service, which will launch in the first quarter of next year. "Just because you increase the volume, doesn't mean you've increased the number of really talented people in the world who can actually produce these shows," he said. Burn! Mega-producers like JJ Abrams, with whom WarnerMedia is reportedly on the verge of closing an exclusive $500 million deal, are key weapons in the battle for consumers. And Greenblatt said he'll fight for them. In other words, WarnerMedia will "not not be rich."
Chart interlude
This is why all those ad tech companies can afford to rent yachts: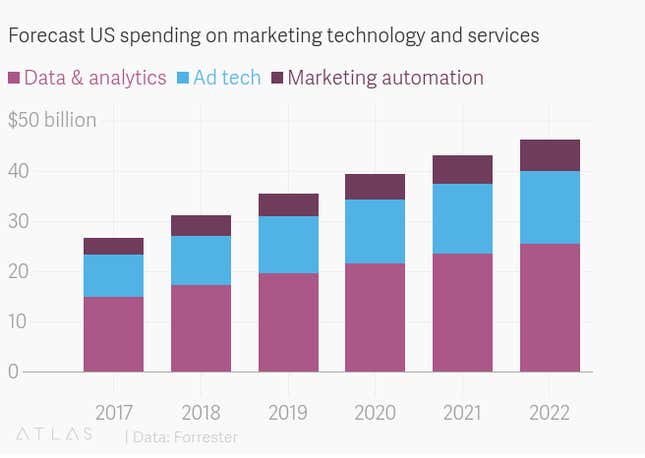 Seen and heard
"If we can do good in this industry, why wouldn't we?"—John O'Keefe, worldwide creative director, WPP
Self-loathing session of the day: Confessions of a Marketer: Advertising's Predatory Habit of Appropriation
"I can't wait to have my period to try this product."—comment from customer research about Koala Huhu, a Chinese "feminine hygiene protection pad in the shape of a koala," as relayed by Procter & Gamble's Phil Duncan
"For all you beautiful people out there, here are some jazzy-ass pianos."—Nas, introducing "The World is Yours" to the crowd at Spotify Beach
"The long tail is what makes life worth living."—Steven Pinker, Harvard professor of psychology
By popular demand, today's episode of Yacht Maintenance: Power-wash Edition
Haiku of the day
You'll need a passport
to prove you're Canadian
for this beach party.
News from around the world
Donald Trump officially kicked off his re-election campaign. Speaking at a rally in Orlando, Florida, it seemed like 2016 again (paywall) as the US president brought up touchstone issues dear to his base—including the "witch hunt" Russia probe and Hillary Clinton's emails.
Guatemala said it wouldn't accept US-bound asylum-seekers. Trump wants Mexico and Guatemala to process people who enter their territory to seek refuge in the US—and tweeted that the Central American nation was on the verge of agreeing to do so. The country's interior minister disputed the claim.
Nissan and Renault neared a compromise. The Japanese-French car alliance, fragile since Japan's prosecution of former Nissan chairman Carlos Ghosn for financial misconduct, looked even more precarious after Renault signaled it wouldn't support (paywall) Nissan's corporate governance overhaul. That could change with key roles in new Nissan board committees reportedly on offer.
Matters of debate
Tragedies are a way of getting more followers on social media. Instagram accounts are hijacking Sudan's political struggle.
US socialism is back. And it's here to stay until the market economy benefits more people.
Maternity leave is a no-win scenario for moms. Women are penalized whether they take time off or not.
Surprising discoveries
Two neighboring bookshops in Paris are fighting a culture war. The ideologically opposed shopkeepers' tactics include demanding the return of bookmarks (paywall).
There's a hit Japanese TV show about work-life balance. I Will Not Work Overtime, Period! follows a professional striving to leave the office by 6pm (paywall).
A Pakistani politician gave a press conference as a cat. Someone accidentally applied a feline filter to the Facebook livestream carrying his address.
Our best wishes for an inspiring day at the festival. Please send us any news, tips, confident cartoons, and poodle pots. Haiku by Daianna from Thoughtful Works. Consult our Cannes cheat sheet for details about all the boats, beach huts, villas, and cabanas around town.