Hello Quartz readers,
US president Donald Trump and Senate Republicans continue to drag their feet on new legislation to bolster the US economy as it reels from the cost of the pandemic. There's no good reason for this!
The US economy is recovering, but all too slowly. Job creation in November was positive but distressingly slower than the pace needed to rebound. Unemployment remains twice as high as it was at the beginning of 2020. The number of people unemployed for six months or more grew by 385,000 people to 3.9 million, a critical indicator of the long-term damage to the economy as the recession continues.
That's especially true as the assistance from this spring's pandemic relief bill expires at the end of the year. Millions of unemployed Americans will lose benefits, even as eviction moratoriums and aid to small businesses expire. The sudden pullback of resources, just as many jurisdictions begin to reimpose pandemic-related business restrictions, threatens a double-dip recession before any vaccines can be distributed.
Such a dismal scenario is entirely avoidable: Just look at what happened this summer. Even as production cratered far more quickly than during the 2008 recession, US household income actually rose thanks to the mix of $1,200 checks to households, expanded unemployment insurance, relief for small businesses, and the Federal Reserve backstopping capital markets.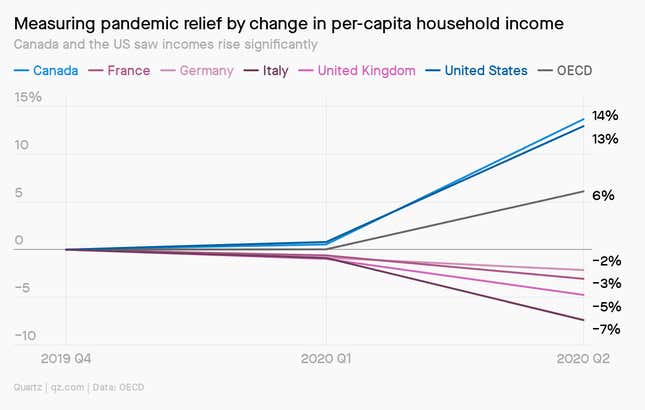 US pandemic relief proved more generous than the more automated stabilizers deployed in some European developed economies, in part because those measures were more targeted than America's fiscal firehose.
The massive spending prompted by the pandemic may give pause to those concerned about the US debt load. But the US still has space to spend freely, and even those who believe the current path is unsustainable in the long term say that preventing needless damage before a vaccine is widely distributed is a wise use of public resources.
---
Made in China
Be wary of using "first" in any convo about the Pfizer, Moderna, or AstraZeneca vaccines: Both China and Russia have already deployed vaccines to a certain extent, though before completing clinical trials. Here's what we know about China's vaccines so far:
🇨🇳 Of the roughly dozen vaccine candidates in development, four from three Chinese companies are at an advanced point in the final stage of clinical trials.
💉 Over 1 million people have received injections of a candidate being developed by the state-run China National Pharmaceutical Group, also known as Sinopharm, but we still don't know much about its safety or efficacy.
📅 Two candidates, one from Sinopharm and one from Nasdaq-listed Sinovac, are closest to regulatory approval. A wider rollout could begin as soon as the end of this year.
💴 There isn't an official price tag on the vaccines yet, but one Chinese city offered Sinovac's CoronaVac to essential workers at about $60 (400 yuan) for both shots. In August, Sinopharm said two shots of its vaccine wouldn't cost more than $145.
🌏 China-developed vaccines currently make up a very small portion of global pre-orders for Covid-19 vaccines, and demand has mostly come from low- or middle-income countries.
---
That's what he said
"With the world in dire need of Covid-19 drugs and vaccines, the biopharmaceutical industry has a once-in-a-generation opportunity to reset its reputation." —Eli Lilly CEO Dave Ricks during a second-quarter earnings call
As recently as last year, high drug prices and the opioid epidemic had left most Americans with a negative impression of the pharmaceutical industry. But if the world is going to make it out of the pandemic, it'll be because of Big Pharma. Annalisa Merelli looks at how the Covid-19 vaccine may be the only cure strong enough for the industry's bad reputation.
---
Running on empty
Marathons are the lifeblood of the running community, and the kinds of lucrative competitive races that often turn casual joggers into devoted participants of the sport. They're also potential super-spreader events.
To cope, race directors have gone virtual, or found workarounds to host small races. But even with compromises like these, events won't be back at full strength until amateurs feel confident enough to return. Katherine Ellen Foley looks at how the future of marathons is in the hands of the casual runner, part of our field guide to The Great Sports Comeback (it's more fun when you capitalize it).
Not a Quartz member yet? It's neither a marathon nor a sprint—more of a daily jog for your brain. Give us a few laps with a seven-day free trial.
---
You asked
How many people need to be vaccinated for life to go back to normal?
The threshold at which herd immunity starts to kick in depends on two main variables. First, we need to know vaccines' real-world effectiveness, not just their efficacy, or how well they prevent Covid-19 cases compared to a placebo.
Right now, scientists estimate that each person with SARS-CoV-2 can infect two to three people. Assuming that vaccines can prevent transmission, and that their effectiveness is close to their clinical trial efficacy, that means herd immunity will likely be achieved when 60% to 70% of people in a community are vaccinated, says Steven Singer, an immunologist at Georgetown University. In the US, this would mean vaccinating between 197 million and 230 million citizens. Globally, it'd be between 4.7 billion and 5.5 billion people.
But that number could easily change based on another factor: how well the vaccine works to prevent transmission of SARS-CoV-2 from person to person, which vaccine manufacturers haven't been able to study closely. "As we roll out the vaccine and we start to see case numbers fall, that will tell us how effective the vaccines are at reducing transmission," says Singer, who considers it "highly likely" the vaccines do curtail transmission. How many people will need to be vaccinated to see these effects depends on Covid-19 case rates before vaccination started, and how quickly and equitably vaccines are doled out.
---
Essential reading
---
Our best wishes for a healthy day. Get in touch with us at needtoknow@qz.com, and live your best Quartz life by downloading our iOS app and becoming a member. Today's newsletter was brought to you by Tim Fernholz, Jane Li, Tripti Lahiri, Annalisa Merelli, Katherine Ellen Foley, and Kira Bindrim.