Hello Quartz readers,
The next 12 months promise a chance at global recovery thanks to vaccines now being manufactured and distributed around the world. But it's too early to let our guard down: The path forward for investors, policymakers, and everyone else is lined with pitfalls. And that's just accounting for what we can predict.
Forecasting the macroeconomic environment is not simple, but we can say that two things will affect global production above all else: The first is how quickly and where the pandemic is contained, and the second is how well policymakers around the world are able to repair the economic damage left in its wake. The latter is especially dependent on how American policymakers steer the world's largest economy—its attempts at recovery will cascade across the rest of the globe, with consequences for every market.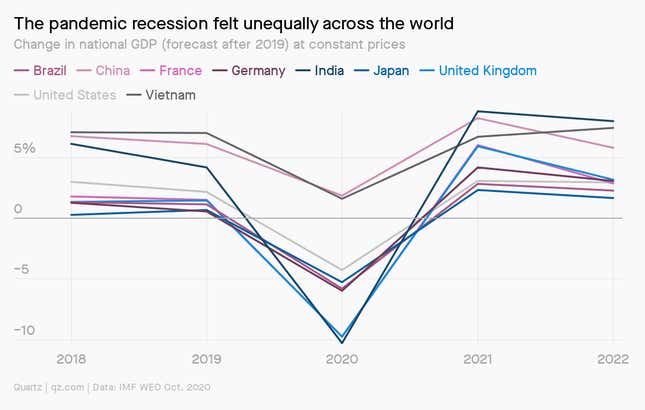 The good news is that there's every reason to believe a broad-based recovery is possible. Other recent recessions have left behind financial systems crippled by toxic assets, or permanently broken industries that forced economy-wide restructuring. In contrast, while the suffering and dislocation of the pandemic have been staggering, societies have the tools to provide relief and a speedy recovery. But even when the Covid-19 recession recedes, the global economy will still be facing the myriad of problems it did before 2020.
What to watch out for? We outlined all of it in our field guide to the economy in 2021, including:
✦ It's no hotpot stock, but Quartz membership is a perfect way to prepare for post-pandemic life. Read the full guide to the 20201 economy—plus all of our guides, presentations, and award-winning articles—by trying one week of membership on us.
---
Record scratch
The US continues to set new records for daily coronavirus deaths, thanks in large part to government dysfunction. To reach safe levels of immunity in the country by May would require (pdf) providing 1.8 million vaccine doses every single day after Jan. 15. Here's how the US could get there:
😷 More resources. That means personnel, working freezers, dry ice, logistical support, and protective equipment.
🤝 Better coordination. There are 64 jurisdictions in the US responsible for vaccine distribution, and each one has its own plan.
📋 Simpler guidelines. The complex guidelines developed by the CDC may be slowing distribution (which is why the agency is rethinking them).
👋 Willing recipients. Another challenge has proven to be the refusal of certain high-priority individuals, including healthcare workers and first responders, to be vaccinated.
---
Who vaccinated it best?
Not everyone is dropping the ball as hard as the US—Israel, Bahrain, and the United Arab Emirates all seem to have the process figured out. These Middle Eastern states have administered jabs to 21%, 11%, and 5% of their populations, respectively, while the US, Denmark, and UK trail further behind at 2% each.  What's their secret? For starters:
🗺 They're small. Fewer square miles means no sprawling distances to travel while keeping vaccines at -70 to -80°C.
🏥 They've got universal healthcare. Centralized and digitized data mean citizens can access an app or call a hotline and receive an immediate appointment for a jab if they are eligible.
🗣They're not skeptical. Communication around the vaccines' safety and efficacy has been clear and convincing.
---
You asked
Can you spread Covid-19 if you get the vaccine?
The short answer is: We don't know yet. The first reason for that is practical: Vaccines' priority is preventing exposed individuals from getting sick, so that's what the clinical trials for Covid-19 shots were designed to determine. We simply don't have public health data to answer the question of transmission yet.
The second reason is immunological. From what we know so far, Covid-19 vaccines cause the body to produce a class of antibodies called immunoglobulin G, or IgG antibodies. These antibodies are heavyweights: They react swiftly to all kinds of foreign entities. They make up the majority of our antibodies, and are confined to the parts of our body that don't have contact with the outside world, like our muscles and blood.
But to prevent Covid-19 transmission, another type of antibodies could be more important. The immune system that patrols your outward-facing mucosal surfaces—like the nose, throat, lungs, and digestive tract—relies on immunoglobulin A, or IgA antibodies. People who get sick and recover from Covid-19 produce a ton of these more-specialized antibodies, but we don't yet know how well existing vaccines incite them.
Because of all that complication, it's unlikely that immunological research alone will reveal how well vaccines can prevent Covid-19 transmission—at least, not for years. Until then, community spread is the best way to tell if a vaccine can stop a person from transmitting a virus to others.
---
Treat yourself
"The pandemic has led to a rise of do-it-yourself beauty. Consumer priorities have shifted towards products that allow them to mimic the salon experience at home, buy online, and look great during virtual meetings." —Helen of Troy CEO Julien R. Mininberg during an earnings call. 
Americans are continuing to pamper themselves and their loved ones during the pandemic. Growing interest in skincare and self-care—along with the closure of many salons and spas—has meant significant increases in sales of soaps, lotions, fragrances, hair appliances, candles, and other beauty products.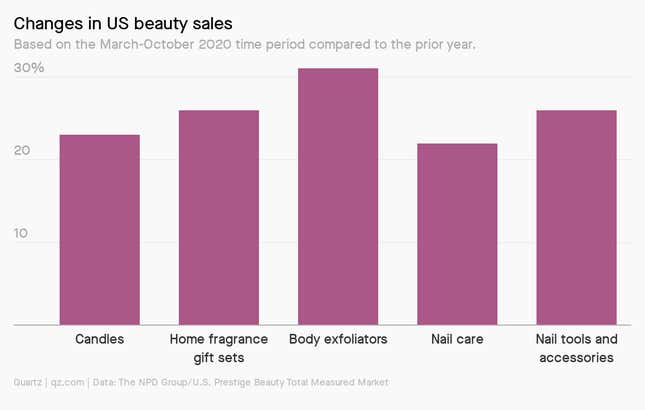 ---
Essential reading
---
Our best wishes for a healthy day. Get in touch with us at needtoknow@qz.com, and live your best Quartz life by downloading our iOS app and becoming a member. Today's newsletter was brought to you by Tim Fernholz, Annabelle Timsit, Katherine Ellen Foley, Karen Ho, Susan Howson, and Kira Bindrim.