Good morning, Quartz readers!
Here's what you need to know
The UK is set to continue its lockdown… Foreign secretary Dominic Raab will outline plans to extend current restrictive measures for potentially another three weeks, as a central exit strategy has yet to take shape. Lawmakers will also discuss plans for a "virtual" parliament. Meanwhile, the first chartered flight carrying Eastern European workers to pick fruit and vegetable crops will land in the UK.
…while the US unveils guidelines for re-opening the economy. President Donald Trump will issue the federal benchmarks for states following a conference call with 50 governors, though the final decision on how to restart businesses will be made at the state level. Meanwhile, New York tapped global consulting firm McKinsey to develop a "Trump-proof" re-opening plan, and is mandating face masks in busy public places.
South Korea's ruling party clinched a landslide victory. In a national election with stringent social distancing and hygiene rules that still saw a historic 66% turnout rate, president Moon Jae-in's ruling Democratic Party and its satellite party won 180 of the 300 parliamentary seats up for grabs. Thae Yong-ho, a former Pyongyang diplomat, became the first North Korean defector to win a seat.
Another 5 million people could file for unemployment benefits in the US. Almost 17 million have already made jobless claims in the previous three weeks, and economists are forecasting another series of filings in the multi-millions for the week that ended April 11 as the economy buckles from the shutdown.
Amazon shuts its French warehouses. The online retail giant is suspending operations at its distribution centers for five days to deep clean the facilities, after a French court ruled that the company was not doing enough to safeguard its workers' health and ordered it to stop selling non-essential goods for a month.
Two dozen Rohingya died on a boat. The vessel with nearly 400 people onboard had been drifting for weeks after failing to reach Malaysia. The survivors will be sent back to Myanmar, where the Rohingya are from, following their rescue by Bangladesh's coast guard.
---
Who's making it work on Zoom?
---
Charting banks' backup plans
America's banking giants are fortifying themselves for a potential tsunami of bad loans.
The five biggest US lenders have stashed away $24 billion of loan-loss provisions as of the first quarter, almost five times as much as in the previous period, according to FactSet data. Banks are preparing for a wave of soured loans and credit losses as businesses endure weeks of closures to contain the coronavirus pandemic.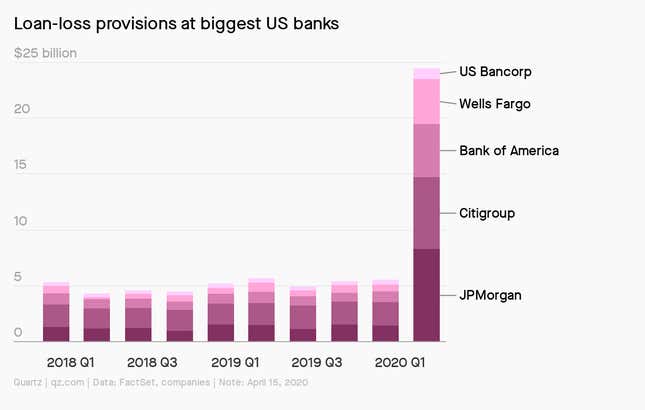 ---
For our members
💰"I've always seen the WHO's lack of funding as a symptom, not a cause, of their problems. People don't trust them, and that's why they've underfunded them." —Ashish Jha, director of the Harvard Global Health Institute
🥛"The biggest thing is the collapse in the restaurant and food service demand. It's tough to get numbers, but I would estimate as much as 40% of dairy goes into food service channels."—Lucas Fuess, a food industry analyst with HighGround Dairy
👖"Now what we're seeing is much more emphasis on core products that have a never-out-of-stock, trans-seasonality to them, because those can be much more profitable for retailers." —Francesca Muston, fashion director for trend forecaster WGSN
(You too can be a member! Start with a 7-day free trial.)
---
Quartz Daily Obsession
Prison breaks are having a resurgence in the Covid-19 era. From the United States to Italy, Brazil, and Iran, inmates are trying to break out of jails, many of which have elevated coronavirus infection rates. Pandemic aside, prison breaks have a long history, and the ingenuity of escapees draws a cult following in culture and beyond. Make a break for the Quartz Daily Obsession.
---
Surprising discoveries
Banksy's lockdown artwork is causing mayhem in the bathroom. The anonymous artist said his wife hates it when he works from home.
A lost Viking trade route has been re-discovered. It was likely used to ferry goods like butter and reindeer antlers across Europe.
A bookstore is making bike deliveries of "mystery bags." Forced to close during the lockdown, the shop in Boulder, Colorado, is bringing bags sending books and other goodies to customers instead.
Artists in Berlin transformed their balconies into galleries. Several dozen creatives took part in the impromptu exhibition, staged on what curators called "the public apertures of the private."
The ocean's longest creature measures 150 feet. A siphonophore spotted off the coast of Australia puts blue whales to shame.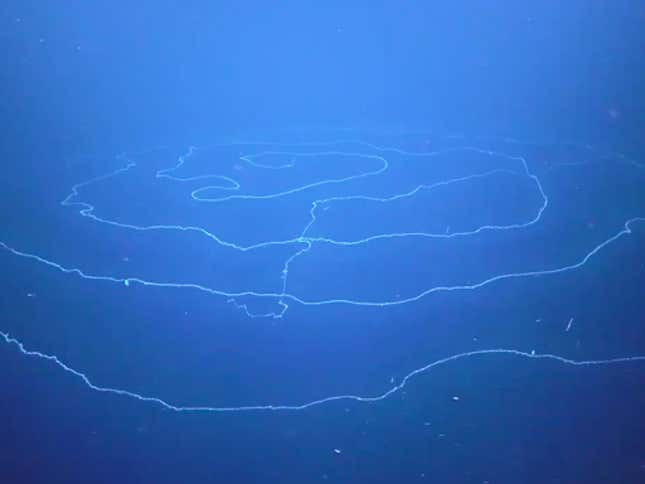 ---
From the Quartz newsletterverse 
Climate deniers have a new hobby: coronavirus denial. The same people (and psychology) are at work, says Stephan Lewandowsky of the University of Bristol. One conservative radio host referred to the coronavirus on March 14 as "climate change 2.0." "They perceive it as a threat, in the same way that climate change is—not just to the economy, but also to the way in which the economy operates," he told Grist. That has led to a vastly different assessment of the risk posed by the pandemic.
Learn more about the fight against climate change—and climate-change deniers—by signing up for Race to Zero Emissions, a weekly briefing on the battle for the planet.
---
You asked 
How do you make yourself productive if you're so distracted and aren't that interested in what you happen to be working on now, but you have to finish it?
Great question, Abigail. Here's some advice from Quartz's director of audience, Phoebe Gavin: "I try to plan out my day as much as possible and assign tasks to time periods. But I only work on them for 15 minutes at a time. It's short enough that I'm not intimidated by starting, and if I go offline, no one will freak out because not much can happen. But it's long enough that I can make meaningful progress and possibly build up some momentum.
"When I have tasks I'm not excited about, I try to work on those in chunks too. If it's a particularly onerous task, I'll chop it down to 5-minute chunks."
You can find more sage workplace wisdom by signing up for The Memo, a new newsletter from Quartz at Work. If you have your own workplace or productivity question, ✉️ send it our way.
---
Our best wishes for a productive day. Please send any news, comments, creative bathroom mayhem, and mystery book bags to hi@qz.com. Get the most out of Quartz by downloading our app on iOS or Android and becoming a member. Today's Daily Brief was written by Mary Hui and edited by Isabella Steger.