Good morning, Quartz readers!
Here's what you need to know
Europe's hardest-hit countries showed encouraging signs. Spain reported its lowest coronavirus death toll yesterday since March 22, while the number of deaths in France and Italy has also slowed in the past week. Unlike Germany, however, they're not ready to ease lockdown measures yet.
Israel eased lockdown measures. The government said yesterday that outdoor prayer gatherings of up to 19 people and weddings and circumcisions of up to 10 would be allowed, and people would be able to travel up to 500 meters (0.3 miles) from their homes for sports or prayer. Those caught not wearing masks outdoors more than once, however, will be fined.
Italy reiterated a call for European economic solidarity. In an interview with a German newspaper, prime minister Giuseppe Conte urged Germany and the Netherlands to change their position on issuing coronabonds, and said that the joint bonds would only apply in a limited time and does not mean socializing past or future Italian debt.
China tightened its grip over Hong Kong. Local police arrested 15 high-profile opposition figures for organizing and participating in last year's protests, including 81-year-old barrister Martin Lee and newspaper tycoon Jimmy Lai. The arrests—which the Hong Kong government said were not politically motivated—drew sharp international rebuke.
The outlook for airlines worsened. South African Airways plans to lay off its entire 4,700-person staff and may disappear for good after it failed to secure a government bailout. United Airlines is offloading 22 planes from its 800-strong fleet to conserve cash.
---
What to watch for this week
Smaller stores can resume business today in Germany, though the state of Bavaria is taking no chances.
The Czech Republic is also taking steps to re-start its economy today, including allowing car dealerships to open.
Chile will start issuing immunity cards today for people who have recovered from coronavirus.
France extended the closure of Amazon warehouses there until Wednesday due to concerns over sanitary conditions.
In the US, lawmakers and the Trump administration are closing in on a $400 billion-plus deal for renewing a loan program meant to help small companies survive the pandemic.
Facebook moved forward the launch of its live-gaming app to today due to soaring demand for entertainment.
---
Charting India's online grocery surge 
Hundreds of online grocery shops have been founded in India in the past five years. Most have failed to survive. But the coronavirus outbreak, and a nationwide lockdown, are giving the current players a unique opportunity (✦ a Quartz member exclusive), as suggested by the growth in daily active users for their apps.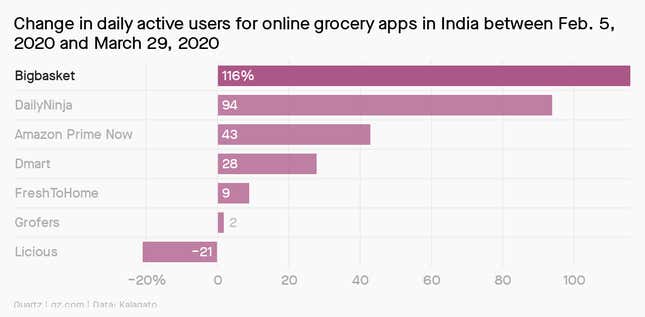 The challenge now will be to sustain the momentum and ensure customers keep ordering online once things reopen.
+ more for Quartz members: 
How do you nail a remote job interview? Make sure you get the little things right, like elevating your camera to eye level. And find a way to establish a personal connection with the interviewer early on.
What is Covid-19 teaching us about long-term thinking? Eric Ries, author of The Lean Startup, shares his thoughts.
Want to become a member? Get 40% off a 1-year subscription.
---
Quartz Daily Obsession
Just one more episode. Binge-watching hasn't just shaped our relationship with television, it has dramatically changed the entertainment industry. Press pause, it's the Quartz Daily Obsession.
---
Surprising discoveries
Lions are lounging through lockdown. Unperturbed by tourists, big cats in South Africa's Kruger National Park are dozing off on once busy roads.
New York made Zoom marriages legal. Governor Andrew Cuomo issued an executive order allowing couples to obtain licenses and marry "utilizing audio-video technology."
An Argentine health official televised a lesson in safe virtual sex. Wash your hands, disinfect keyboards, telephones, sex toys, and whatever else people might be using, he said.
Soda's fizz is under siege. Coronavirus has deflated the CO2 supply chain, causing headaches for brewers, soft drink manufacturers, and meatpackers.
You can stock your Animal Crossing island with classic art. The Getty Museum created an open-source collection of masterpieces specifically for the popular life simulation game.
Our best wishes for a productive day. Please send any news, comments, sleeping lions, and Zoom weddings to hi@qz.com. Get the most out of Quartz by downloading our app on iOS or Android and becoming a member. Today's Daily Brief was written by Isabella Steger and edited by Mary Hui.