Good morning, Quartz readers!

---
Here's what you need to know
A top Chinese nuclear weapons lab has been acquiring blacklisted US chips. A 1997 US export ban hasn't stopped the firm from buying semiconductors made by Intel and Nvidia since 2020, according to The Wall Street Journal.

Amazon's grocery shoppers will have to spend more for free delivery. As part of its massive cost-cutting efforts, Amazon Fresh will offer free delivery only for grocery bills of $150 or more.

Oil and gas producers in Texas are battening down against winter storms. The National Weather Service has predicted ice and cold rain, which can freeze gas supply lines and disrupt power grids.

Gautam Adani had a 413-page answer to the Hindenburg report. The billionaire refuted allegations of fraud, hoping to calm investors in the midst of a $2.5 billion share sale (more below).
Toyota was the world's top car manufacturer in 2022. The company retained the title for a third consecutive year, selling 10.5 million vehicles—including a record 8.6 million overseas.

Novak Djokovic won his 22nd tennis Grand Slam. By beating Stefanos Tsitsipas in the Australian Open final, Djokovic equaled the record held by Rafael Nadal. The same day, the Kansas City Chiefs made their third Super Bowl in four years.

---
What to watch for
Today (Jan. 30) Hong Kong is scrapping its five-day isolation rule for people who test positive for covid.

It's the latest step the city has taken in dismantling its system of covid restrictions, which were abandoned by mainland China last month. Hong Kong has already removed mandatory PCR tests for arrivals as well as vaccine passes and the need for rapid test results to access bars and banquets.
These anti-covid measures, however, remain in place:

😷 The mask mandate (both indoors and outdoors). The government hopes to lift the restriction in March or April, when the weather is warmer.

🧪 Daily rapid tests for students until the end of February at least. Teachers and other staff can stop on Jan. 30.

📜 A negative PCR test result is required for travelers between the mainland and Hong Kong.
---
Why are Adani stocks tumbling?
One of the richest people in the world, the Indian billionaire Gautam Adani, is in trouble.
Last week, Hindenburg Research, a New York-based financial research firm, published a report accusing the Adani Group of committing the "the largest con in corporate history." Since then, the shares of some of the group's companies have plunged over 40%, wiping out an estimated $71 billion in stock market value. On Monday morning (Jan. 30), the group's flagship Adani Enterprises recovered somewhat, although it was still 15% down from its pre-Hindenburg mark.

The reverberations of this rout have been felt across Indian markets. Several public sector banks and the state-owned Life Insurance Corporation (LIC) hold large stakes in the company. If Adani collapses, taxpayers will also take a hit.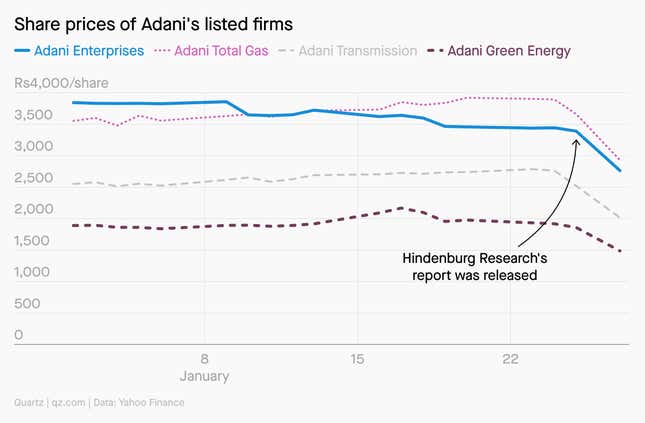 Hindenburg is no newcomer to taking aim at big corporate names. Founded in 2017 by activist short-seller Nathan Anderson, the firm has previously gone after the hedge fund Platinum Partners, the electric truckmaker Nikola, and Twitter.

---
You've got to be drunk to understand what's in Fireball
What's the difference between Fireball Cinnamon Whisky and Fireball Cinnamon? For starters, one has whiskey in it and the other, well, does not.
It's admittedly easy to confuse the two, and that's why the maker of Fireball is being accused of fraud and deceptive marketing practices. As Quartz's Scott Nover explains, maybe the only way to not get confused is to just take a shot of whatever Fireball you can find.

✦ Love stories like this? Help keep our content free and accessible to all by getting a Quartz membership. We're offering 50% off.
---
Quartz's most popular
🎁 Consumer spending dropped during the holiday season—just as the Fed hoped
🏆 Will Africa outperform the world in economic growth?
💨 India needs to rethink the way it monitors air quality
🌯 Chipotle wants to hire 15,000 more workers in time for "burrito season"
📢 A group of anti-abortion protesters broke into Walgreens' shareholder meeting
👜 LVMH and H&M earnings show luxury goods can weather more storms than fast fashion
---
Surprising discoveries
A very, very old mummy was discovered in Egypt. The 4,300-year-old remains of a man named Hekashepes may be the oldest ever found in the country.

The latest celebrity marketing stunt includes wild gazelles and Arabian oryx. Extravagant vacations to Dubai are increasingly being traded for TikTok mentions.
Brits can now get a master's degree in podcasting. The City University of London is the country's first dedicated program for this medium.
Bears aren't camera shy. A collection of 400 furry selfies is proof enough.

The ocean near San Diego is turning pink. Don't worry, it's all in the name of science.
---
Our best wishes for a productive day. Send any news, comments, luxe vacations, and bear confidence to hi@qz.com. Reader support makes Quartz available to all—become a member. Today's Daily Brief was brought to you by Mimansa Verma, Ananya Bhattacharya, Sofia Lotto Persio, Julia Malleck, Morgan Haefner, and Samanth Subramanian.