Good morning, Quartz readers!

---
Here's what you need to know
The euro zone reported fourth-quarter growth… The bloc's GDP grew 0.1%, dodging a recession. Meanwhile, the IMF projected that the UK will be the only G7 economy to shrink in 2023.
…while China reported an uptick in economic activity. Manufacturing numbers rebounded from December to January as the zero-covid "exit wave" winds down.
Adani Enterprises completed a $2.5 billion share sale. The offering was fully subscribed despite fraud allegations leveled at Adani Group, which have taken a bite out of billionaire-owner Gautam Adani's wealth.
BYD launched EV sales in Japan. China's largest EV maker debuted in the world's fourth largest car market as it takes on Tesla in global sales.
ExxonMobil posted record annual profits. The US oil giant reported $55.7 billion in 2022 earnings as energy prices soared last year following Russia's invasion of Ukraine.
Lebanon devalued its currency by 90%. The official exchange rate, previously unchanged since 1997, has been weakened amid an ongoing financial crisis.
French unions led a second round of strikes against pension reform. About 2.8 million people nationwide took to the streets, according to the CGT union.
---
What to watch for
Workers from across the UK's public sector will walk out en masse today (Feb. 1) to protest a labor law passed by the House of Commons on Jan. 31. The controversial policy prohibits some emergency workers and rail employees from participating in strikes.
It will be the latest in a series of walk-outs that have rocked the UK in recent months, including large-scale actions by nurses, teachers, and postal workers in response to stagnant wages. Critics say the new law allows the government to exert excessive power over employees, while its proponents argue it's essential for public safety.
In tandem with the strike, the Trades Union Congress (TUC), the association of organized labor for England and Wales, has planned demonstrations in major cities to protest the new policy, as well as the government's refusal to negotiate pay raises for public employees.
---
Good luck getting that raise
Something is happening with American wages that'll likely satisfy the Federal Reserve much more than the average worker: Employers aren't spending as much on employee pay.
In fact, wage growth is falling back to around where it was before the pandemic started. The Fed will be happy with this because it shows that employer costs are falling, giving them fewer reasons to raise prices. But while inflation could cool because of this, workers now have less leverage to negotiate higher wages for themselves.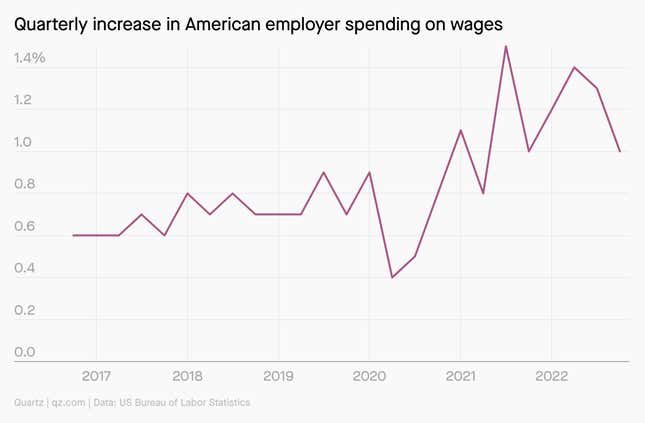 It's not just pay that's getting a tighter budget. Companies are slashing benefits and free lunches in an attempt to rein in spending—another sign that in the battle between workers and employers, workers are losing.

---
Pop goes the potential Ponzi scheme
There's no denying that Bitcoin's fall to Earth last year brought substantial losses with it. But the fate of Celsius Network, the collapsed cryptocurrency lender that promised customers 17% annual yields on their deposits, was probably doomed from the start.
The reason why lies in the way the company operated. A court-ordered investigation into the company found that Celsius's failure was, in fact, intrinsic to its business model… and may have involved a Ponzi scheme. As in, no real product, and early investors were potentially paid out with deposits from later investors.

✦ Love stories like this? Help keep our content free and accessible to all by getting a Quartz membership. We're offering 50% off for Daily Brief readers!
---
Quartz's most popular
⚽ Africa is making waves in the global football transfer market
🍎 Is Apple violating workers' rights under the guise of confidentiality?
👶 YouTube has become the world's nanny
🚓 Proactive policing begins harming Black people before they are even born
🔍 Who is behind Hindenburg, the research firm targeting the Adani Group?
🤥 Perceived corruption in the UK has hit an all-time high
---
Surprising discoveries
Memes have met a most advantageous match. Jane Austen has become a goldmine for "post-#MeToo" content on social media.
A bunch of gemstones were found at a swimming pool. Ancient Romans dropped them down the drain some 2,000 years ago.
Old-school calculators have transcended their plasticine forms. Now you can conduct your 8008135 calculations on the Internet Archive.
AI unearthed La francesa Laura. The previously unknown play was written by Félix Lope de Vega in the early 17th century.
A company is trying to "de-extinct" the dodo. Something tells us this is a don't-don't, but at least the birds were (mostly) vegetarian.
---
Our best wishes for a productive day. Send any news, comments, Austen anthologies, and advice from Jeff Goldblum to hi@qz.com. Reader support makes Quartz available to all—become a member. Today's Daily Brief was brought to you by Diego Lasarte, Julia Malleck, and Morgan Haefner.