Good morning, Quartz readers!
Here's what you need to know
EU foreign ministers discuss Israel. Led by France, they're reportedly considering punitive measures in response to Israel's plans to annex parts of the West Bank. Separately, Israel's new coalition government will be sworn in on Sunday, instead of yesterday as originally scheduled.
The Baltic states opened their borders, but only to each other. Lithuania, Estonia, and Latvia created the EU's first "travel bubble" when it relaxed its borders at midnight. The three states have recorded very low numbers of new Covid-19 cases in recent weeks.
The world's largest silicon chip manufacturer is putting down US roots. Taiwan Semiconductor Manufacturing, or TSMC, announced plans to establish a $12 billion plant in Arizona, as president Donald Trump makes a push to reduce semiconductor reliance on China and threatens to "cut off" his entire relationship with China.
China posted mixed economic data. Industrial output in April surged by 3.9% from a year ago as the country resumed work, but urban unemployment rose slightly while retail sales continued to fall, though at a slower pace.
The US Senate approved a Uyghur human rights bill. The Uyghur Human Rights Policy Act seeks to sanction Chinese officials responsible for the gross human rights abuses in the Xinjiang region against Uyghurs and other Muslim minorities.
Apple bought a VR company. NextVR, a California-based startup, specializes in events, including broadcasting VR highlights of the 2019 NBA finals.
---
A retail reckoning
Covid-19 has accelerated the transition to e-commerce, creating winners and losers more quickly than some players can adapt.
🔒 Many of Covid-19's temporary store closures will, in fact, be permanent. Whether they never reopen or reopen only to close immediately, UBS thinks that up to 100,000 stores could close in the US by 2025.
🛍 America's malls aren't expected to fare any better. With up to 90% of some malls' tenants missing rent payments in April, many shopping centers are rushing to reopen with medically questionable guidelines.
👠 It's also a nightmare for independent fashion designers. Smaller brands operate on tight budgets, often using one season's profits to fund the next. For many, survival is far from certain.
🌍 Sometimes even boosting sales isn't enough. Jumia—Africa's largest e-commerce platform—reported a 7% decline in revenue despite seeing a four-fold increase in grocery orders.
---
Charting pet adoption
A lot of people in the US had the same thought once pandemic lockdowns began in March: "Now that I'm home a lot more often, maybe it's time to get that rescue kitten or puppy I've always wanted." But despite the increased interest in adoption, some data suggest that overall adoption trends have leveled out over the past two months—there simply aren't enough animals available to adopt.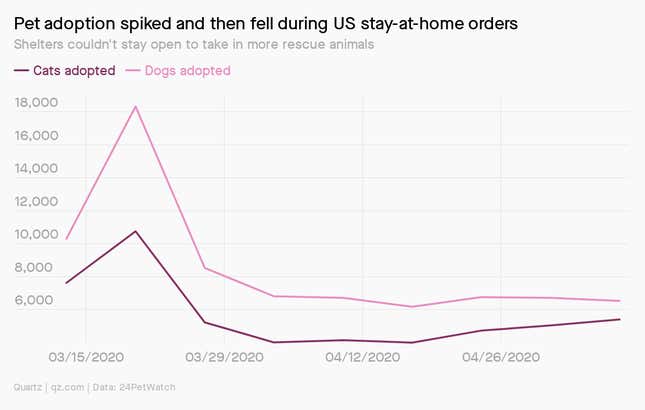 ---
For Quartz members: The virtual conference reboot
This week's membership field guide will help you make the transition from muted observer to meeting organizer in a few easy steps:
✦ Get access to these articles and a lot more when you become a Quartz member (try a seven-day free trial). ✦
---
We're obsessed with graduation
It's a brave new world. This class of 2020 may attend a virtual ceremony, take part in a drive-through graduation, or even listen to Barack Obama or Lil Nas X deliver televised commencement speeches. How graduation ceremonies continue to evolve remains to be seen, but for now they're certain to be marked less by pomp and more by the circumstances. Toss that tassel with today's Quartz Daily Obsession.
---
You asked about anti-vaxxers
How are the "anti-vaxxers" reacting to Covid 19 issues and are they changing their minds about vaccines? – Lezlie
The coronavirus has not killed the anti-vax movement. Quartz senior reporter Olivia Goldhill writes that some anti-vaxxers use the same arguments opposing mandatory vaccines to push back against the ongoing mandatory lockdowns. Celebrities can also amplify this cause. The world's top men's tennis player, Novak Djokovic, said, "Personally I am opposed to vaccination and I wouldn't want to be forced by someone to take a vaccine in order to be able to travel."
Other anti-vaxxers, however, are reconsidering their stance on vaccines. One longtime anti-vaxxer told Reuters she would consider taking a Covid-19 vaccine, and expressed skepticism at the conspiracy theories surrounding the disease. "We're all being affected by this virus, schools closing, young people in hospital, and they still say it's a hoax," she said.
✉️ Do you have a burning question about how coronavirus is changing the world?
---
Surprising discoveries
Animal Crossing is a job now. Are you an island-building fanatic who has demonstrated great design skills on your island, and is now looking to take those skills to the real world?
Haruki Murakami is DJing. The jazz-loving Japanese author is hosting a "Stay Home" radio special to lift the spirits of people in social isolation.
Giant, invasive lizards are causing havoc in Georgia. Officials in the US state want people to report any sightings of the Argentine black and white tegus, which eat just about anything.
Celebrities are flocking to a subscription-based 18+ content site. After getting name-checked by Beyoncé, it's safe to say OnlyFans has gone mainstream.
This ketchup puzzle might last through quarantine. Heinz is giving away 57 editions of its 570-piece monochrome jigsaw puzzle for those with the right condiment-ality.
---
Our best wishes for a productive day. Please send any news, comments, graduation memories, and pets for adoption to hi@qz.com. Get the most out of Quartz by downloading our app on iOS or Android and becoming a member. Today's Daily Brief was written by Isabella Steger and edited by Mary Hui.