Good morning, Quartz readers!
Here's what you need to know
Taiwan's status is at the center of a momentous global health meeting. The 192 countries that virtually gather today for the World Health Assembly will vote on whether to include Taiwan. The country has been applauded for its coronavirus response but is barred from participating because it refuses to recognize Beijing's One China policy.
China directed food companies to stock up. Beijing urged grain traders and producers to boost their stores of soybeans, soyoil, and corn over fears that a ballooning coronavirus outbreak in Brazil could disrupt global food supplies.
The world's largest lockdown continues. India extended coronavirus restrictions until May 31, but announced plans to gradually ease up. For now, curfews and bans on air travel remain in effect, but interstate travel is allowed. Meanwhile, domestic tourists flocked back to vacation locales in Vietnam, which is steaming ahead with its reopening.
Beijing threatened retaliation for US restrictions on Huawei. China's commerce ministry said it would take "all necessary measures" to respond to a new US rule that requires foreign semiconductor factories that use American equipment to obtain a license before doing business with Huawei.
Saudi Arabia's sovereign wealth fund went on a US shopping spree. The fund made the most of a weak stock market by gobbling up $10 billion in shares in US-based companies, including minority stakes in Boeing, Facebook, Citigroup, Disney, and Bank of America.
---
What to watch for
---
Charting the end of US wage growth
Coronavirus is a disaster for low-wage American workers. After decades of stagnant wages, a strong job market in the latter half of the 2010s forced companies to raise pay. But MIT economist David Autor says this growth period is over. The pandemic wiped out millions of low-paying retail jobs, and employers will now offer lower salaries to people desperate for work.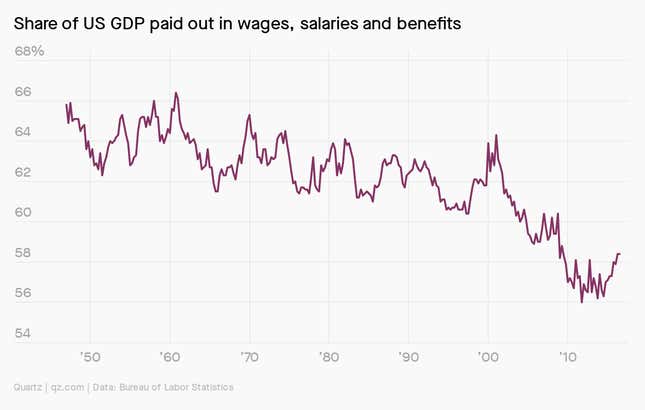 ---
For Quartz members
Coronavirus is a moment of reckoning for global supply chains. Globalization has made our trade system more vulnerable to disruption. The pandemic is forcing the world to confront that fragility in real time.
Hand sanitizer tells the story of global trade amid Covid-19. The goopy disinfectant is dependent on materials that must come from around the world on schedule, and in the right quantities, as air travel and factory production wither.
Jean production shows how Covid-19 has devastated the fashion industry. Chinese factories that produce raw materials and assemble clothes shuttered due to the virus. Retailers in Europe and the US then closed shops. Now companies, and their lowest-wage employees, are suffering.
✦ Get access to these articles and a lot more when you become a Quartz member. (Try a seven-day free trial.) ✦
---
We're obsessed with postcards
They're the original social media. Before the 280-character tweet, there was the tiny blank space on the back of a postcard. We no longer send them by the billions, as we once did, but postcards remain surprisingly durable. From their origins in postal law to their present-day status as kitschy gifts and valuable collectors' items, they continue to offer a direct way to send a message. The Quartz Daily Obsession wishes you were here.
---
Surprising discoveries
Californians are driving hundreds of miles for a haircut. Some hair salons in rural California are re-opening, prompting harried, hairy people to make pilgrimages from across the state.
Snakes are cliquey. Groups of easter garter snakes placed in a walled enclosure make "friends" with other snakes, and seek out the same pals if they get separated.
One man lives alone in an iconic Barcelona hotel. Industrial engineer Daniel Ordoñez lives by himself in the 27-story W Hotel, running the taps and doing light maintenance.
A new smartphone camera has x-ray vision. The OnePlus 8 Pro comes with infrared sensors that can see through a small subset of black materials, like thin plastic—or, in some cases, clothing.
A team of Chinese mountaineers will have Mount Everest all to themselves. Charged with measuring the mountain's current height, they'll summit in the eerie absence of tourists.
---
Our best wishes for a productive day. Please send any news, comments, postcards, and friendly snakes to hi@qz.com. Get the most out of Quartz by downloading our app on iOS or Android and becoming a member. Today's Daily Brief was written by Nicolás Rivero and Dan Kopf.