Good morning, Quartz readers!
Here's what you need to know
The UK's contact tracers get to work. Cabinet office minister Michael Gove said the government was on course to enlist 18,000 tracers by the end of the month, with the first tracers starting duties today. Scotland's first 600 tracers will also begin work today as part of a pilot program.
Taiwan's status is at the center of the WHO's annual meeting. The 192 countries gathering virtually today for the World Health Assembly will vote on whether to include Taiwan, which has been barred from participating since 2017 due to opposition from China. Meanwhile, more than 100 countries including Australia, India, Russia, and EU member states have backed a resolution calling for an independent coronavirus inquiry.
Beijing threatened retaliation for US restrictions on Huawei. China's commerce ministry said yesterday that it would take "all necessary measures" to respond to new US regulations that require foreign semiconductor factories that use American equipment to obtain a license before doing business with Huawei. Taiwanese chipmaker giant TSMC, set to build a US factory, has halted new orders from Huawei.
Afghanistan's rival leaders signed a power-sharing deal. The agreement between president Ashraf Ghani and his rival Abdullah Abdullah brings an end to a months-long political stalemate. Abdullah will lead peace talks with the Taliban, and his group will get 50% of the cabinet and other provincial governors' posts.
Japan slid into a recession. The economy shrank 3.4% from the previous quarter, marking a significant contraction for the second consecutive quarter.  Separately, Alibaba's former executive chairman Jack Ma resigned from the board of SoftBank Group, the latest departure of a high-profile ally of the conglomerate's CEO Masayoshi Son.
---
What to watch for
---
Charting the end of US wage growth
Coronavirus is a disaster for low-wage American workers. After decades of stagnant wages, a strong job market in the latter half of the 2010s forced companies to raise pay. But MIT economist David Autor says this growth period is over. The pandemic wiped out millions of low-paying retail jobs, and employers will now offer lower salaries to people desperate for work.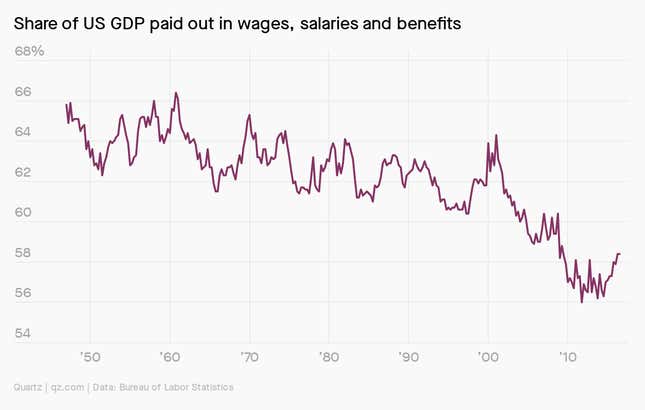 ---
For Quartz members
Coronavirus is a moment of reckoning for global supply chains. Globalization has made our trade system more vulnerable to disruption. The pandemic is forcing the world to confront that fragility in real time.
Hand sanitizer tells the story of global trade amid Covid-19. The goopy disinfectant is dependent on materials that must come from around the world on schedule, and in the right quantities, as air travel and factory production wither.
Jean production shows how Covid-19 has devastated the fashion industry. Chinese factories that produce raw materials and assemble clothes shuttered due to the virus. Retailers in Europe and the US then closed shops. Now companies, and their lowest-wage employees, are suffering.
✦ Get access to these articles and a lot more when you become a Quartz member. (Try a seven-day free trial.) ✦
---
We're obsessed with postcards
They're the original social media. Before the 280-character tweet, there was the tiny blank space on the back of a postcard. We no longer send them by the billions, as we once did, but postcards remain surprisingly durable. From their origins in postal law to their present-day status as kitschy gifts and valuable collectors' items, they continue to offer a direct way to send a message. The Quartz Daily Obsession wishes you were here.
---
Surprising discoveries
Michael Jordan's signed trainers sold for $560,000. The Nike Air Jordan 1s were worn by the basketball legend during his rookie season with the Chicago Bulls.
A rare long-necked dinosaur was unearthed in Australia. The discovery of a single-vertebra fossil from the delicate creature greatly expands the geographic range of this group of dinosaurs.
Pirate Mario doesn't get an eyepatch in China. It was edited out of the Nintendo game to adhere to the country's policy of banning the promotion of cults and superstitions.
Tests on hamsters show that masks reduce Covid-19 spread. Researchers at the University of Hong Kong found that masked-up hamsters cut non-contact transmission of the virus by up to 60%.
A team of Chinese mountaineers will have Mount Everest all to themselves. Charged with measuring the mountain's current height, they'll summit in the eerie absence of tourists.
---
Our best wishes for a productive day. Please send any news, comments, censored eyepatches, and legendary kicks to hi@qz.com. Get the most out of Quartz by downloading our app on iOS or Android and becoming a member. Today's Daily Brief was written by Mary Hui and edited by Isabella Steger.