Good morning, Quartz readers!
Here's what you need to know
The US economy could "easily" contract by 20-30%. In an interview for 60 Minutes yesterday, Fed chair Jerome Powell also said that low-income workers and women are taking the biggest hit, and argued that the US will avoid a depression because the underlying financial system and economy are sound.
General Motors told its Mexican suppliers to get ready. The company expects to resume production at its plant in Silao on Wednesday, Reuters reports, after the Mexican government told the auto industry that it could get going again before June 1.
Lockdowns are easing across some of Europe's worst-hit countries today. Most businesses in Italy, including bars and hairdressers, opened their doors for the first time in more than two months today. And in Spain, people can meet in groups of 10 (but not in Madrid or Barcelona).
Japan slid into a recession. The economy shrank 3.4% from the previous quarter, its second successive contraction. That's bad, but it doesn't capture the extent to which economy activity has frozen in April and May, and analysts are expecting far worse to come.
SoftBank reported an $18 billion operating loss at its Vision Fund. The Japanese company's investments in brittle tech startups have been failing badly and Alibaba's former executive chairman Jack Ma resigned from its board, leaving CEO Masayashi Son short of allies.
Top-level European soccer came back, without crowds. Germany's best teams played a round of televised games: no handshakes, balls doused in disinfectant, and masked substitutes sitting apart from each other. Other major leagues, desperate to resume, are watching closely.
---
What to watch for this week
The WHO meets today and tomorrow, virtually, with all 194 member countries participating. All eyes are on China.
Fed chair Powell and Treasury secretary Seth Mnuchin testify on coronavirus aid to the Senate banking committee on Tuesday.
On Thursday, the Department of Labor releases US unemployment claims figures for the week ending May 16.
Earnings this week: Target, L Brands (Victoria's Secret), Expedia, TJ Maxx, Walmart, Home Depot, Lufthansa, Alibaba
---
Charting the end of US wage growth
Coronavirus is a disaster for low-wage American workers. A strong job market in the latter half of the 2010s finally forced companies to raise pay. But MIT economist David Autor says this growth period is over. The pandemic wiped out millions of low-paying retail jobs, and employers will now offer lower salaries to people desperate for work.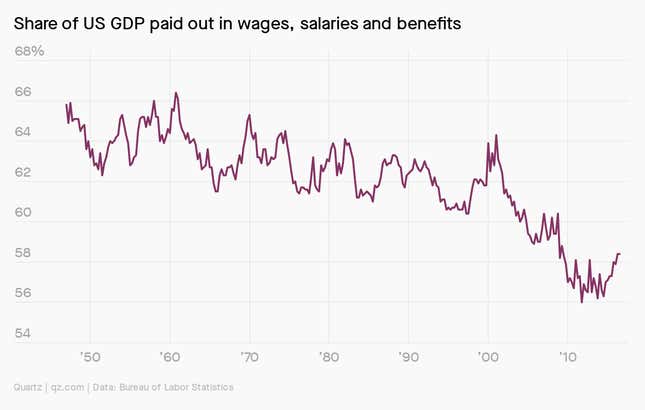 ---
For Quartz members
Coronavirus is a moment of reckoning for global supply chains. Globalization has made our trade system more vulnerable to disruption. The pandemic is forcing the world to confront that fragility in real time.
Hand sanitizer tells the story of global trade in the era of coronavirus. The disinfectant is dependent on materials that must come from around the world, on schedule and in the right quantities.
Covid-19 has devastated the fashion industry. Chinese factories that produce raw materials and assemble clothes closed, followed by retailers in Europe and the US. Now fashion companies, and their lowest-wage employees, are suffering.
✦ Get access to these articles and a lot more when you become a Quartz member. (Try a seven-day free trial.) ✦
---
We're obsessed with postcards
They're the original social media. Before the 280-character tweet, there was the tiny blank space on the back of a postcard. We no longer send them by the billions, as we once did, but postcards remain surprisingly durable. From their origins in postal law to their present-day status as kitschy gifts and valuable collectors' items, they continue to offer a direct way to send a message. The Quartz Daily Obsession wishes you were here.
---
Surprising discoveries
Michael Jordan's sneakers sold for $560,000. The basketball legend wore the Jordan 1s in his rookie season with the Chicago Bulls.
A rare long-necked dinosaur was unearthed in Australia. The discovery of a single-vertebra fossil from the delicate creature greatly expands the geographic range of this group of dinosaurs.
A Korean soccer team apologized for using sex dolls to make its stadium look busy. FC Seoul had claimed they were "premium mannequins."
A priest in Detroit used a kids' water gun to spray holy water. Reverend Timothy Pelc also wore a mask as he shot blessings at people through their car windows.
Vatican staff deep-cleaned St Peter's Basilica. They had to disinfect and scrub every inch of the world's largest church to prepare for its reopening.
---
Our best wishes for a productive day. Please send any news, comments, Maradona's 1986 Puma Kings, and Tiger's 1997 Masters putter to hi@qz.com. Get the most out of Quartz by downloading our app on iOS or Android and becoming a member. Today's Daily Brief was brought to you by Hasit Shah.