Good morning, Quartz readers!
Here's what you need to know
Masayoshi Son said the Vision Fund's WeWork investment was "foolish." The SoftBank CEO admitted as much during an earnings presentation that valued the coworking company at $2.9 billion as of March 31—down from its $47 billion valuation in Jan. 2019. The Vision Fund has invested in 88 companies thus far, and Son projected Monday that 15 of them will be a success and another 15 will crash and burn.
China levied a massive tariff against Australian barley. With half of its barley exports typically bound for China, the 80% import tariff is expected to cripple Australia's barley industry—a billion-dollar trade that represents one of Australia's top three agricultural exports to China.
Chinese oil demand has almost entirely recovered. Consumption is back near pre-lockdown levels, as demand for all refined petroleum products except jet fuel has returned to normal. The West Texas Intermediate crude index, which went negative last month, bounced back above $30 a barrel Monday.
Uber laid off 3,000 workers and shut 45 offices. These cuts come on top of 3,700 layoffs announced two weeks ago, and signal a reevaluation of research projects ranging from freight to self-driving cars.
---
Taiwan, WHO?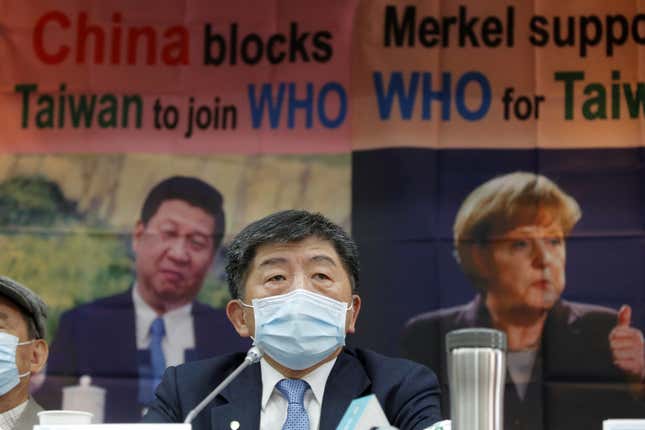 World Health Organization member states convened virtually this week for the World Health Assembly (WHA), and would have voted yesterday on whether Taiwan should be invited to join the body as an observer. The votes were unlikely to get it done, but the number of countries willing to publicly support Taipei in spite of Beijing's threats would have served as an indicator of how much damage China's heavy-handed response to the pandemic has done to its global standing.
Instead, Taiwan pulled its bid, saying that its allies would prefer the two-day event be used to tackle pandemic responses. But the foreign minister's statement made Taiwan's position clear: "The people of Taiwan abhor the two-faced behavior of the Chinese government, which claims to care for their health and welfare while actually seeking to deprive them of their right to health at every turn."
Charting the meat market
In 2019, the US produced more than 103 billion pounds of beef, pork, and chicken, about a fifth of which was exported. But the novel coronavirus that causes Covid-19 has brought United States meat production to its knees, and Brazil is seeing an opportunity.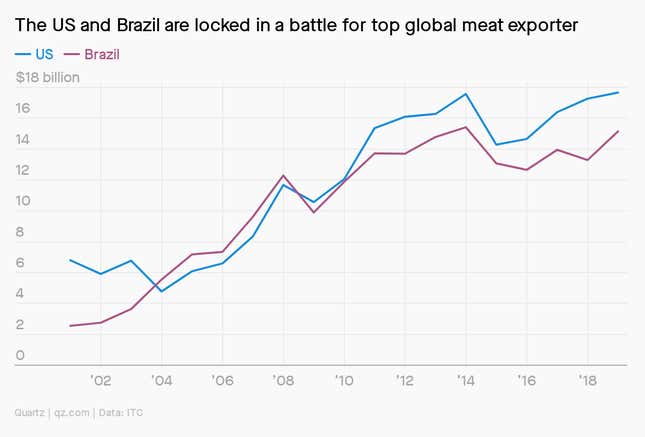 ---
For Quartz members: A second helping of meat
Let's take a deeper dive into the numbers and find out what's at steak.
Between 80% and 90% of the US beef supply is manufactured by four companies.
36% is the year-over-year decline in daily cattle slaughtered in the US.
130,000 people work in US meatpacking plants.
5,000 of them have tested positive for coronavirus.
20 have died.
✦ Get access to these articles and a lot more when you become a Quartz member. (Try a seven-day free trial.) ✦
You asked about emissions
Are carbon emissions decreasing with less use of gasoline powered vehicles and aircraft?
The short answer is "yes." The long answer is "Yes, but not enough to make a real difference." Quartz reporter Tim McDonnell talked to some climate scientists about what a pause on emissions indicates for our future. In the short term, the shuttered factories and construction sites, grounded airplanes, parked cars, falling electricity use, and vanishing oil demand are enough to get us on track. UK-based research outfit Carbon Brief found that during the peak of its shutdown, China's emissions dropped 25%. But as shutdown conditions relax, emissions are likely to jump right back to business as usual, said Simon Evans, a biochemist and Carbon Brief's deputy editor. As we noted above, China's oil demand is almost back to pre-pandemic levels.
We wish we had better news for you. Even sustained emissions reductions on this scale wouldn't be enough to limit global warming to 1.5 Celsius above pre-industrial levels, the goal set out in the 2015 Paris Agreement. To make that possible, emissions need to drop 7.6% every year this decade, according to the UN.
---
Surprising discoveries
Disney wasn't already selling branded face masks. Somehow, the merchandise machine only just began churning out masks starring all your favorite Pixar, Marvel, and Star Wars characters.
An ounce of palladium will net you $2,000. Investors expect the metal, which is crucial to pollution control devices, to be back in demand as Chinese car factories reopen.
Students think the College Board is running a sting to cast AP test cheaters. A suspicious Reddit user is asking kids to describe their cheating strategies.
Thousands of small boats are stuck at sea. Dream sailing vacations have been extended indefinitely as ports close during the pandemic.
A South Korean soccer team apologized for packing the stands with sex dolls. Management claimed they didn't realize the well-endowed mannequins were meant for adult purposes.
---
Our best wishes for a productive day. Please send any news, comments, palladium ingots, and testing tips to hi@qz.com. Get the most out of Quartz by downloading our app on iOS or Android and becoming a member. Today's Daily Brief was written by Annabelle Timsit, Mary Hui, Tim McDonnell, Max Lockie, Susan Howson, and Nicolás Rivero.