Good morning, Quartz readers!
Here's what you need to know
UK Premier League clubs resume training. Teams can start non-contact practice sessions in groups of up to five today, with a number of measures including surprise inspections and GPS tracking implemented as precautions against the coronavirus. Meanwhile, Estonia starts its first soccer games in empty stadiums.
Donald Trump threatened to freeze WHO funding. The US president said he would permanently cut funding to the World Health Organization and reconsider its membership unless the agency makes reforms within 30 days and demonstrates independence from China. Separately, Trump revealed that he has been taking an anti-malarial drug as protection against the coronavirus, despite scientists' warnings against its potentially lethal side effects.
Australia considers taking China to the World Trade Organization. Though Canberra has said it's not in a trade war with Beijing after China slapped an 80% tariff on Australian barley, it reserved the right to appeal against the tariffs at the WTO.
A top Disney executive will be TikTok's new CEO. Kevin Mayer, who led the launch of the Disney+ streaming service last year but was passed over for the top job, will head up the popular video app owned by Chinese conglomerate ByteDance, where he will also serve as the chief operating officer. The US launched a national security review into ByteDance last year.
Nasdaq will tighten listing restrictions. The new rules will make it harder for some Chinese companies to launch their initial public offerings on the US stock exchange over concerns of opaque accounting and close ties to powerful state insiders.
---
Taiwan, WHO?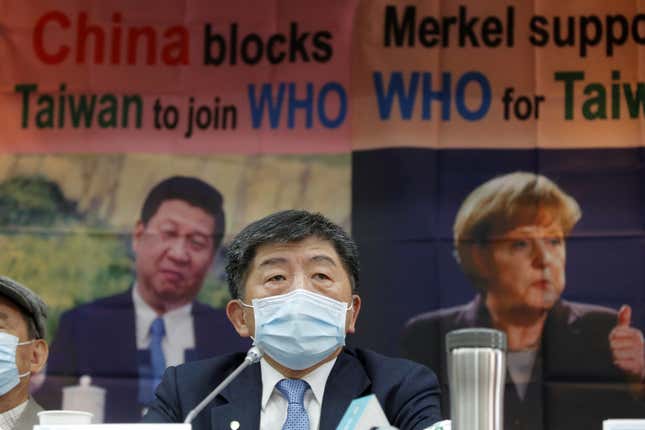 WHO member states convened virtually this week for the World Health Assembly (WHA), and would have voted yesterday on whether Taiwan should be invited to join the body as an observer. The votes were unlikely to get it done, but the number of countries willing to publicly support Taipei in spite of Beijing's threats would have served as an indicator of how much damage China's heavy-handed response to the pandemic has done to its global standing.
Instead, Taiwan pulled its bid, saying that its allies would prefer the two-day event be used to tackle pandemic responses. But the foreign minister's statement made Taiwan's position clear: "The people of Taiwan abhor the two-faced behavior of the Chinese government, which claims to care for their health and welfare while actually seeking to deprive them of their right to health at every turn."
Charting the meat market
In 2019, the US produced more than 103 billion pounds of beef, pork, and chicken, about a fifth of which was exported. But the novel coronavirus that causes Covid-19 has brought United States meat production to its knees, and Brazil is seeing an opportunity.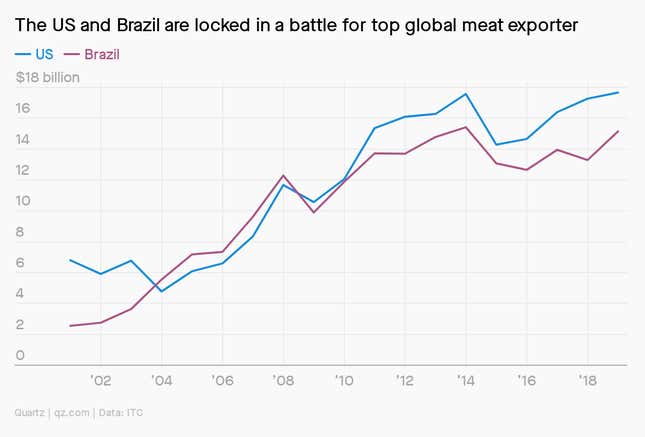 ---
For Quartz members: A second helping of meat
Let's take a deeper dive into the numbers and find out what's at steak.
Between 80% and 90% of the US beef supply is manufactured by four companies.
36% is the year-over-year decline in daily cattle slaughtered in the US.
130,000 people work in US meatpacking plants.
5,000 of them have tested positive for coronavirus.
20 have died.
✦ Get access to these articles and a lot more when you become a Quartz member. (Try a seven-day free trial.) ✦
You asked about emissions
Are carbon emissions decreasing with less use of gasoline powered vehicles and aircraft?
The short answer is "yes." The long answer is "Yes, but not enough to make a real difference." Quartz reporter Tim McDonnell talked to some climate scientists about what a pause on emissions indicates for our future. In the short term, the shuttered factories and construction sites, grounded airplanes, parked cars, falling electricity use, and vanishing oil demand are enough to get us on track. UK-based research outfit Carbon Brief found that during the peak of its shutdown, China's emissions dropped 25%. But as shutdown conditions relax, emissions are likely to jump right back to business as usual, said Simon Evans, a biochemist and Carbon Brief's deputy editor. As we noted above, China's oil demand is almost back to pre-pandemic levels.
We wish we had better news for you. Even sustained emissions reductions on this scale wouldn't be enough to limit global warming to 1.5 Celsius above pre-industrial levels, the goal set out in the 2015 Paris Agreement. To make that possible, emissions need to drop 7.6% every year this decade, according to the UN.
---
Surprising discoveries
Edvard Munch's The Scream needs a timeout from visitors. The 1910 version of the Norwegian artist's masterpiece is fading and flaking from the humidity, including when breathed upon by crowds.
Martian mud flows behave like boiling toothpaste. Researchers recreated the Red Planet's environment in a lab to study what volcanoes spewing muck instead of lava would look like.
A sinkhole outside Rome's Pantheon revealed ancient paving stones. The seven slabs, made of sedimentary rock, seem to date to between 27 and 25 BC.
Pokémon Go is adapting to the age of quarantine. The augmented reality game, which sent players criss-crossing the outside world to catch creatures, has been updated to be more comfortably played at home.
Thousands of small boats are stuck at sea. Dream sailing vacations have been extended indefinitely as ports close during the pandemic.
---
Our best wishes for a productive day. Please send any news, comments, bubbling muck, and home-bound Pokémons to hi@qz.com. Get the most out of Quartz by downloading our app on iOS or Android and becoming a member. Today's Daily Brief was written by Mary Hui and edited by Tripti Lahiri.