Good morning, Quartz readers!
Here's what you need to know
Brits could vacation in July, but only at home. The UK's cultural secretary said the government is hoping to allow people to go on summer holidays within the country, while Greece has said that it doesn't plan to allow people from the UK in when it restarts tourism in July. Australian states are in disagreement over when to reopen their borders to each other for domestic tourism.
Spain gets tough on masks… People will have to wear masks both indoors and outside where social distancing isn't possible starting today. The country has some of the toughest rules on masks in Europe. Parliament also approved a fifth two-week extension of a state of emergency.
…And Japan eases its states of emergency. Prime minister Shinzo Abe is likely to lift emergency restrictions in Kyoto, Osaka, and Hyogo prefectures today as the number of new coronavirus cases continues to fall, though they're expected to remain in place in Hokkaido, and in and around Tokyo.
Brazil's coronavirus situation worsened. After recording 20,000 new infections yesterday, Brazil is on track to overtake Russia as the country with the most number of cases after the US. The WHO also warned that the pandemic is far from being over, after it recorded the largest one-day increase in cases globally.
Michael Cohen will be released from prison. Donald Trump's former personal lawyer will serve out the remainder of his sentence from home as coronavirus spreads in prisons. He is serving a three-year sentence on tax and campaign finance charges, as well as lying to Congress.
---
Ride-hailing's new normal
😷 Didi Chuxing expands its AI checks on drivers. The Chinese company will soon require drivers in Latin America to upload photos verifying they are wearing masks and disinfecting cars, measures that have been in place in China since January.
💸 Discounted Uber and Lyft rides could be gone for good. With ride-hailing drastically reduced, promotions have virtually disappeared.
🪓 Companies get leaner. India's Ola axed 1,400 jobs yesterday, while Uber cut an additional 3,000 roles on Monday, bringing its layoff total to 6,700 this month.
---
Charting unemployed couples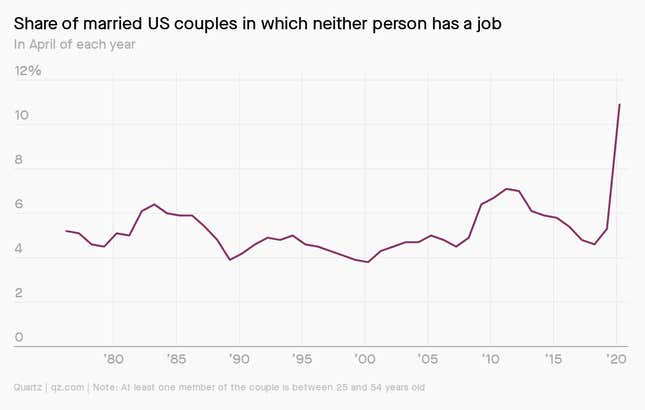 The pandemic and its notorious subsequent layoffs have led to a spike in completely unemployed married couples in the US. Some 11% of married couples with one partner between 25 and 54 years old had no earners in April, according to Quartz's analysis of US Bureau of Labor Statistics data. It's the highest number since 1976, when this type of data began being recorded. The share of couples with no earners never rose higher than 7% during the Great Recession.
---
For Quartz Members 
From top of the market to top of the defaulter list. REI Agro was a Cinderella story as it skyrocketed up the ranks of India's basmati producers, who dominate the market for the long-grained rice. Then, a year of poor rainfall—and subsequent shady practices on the part of the two brothers at the helm—sent it skyrocketing up the ranks of India's biggest loan defaulters. Prathamesh Mulye's account of the rise and fall of Sanjay and Sandip Jhunjhunwala is a cautionary tale for the ages.
REI Agro's problems became apparent long before Covid-19, but other companies' weak spots are now starting to crack under the pressure. Our latest field guide tracks the companies and processes that have fared well during the coronavirus pandemic, and the opportunity this moment is providing for those who haven't.
✦ Get access to these articles and a lot more when you become a Quartz member. (Try a seven-day free trial.) ✦
---
We're obsessed with seatbelts
Click clack, front and back. Nothing decreases the chance of injury or death during a road collision as much as the trusted three-point seatbelt. It's been a long, bumpy ride since its rollout in the 1950s, and even though seatbelts have saved millions of lives, they're still not always used. Buckle up, it's the Quartz Weekly Obsession.
---
You asked about real estate
If the economy is in such bad shape, why does it feel like it's still a seller's market for real estate?
You're not imagining things, Lesley, particularly if you're house-hunting in the US. Though coronavirus has significantly constrained the construction of new homes, it doesn't mean nobody's buying existing inventory. Low interest rates, the lifting of stay-at-home orders across several states, and growing inquiries in suburban areas from residents in expensive, high-density cities have kept real estate agents busy as of late.
But the US housing market may cool off soon—officials are cautioning it may be a temporary blip caused by the relaxing of stay-at-home orders. For the buyer with money to burn, that's good news. For the economy at large, not so much.
✉️ Do you have a burning question about how coronavirus is changing the world?
---
Surprising discoveries
A long-lost Prince guitar could be your newfound possession. The extremely rare Blue Angel Cloud guitar could sell for over $500,000.
Escape rooms have gone virtual. Turns out a lot of people are looking for an… escape these days.
Parts of Antarctica have green snow. Climate change is causing the proliferation of an algae that was first noticed by explorers in the early 20th century.
A man made money by buying his own pizza on an app. DoorDash, for which he had not signed up, reportedly paid his restaurant the full $24 while charging him $16.
China says the Panchen Lama is now just a normal working graduate. Almost nothing has been heard of the child—picked by the Dalai Lama as Tibetan Buddhism's No. 2 figure—since his disappearance 25 years ago.
---
Our best wishes for a productive day. Please send any news, comments, Prince paraphernalia, and green snow to hi@qz.com. Get the most out of Quartz by downloading our app on iOS or Android and becoming a member. Today's Daily Brief was written by Isabella Steger and edited by Tripti Lahiri.