Good morning, Quartz readers!
Here's what you need to know
More people are using Tinder in lockdown, but not enough are paying for it. Users around the world swiped 3 billion times on March 29, a daily record for the app. But according to CEO Elie Seidman, the rate of new premium subscriptions—the company's main source of revenue—declined.
It's too late for the US to get rid of Chinese stocks. They're already deeply embedded in the US financial system, and iconic American exchanges could lose out to Hong Kong or London. Jane Li and John Detrixhe explain why the White House and the SEC are so worried, and what could happen next.
The US economy may be caving in, but overdue debts are dropping. Financial companies are fortified with enough capital to absorb losses for a while, and if they give customers a break on things like mortgages, that makes cash available for credit cards and auto loans.
Lufthansa said it's getting closer to a $10 billion bailout. If terms are agreed, the German government would take a 20% stake in the airline, and the whole thing would have to be signed off by the European Commission, which has strict rules about state intervention in private companies.
The UK government sold a bond with a negative yield. It's the first time this has happened in Britain, with investors agreeing to recoup less than they spent. Japan, Germany, and other European countries have already sold debt yielding less than 0%.
---
Ride-hailing's new normal
💸 Discounted Uber and Lyft rides could be gone for good. With ride-hailing drastically reduced, Michelle Cheng found that promotions have virtually disappeared.
🪓 Companies get leaner. India's Ola axed 1,400 jobs on Wednesday, Ananya Bhattacharya reports. Uber cut an additional 3,000 roles on Monday, bringing its layoff total to 6,700 this month.
😷 Didi Chuxing expands its AI checks on drivers. The Chinese company will soon require drivers in Latin America to upload photos verifying they are wearing masks and disinfecting cars, measures that have been in place in China since January.
Charting unemployed couples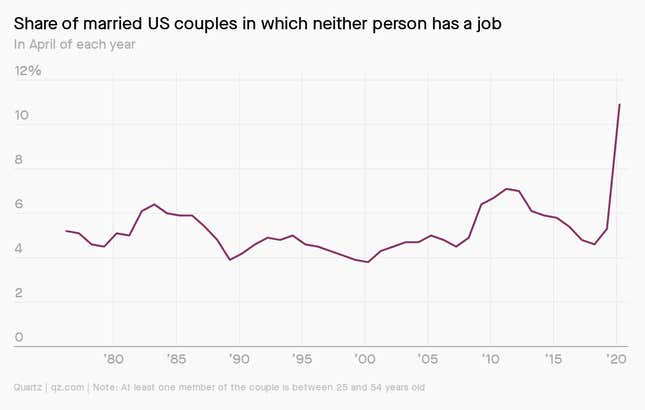 The pandemic and its subsequent layoffs have led to a spike in completely unemployed married couples in the US, Dan Kopf reports. Some 11% of married couples, with one partner aged between 25 and 54, had no earners in April, according to US Bureau of Labor Statistics data. The share of couples with no earners never rose higher than 7% during the Great Recession.
---
For Quartz Members 
From top of the market to top of the defaulter list. REI Agro was a Cinderella story as it skyrocketed up the ranks of India's basmati rice economy, which easily dominates the global market. Then, a year of poor rainfall—and subsequent shady practices on the part of the two brothers at the helm—sent it skyrocketing up the ranks of India's biggest loan defaulters. Prathamesh Mulye's account of the rise and fall of Sanjay and Sandip Jhunjhunwala is a cautionary tale for the ages.
REI Agro's problems became apparent long before Covid-19, but other companies' weak spots are now starting to crack under the pressure. Quartz's latest field guide tracks the companies and processes that have fared well during the coronavirus pandemic, and explores the opportunities for those who haven't.
✦ Get access to these articles and a lot more when you become a Quartz member. (Try a seven-day free trial.) ✦
We're obsessed with seatbelts
Click clack, front and back. Nothing decreases the chance of injury or death during a road collision as much as the trusted three-point seatbelt. It's been a long, bumpy ride since its rollout in the 1950s, and even though seatbelts have saved millions of lives, they're still not always used. Buckle up, it's the Quartz Weekly Obsession.
---
You asked about real estate
If the economy is in such bad shape, why does it feel like it's still a seller's market for real estate?
You're not imagining things, Lesley, particularly if you're house hunting in the US. Though the pandemic has significantly constrained the construction of new homes, it doesn't mean nobody's buying existing inventory, Karen Ho writes. Low interest rates, the lifting of stay-at-home orders across several states, and growing inquiries in suburban areas from residents in expensive, high-density cities have kept realtors busy.
But the US housing market may cool off soon—officials are cautioning it may have been a temporary bump caused by the relaxing of stay-at-home orders. For the buyer with money to burn, that's good news. For the economy at large, not so much.
✉️ Do you have a burning question about how coronavirus is changing the world?
---
Surprising discoveries
Sell the house: a very rare Prince guitar is up for auction. His beautiful "Blue Angel" Cloud could fetch more than $500,000.
Escape rooms have gone virtual. Turns out a lot of people are looking for an … escape these days.
There are tiny bugs in your strawberries. Apologies if you're eating a healthy bowl of fruit for breakfast.
Hertz is selling yellow Corvettes at a discount. The company is in deep trouble, but middle-aged men could pick up a bargain.
The "world's best restaurant" is now doing burgers. Noma, in Copenhagen, has reopened with basic fare and no reservations.
---
Our best wishes for a productive day. Please send any news, comments, Prince's guitar, and safe passage to Copenhagen to hi@qz.com. Get the most out of Quartz by downloading our app on iOS or Android and becoming a member. Today's Daily Brief was brought to you by Hasit Shah, Susan Howson, and Liz Webber.