Good morning, Quartz readers!
Here's what you need to know
For the first time, China won't set a GDP goal. With its economy contracting by close to 7%, and unemployment surely at a record high, the country will not issue a growth rate target at this year's Two Sessions, the annual legislative event that opened today after being delayed by the pandemic. Separately, investors will be hoping for a quarantine surge in online shopping when e-commerce giant Alibaba reports its numbers.
Beijing tightens its grip on Hong Kong. Tamping down Hong Kong's protest movement is at the top of the Two Sessions agenda, with officials drafting a dreaded new security law for the autonomous territory, bypassing the local legislature. The move will lead to more unrest in Hong Kong, and US has threatened to sanction entities and officials that enforce the law.
The pandemic could permanently shut 30,000 British pubs and restaurants. Between the lockdown and new social-distancing rules that make it unprofitable to reopen, a poll of the industry of 115,000 drinking and dining venues found owners expect to close between 10% and 30% of sites.
Argentina is set for another default. Despite negotiations to seek a deadline extension, creditors expect the country will fail to make a bond payment due today, marking its ninth sovereign default.
Facebook and Spotify extended work-from-home. The music streaming site will allow employees to work remotely through the end of the year, while the social media giant is planning for much of its workforce to never return to the office.
---
Gross National Cool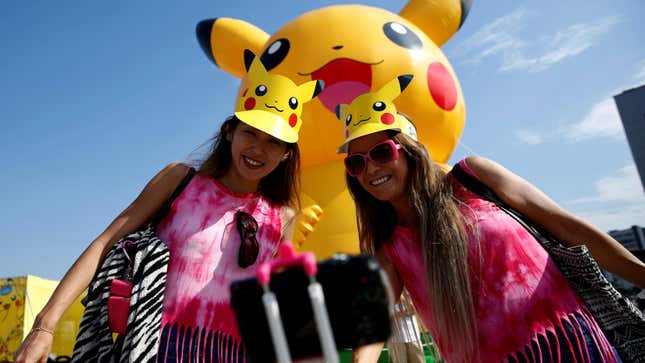 In just a few decades, Japan's global image has changed radically. Particularly in America, which has had a close and complex relationship with Japan since World War II, this image has evolved from fearsome enemy to producer of cheap cars to, finally, a whimsical creative fantasy factory. It took time and the right mix of conditions—economic, certainly, and perhaps social as well—to invent Japan's global image.
---
Charting life-changing questions
Changing your life is a big deal. And it's often very difficult to predict if a dramatic turn will actually make you happier, or shrivel up into little raisins of regret. That's an instinct we should fight against, according to the findings of a new study by University of Chicago economist and Freakonomics co-author, Steven Levitt.
The study asked people who were having a hard time making a decision to participate in a randomized digital coin toss. Ultimately, 20,000 coins were tossed—and people whose flip led them to make a big change reported being significantly happier than they were before. These were the top questions that the study's subjects submitted to the fate of the flip.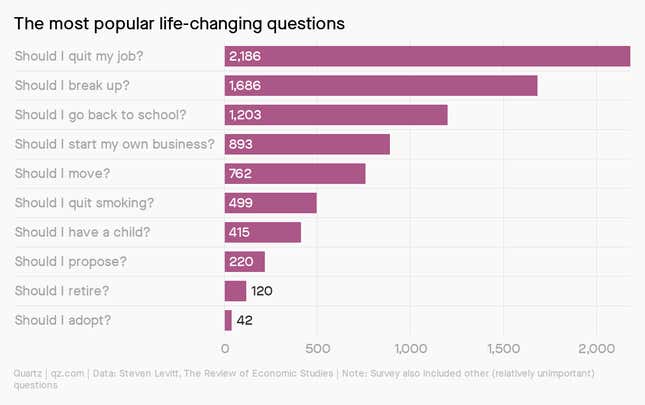 ---
For Quartz Members: The Coronavirus Living Briefing
A pandemic moves quickly, as do its impacts. That's why we made the coronavirus living briefing. Check in every business day for regular updates on how Covid-19 is affecting major aspects of the global economy; Quartz members get access to the entire briefing.
💉 Vaccination: The US government awarded $1.2 billion to UK-based AstraZeneca to speed up the development of a vaccine and reserve 400 million doses—even though the vaccine may never exist.
💳 Finance: Stock prices for banking giants plunged in April when the number of Covid-19 cases increased exponentially and lockdowns ensued, but have since leveled off.
✈️ Travel: EasyJet will resume some flights across the UK and France next month. The airline says it will introduce sanitary measures, but continue to fill middle seats.
🧮 Economy: The percentage of borrowers who were falling behind their debts fell in April. The divergence between a crumbling economy and overdue debts probably comes down to forbearance from lenders.
✦ Get access to these articles and a lot more when you become a Quartz member. (Try a seven-day free trial.) ✦
You asked about virtual reality
When can we start to see AR/VR solutions for events? – Sergio
Big Tech has been saying that virtual reality is on the verge of going mainstream for years. Recent developments—some spurred by the global pandemic–do make it tempting to say this time might be different. Let's run through a few:
✉️ Do you have a burning question about how coronavirus is changing the world?
---
Surprising discoveries
NASA wants volunteers to spend eight months locked in a mock spacecraft. Participants in the simulated Mars mission will be paid an unspecified amount.
Jack Dorsey backed Andrew Yang's universal basic income nonprofit. The Twitter CEO is giving $5 million to the former US presidential candidate's effort to make a case for cash grants.
A Sephora worker has Elon Musk's old mobile number. Lyndsay Tucker gets at least three calls or texts per day intended for the Tesla and SpaceX CEO.
Levi's is selling collector's item jeans, Willy Wonka-style. Just five pairs of a batch of gold-foil-wrapped 501 jeans will have a rare capital E in the brand's logo.
The "world's best restaurant" is now doing burgers. Noma, in Copenhagen, has reopened with basic fare and no reservations.
---
Our best wishes for a productive day. Please send any news, comments, billionaires' old phone numbers, and golden-ticket jeans to hi@qz.com. Get the most out of Quartz by downloading our app on iOS or Android and becoming a member. Today's Daily Brief was written by Tripti Lahiri and edited by Isabella Steger.