Good morning, Quartz readers!
Here's what you need to know
The National People's Congress kicked off… After a historic two month delay, China demonstrated its confidence in its own coronavirus-fighting measures by convening in-person for its biggest political event of the year. What's transpired so far: An increased defense budget, a lack of GDP target, and a plan for a national security law aimed at Hong Kong, who on Sunday saw its largest protest in months.
…And the US wasn't pleased. On Sunday, White House national security adviser Robert O'Brien said that China's national security proposal would threaten both China's and Hong Kong's economies and could prompt sanctions from the US.
The UK called an emergency cyber security review. In reaction to US sanctions against Huawei, Downing Street will determine whether it can proceed with its 5G deal with the Chinese company. The UK government is reportedly considering a dramatic step back from the agreement, which could strain its relations with China.
Kim Jong Un made an appearance. North Korea's leader hadn't been seen in weeks, causing much speculation as to his health, before he hosted a meeting to discuss boosting the country's nuclear capabilities, according to state media.
Indian states want to delay restarting flights. Air travel was expected to resume today, but a surge of Covid-19 cases has Maharashtra, Tamil Nadu, and West Bengal—all major hubs—petitioning to keep their airports closed awhile longer.
Tokyo will be back in action. Japanese prime minister Shinzo Abe is expected to lift restrictions on the nation's capital and surrounding regions, as well as Hokkaido, as soon as today. Tokyo's new cases for the past week total 50, below the threshold the government set for reopening.
---
What to watch for
Lighting candles like it's 1981. NASA will send humans to space from its Kennedy Space Center in Florida for the first time since 2011 on Wednesday (conditions permitting), using a SpaceX Crew Dragon capsule. Sign up for Space Business (it's free!) and let Quartz's Tim Fernholz keep you posted.
The NYSE trading floor reopens. It's been eight weeks, and it won't look like it used to.
Trudeau explores equity. Canada will implement a policy which lets the government buy a stake in a private company that's applied for bridge funding.
HBO Max is here. WarnerMedia jumps into the streaming pool, and will hope to stay afloat with back catalogs from Warner and HBO, as well as new content.
Nissan makes cuts. The automaker will attempt to stay afloat by strengthening its relationship with Renault and making major cutbacks.
Earnings: Dollar General, Dollar Tree, Costco, Ralph Lauren, Nordstrom, Dell, and Nationwide
---
Charting Chinese unemployment
As charts go, it's not much to look at. Politically, it contains multitudes. Quartz's Mary Hui examines why China's unemployment rate is "suspiciously stable."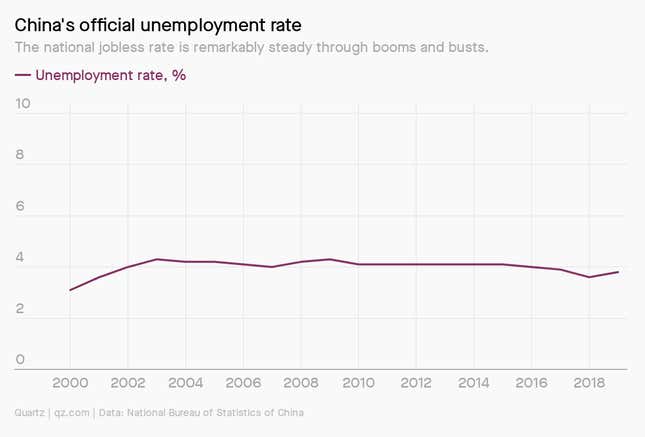 The official unemployment rate is core to the Communist party's central narrative of economic prosperity in return for public acquiescence to authoritarian rule. The latest official jobs data released by China's national bureau of statistics on May 15 put the unemployment rate in April at 6%, up slightly from 5.9% in March and a notch lower than the record 6.2% in February. Many experts think that's grossly underestimated. Analysts at the Economist Intelligence Unit and Société Générale put the unemployment rate closer to 10%.
An unemployment rate as high as that would be an anathema to the party, not least because it undermines the regime's very legitimacy. But in a pandemic, those numbers are getting harder to keep down, and it could very well affect how young graduates about to enter the workforce come to trust their government.
---
For Quartz Members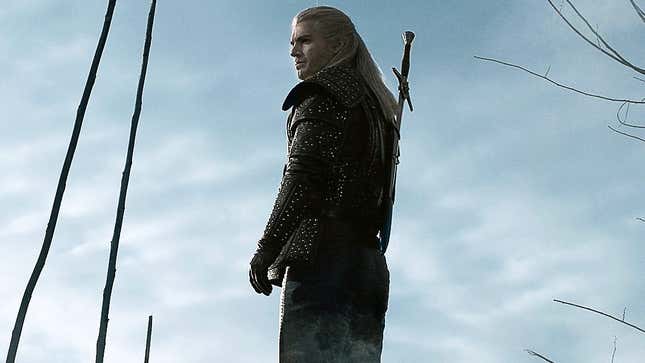 Don't skip this intro. Adam Epstein's state of play for this week's field guide on Netflix's next stage is the perfect primer for understanding today's streaming entertainment wars—which are being waged on a markedly different battleground than they were at the start of 2020.
The US-based Netflix has made enormous gains in international markets, and thanks to the pandemic, the audience in its home country has shot up as well. It's keeping an eye on Disney, whose own massively popular streaming service promotes franchises with a lot more opportunities for monetization off-screen. (Admit it, you've thought about getting a Baby Yoda doll.)
With the possible exception of Stranger Things, Netflix's big hits, which include Ozark, Russian Doll, House of Cards, and The Crown, don't exactly lend themselves to plush toys or Halloween costumes. But its runaway success with The Witcher (whose monster-hunting main character is pictured above) has Netflix thinking more in terms of content that can be highly marketable across cultures.
✦ Get access to this field guide and a lot more when you become a Quartz member. (Try a seven-day free trial.) ✦
---
Surprising discoveries
Speaking of Netflix… The streaming service will now notify you if you're still paying but haven't watched anything in two years—and cancel the account if you don't respond.
A new pygmy seahorse has been discovered. "It's like finding a kangaroo in Norway," a researcher said.
What's the ballpark figure for an Airbnb rental? The Pensacola Blue Wahoos, a minor league US baseball team, listed its stadium on the vacation site.
US art museums can now sell their collections. With revenue fading away, struggling institutions have the go-ahead to dip into their archives.
When viruses spread, so do cults. The exploding popularity of the Vissarionites in Russia shows how a global disaster leaves people looking for guidance.
---
Our best wishes for a productive day. Please send any news, comments, coins to toss, and Witchers to catch them to hi@qz.com. Get the most out of Quartz by downloading our app on iOS or Android and becoming a member. Today's Daily Brief was brought to you by Susan Howson and Mary Hui.