Good morning, Quartz readers!
Here's what you need to know
There have been more than 100,000 US deaths linked to Covid-19. According to data compiled by the New York Times, the milestone makes the US easily the worst-affected country in the world, although its per capita death rate is lower than several parts of Europe.
As that toll grows, Donald Trump continues his war on social media platforms. The details of the president's expected executive order are unclear, but the announcement comes after Twitter attached a fact-checking notice to two of his tweets.
One person was shot dead during growing protests in Minneapolis. The death of George Floyd, a black man who was pinned down by a white police officer's knee on his neck, has resulted in an eruption of anger in the city and across the country.
Hong Kong's special status hangs by a thread. US secretary of state Mike Pompeo said that the US would no longer certify its autonomy, and China is moving forward with a national security law for the semi-autonomous city. The devil is now in the details, Mary Hui writes.
Why does the US unemployment rate appear higher than Germany's? It's to do with how workers are supported in a crisis, John Detrixhe reports. Germany enables employers to furlough (and keep) staff, with state assistance, while the US has focused on strengthening unemployment benefits.
Meanwhile, southeast Asia is now a bigger trading partner for China than the US. The ten ASEAN countries, many of which have rapidly growing economies, are importing more Chinese goods than American for the first time, Dan Kopf reports, reflecting shifting priorities and an ongoing trade war.
---
Charting spacecraft cost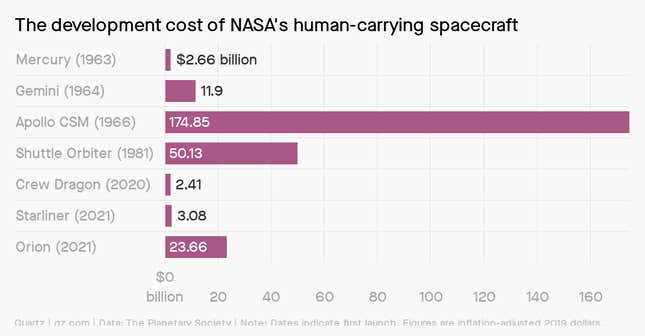 One small seat for a human equals one giant leap for humankind—more astronauts means more experiments and more science. And the relatively low per-seat cost of SpaceX's crew Dragon spacecraft means that Earthlings could see SpaceX founder Elon Musk's dream of sending humans to other planets becoming a reality much faster.
But what about monetizing space as an environment, such as with the reportedly planned collaboration between SpaceX, NASA, and Tom Cruise? Or SpaceX's space tourism dealings with Axiom? Despite the relative per-seat cheapness, the astronomical cost involved means that the return on investment would likely be far too low, particularly when the safety risks skyrocket with each additional passenger.
The crewed Dragon launch may have been postponed, but that just means more time for you to get caught up. Quartz's Tim Fernholz is taking us there for a per-seat cost of free during this exciting time for space enthusiasts. Click the button below to sign up for our Space Business email.👇
---
For Quartz members
How do you make a hit series during a pandemic?
Studios are figuring out how to start up TV and film production in time to continue the efficient release of content, and Netflix has already resumed filming on shows in Iceland and Sweden. Here's what a day on the set looks like for actors:
Voluntary testing for Covid-19
Temperature tests every morning
Self-quarantining for 14 days before shooting
Isolating with crew for the duration of the two-week shoot
Boxed meals instead of buffets
Single-use, disposable makeup applicators
Visual effects swapped in for some live scenes
It isn't surprising that Netflix, a business predicated on at-home entertainment, benefited from consumers staying at home. But, Jackie Bischoff asks, is a crash inevitable? Pop some popcorn, pause your favorite show, and read our field guide on what's next for Netflix.
✦ Get access to this field guide and a lot more when you become a Quartz member. (Try a seven-day free trial.) ✦
You asked about bank stability
What keeps all banks from going under when the grace period for not paying rent or house payments finally occurs and people aren't able to pay? —C.A.P.
For now, the world's big investment banks are expected to stay modestly profitable despite the virus breakout, according to a report published in April by Moody's Investors Service. These lenders have been fortified with capital since the financial crisis and many have suspended share repurchases, and they've been socking away loan-loss provisions by the billions. But you're right, it can't last forever, and everything depends on whether economic conditions start looking up by the end of this year.
Local bank branches, which were already in decline, will have a much tougher time—John Detrixhe, Daniel Wolfe, and Dan Kopf came up with a fascinating, if rather dispiriting, tool to help you determine the likelihood yours will close down by July.
For more from John Detrixhe, you may want to check out the Quartz field guide on how to save the economy (✦). It's free for Quartz members (and non-members, if you sign up for a seven-day free trial).
✉️ Do you have a burning question about how coronavirus is changing the world?
---
Surprising discoveries
No one is worried about bad breath right now. Hershey's gum and mint sales are way down.
An app lets Japanese soccer fans cheer (or boo) from a distance. It pipes their remote reactions into the stadium's speakers.
In Denmark, large screens will allow thousands of fans to join the game via Zoom. Sound could be  a stumbling block, however.
Carnivorous dinosaurs ate their own kind. Paleontologists found the toothmarks of giant meat-eating dinosaurs in fossils dug up in the west of the US.
The Babysitters' Club is coming back, with adjustments. The 1990's young adult series is getting some tech updates in its Netflix adaptation—but there'll still be a landline.
---
Our best wishes for a productive day. Please send any news, comments, pager numbers, and some gum to hi@qz.com. Get the most out of Quartz by downloading our app on iOS or Android and becoming a member. Today's Daily Brief was brought to you by Hasit Shah, Susan Howson, and Liz Webber.