Good morning, Quartz readers!
Here's what you need to know
Police brutality protests spread across the United States. More than 100 US cities saw protestors demonstrate over the weekend in response to the police killing of George Floyd, an unarmed black man in the city of Minneapolis. Dozens of cities including Miami and Los Angeles imposed strict evening curfews on residents and major retailers including Amazon and Target have reduced operations in response to the protests.
SpaceX's Crew Dragon capsule docked with the International Space Station. The successful transfer of NASA astronauts to the space station after a 19-hour voyage was the first-ever docking of a commercial spacecraft carrying humans. The two astronauts are scheduled to spend up to four months aboard the orbiting station.
China's coronavirus rebound was not enough to make up for weak demand. Sunday's release of manufacturing data showed a second consecutive monthly decline due in part to reduced exports as the rest of the world continues to deal with the pandemic.
India-China tensions intensified. Unverified images from the emerging conflict between India and China in the Ladakh region of Kashmir drew renewed attention to the disputed and strategic region where both sides have made sovereignty claims amid a renewed infrastructure push.
Kim Jong Un turned to North Korea's elite for cash. New details about an upcoming bond issuance (paywall)—the country's first since 2003—reveal a country and a leader desperate for funding.
Jeff Bezos invested in a UK freight startup. The Amazon CEO is reportedly using his personal wealth to take a stake in Beacon, a two-year-old firm that works on optimizing the international transport of goods from factories.
---
The Week Ahead

Monday: US manufacturing data, select Amtrak US commuter rail service resumes, and NASA astronauts hold a press conference from the International Space Station.
Tuesday: Members of Parliament return to UK House of Commons, US vehicle sales (May), Reserve Bank of Australia interest rate decision, eight U.S. states and the District of Columbia hold primaries, Nippon Professional Baseball teams resume training games, and earnings from Zoom, Tiffany's, Dick's Sporting Goods, and CrowdStrike.
Wednesday: Eurozone unemployment rate, Bank of Canada interest rate decision, Australia retail sales, ADP US private employment report, and Warner Music's Nasdaq IPO.
Thursday: ECB interest rate decision, US unemployment claims, and earnings from Slack, Gap, and Broadcom.
Friday: May employment updates from the US and Canada. It's also National Donut Day in the US.
---
Charting US personal income
Personal income in the US surged 10.5% in April, the biggest jump since the US Bureau of Economic Analysis started compiling data in 1959. The rise was mainly due to government payments to help Americans cope with the fallout of the Covid-19 global pandemic.  Total government social benefits accounted for 30%, or $6.3 billion, of personal income in April. That's up from a monthly average of 17%—or $3.2 billion—in the previous seven months.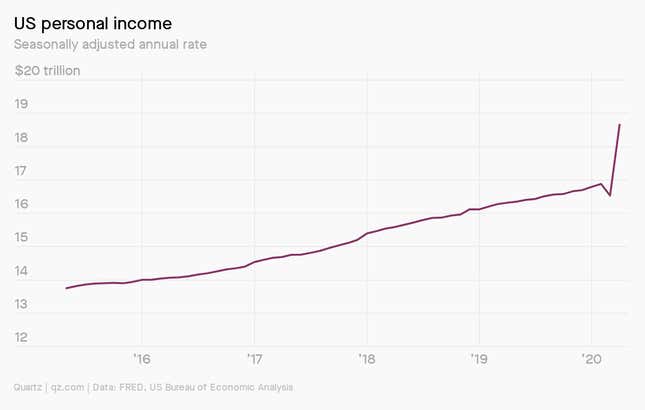 ---
For Quartz members: A Grimm Lesson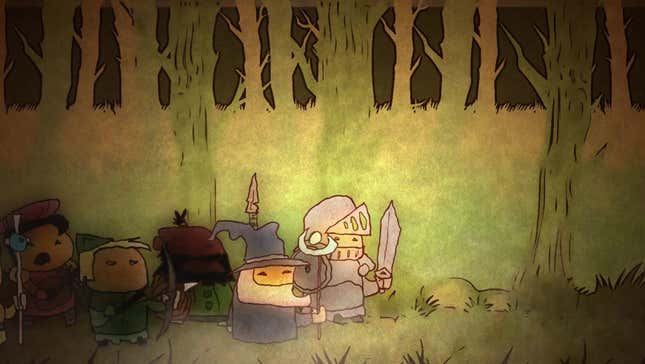 A virtual escape room can mean a very real test of management skills. A classic corporate exercise tweaked for the coronavirus era created some separation from the virtual office for Quartz reporter Lila MacLellan, and worked her team's brains in energizing new ways. Here's what she took away from the event:
It's not about the trap, it's about endorphins. The remote version of this Grimms' Fairy Tales-themed game succeeds not because of special effects, but due to the rush that follows solving a problem.
Different types of teams succeed at puzzle-solving. Teams that succeed always have a couple of traits in common: They listen to each other, and they share information.
Tell me how you puzzle and I'll tell you who you are. The way you approach the puzzle can also illuminate something about your approach to work. Even though Lila is comfortable thinking out loud with her team, sometimes she simply had to mute them to hear herself think.
✦ To gain access to all the stories, presentations, field guides, workshops, and more that is available exclusively to Quartz members, try a seven-day free trial. ✦
---
Surprising discoveries
The world's deepest octopus is a dumbo. The "Dumbo" octopus was found pondering mortality some 7,000 meters (4.34 miles) beneath the surface of the Indian Ocean.
There's a new way to show your Fortnite fandom. You can now download the office of Epic Games CEO Tim Sweeney as a zoom background.
The pandemic has caused literal financial "flights to safety." Wall Street's demand for physical gold led to what may be the largest ever transfer of the precious metal.
Banking perks are going downhill. Deutsche Bank ordered custom Adidas sneakers to celebrate its 150th anniversary and then charged its staff to purchase them.
Ben Folds is still off the coast and headed nowhere. The musician has been stuck in Australia since mid-March where he now performs for fans via the subscription website Patreon.
---
Our best wishes for a productive day. Please send any news, comments, octopus ontologists, and trainers for traders to hi@qz.com. Get the most out of Quartz by downloading our app on iOS or Android and becoming a member. Today's Daily Brief was brought to you by Karen Ho, Lila MacLellan, and Max Lockie.