Good morning, Quartz readers!
Here's what you need to know
The UK eases its lockdown rules. Some 2.5 million people in England and Wales who were advised to stay home as lockdown began because they were high risk will be allowed to go outdoors again, even as health officials urged the government to scrap easing plans. Meanwhile, live competitive sport will be allowed to resume behind close doors today.
Former UK foreign secretaries urged a strong response to China over Hong Kong. Seven ex-ministers from both the Labour and Conservative parties called on foreign secretary Dominic Raab to take the lead in coordinating the international response to Beijing's plans to impose national security laws in Hong Kong.
Police brutality protests spread across the US… Protesters continue to demonstrate in more than 100 cities nationwide over the weekend in response to the police killing of George Floyd, an unarmed black man in the city of Minneapolis. Dozens of cities including Miami and Los Angeles imposed strict evening curfews on residents and major retailers including Amazon and Target have reduced operations in response to the protests.
…while Donald Trump continued to fan the flames. Rather than playing a unifying role, the president didn't appear in public and instead continued to post inflammatory tweets blaming "radical-left anarchists" for the protests, and singled out the media for fomenting "hatred and anarchy." He also said he would designate anti-fascist group Antifa, which he accused of starting riots, a terrorist organization.
The EU trade commissioner considers a WTO bid. European trade commissioner Phil Hogan may decide to run for the World Trade Organization's director-general role, as the incumbent steps down a year early at the end of August.
SpaceX's Crew Dragon capsule docked with the International Space Station. The successful transfer of NASA astronauts to the space station after a 19-hour voyage was the first-ever docking of a commercial spacecraft carrying humans. The two astronauts are scheduled to spend up to four months aboard the orbiting station.
---
The Week Ahead

Monday: The US publishes manufacturing data, and NASA astronauts hold a press conference from the International Space Station.
Tuesday: UK lawmakers return to Parliament. Eight US states and the District of Columbia hold primaries.
Wednesday: The euro zone announces its unemployment rate; the Bank of Canada gives its interest rate decision, and Warner Music launches its Nasdaq IPO.
Thursday: The European Central Bank gives its interest rate decision, and the US publishes unemployment claims data.
Friday: The US and Canada give May unemployment updates.
---
China's golden goose
Hong Kong is crucial to China's foreign direct investment flows. As Beijing moves to impose sweeping national security laws on the territory, it risks jeopardizing an important source of capital. While Hong Kong's economy is tiny relative to that of mainland China's, in 2018 the city served as the conduit of more than 60% of all FDI in China, according to China's national statistics.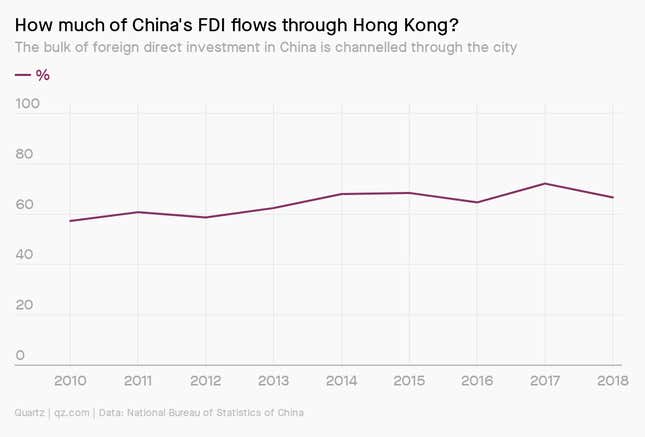 ---
For Quartz members: A Grimm Lesson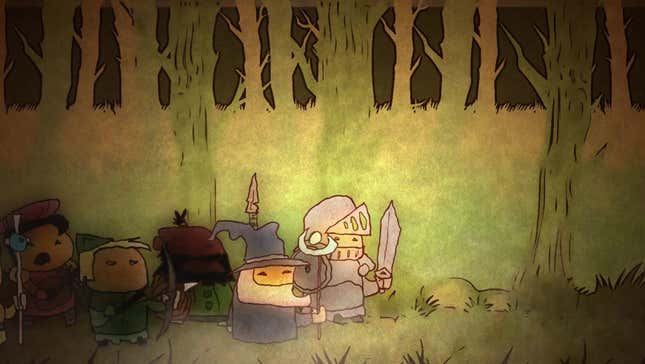 A virtual escape room can mean a very real test of management skills. A classic corporate exercise tweaked for the coronavirus era created some separation from the virtual office for Quartz reporter Lila MacLellan, and worked her team's brains in energizing new ways. Here's what she took away from the event:
It's not about the trap, it's about endorphins. The remote version of this Grimms' Fairy Tales-themed game succeeds not because of special effects, but due to the rush that follows solving a problem.
Different types of teams succeed at puzzle-solving. Teams that succeed always have a couple of traits in common: They listen to each other, and they share information.
Tell me how you puzzle and I'll tell you who you are. The way you approach the puzzle can also illuminate something about your approach to work. Even though Lila is comfortable thinking out loud with her team, sometimes she simply had to mute them to hear herself think.
✦ To gain access to all the stories, presentations, field guides, workshops, and more that is available exclusively to Quartz members, try a seven-day free trial. ✦
---
Surprising discoveries
Apple paid a developer a $100,000 bounty. It was a reward for finding a serious bug in the company's login service.
Twitter's official account gave a nod to #BlackLivesMatter. It changed its profile photo to a black bird and used the movement's hashtag in its bio.
Amusement parks in Japan want visitors to keep quiet on rides. There will be no more screaming on rollercoasters as part of the parks' coronavirus guidelines.
Scientists photographed world's deepest octopus. The creature was found some 7,000 meters (23,000 feet) beneath the surface of the Indian Ocean.
There's a new way to show your Fortnite fandom. You can now download the office of Epic Games CEO Tim Sweeney as a Zoom background.
---
Our best wishes for a productive day. Please send any news, comments, silent rollercoasters, and software bounty to hi@qz.com. Get the most out of Quartz by downloading our app on iOS or Android and becoming a member. Today's Daily Brief was written by Mary Hui and edited by Isabella Steger.