Good morning, Quartz readers!
Here's what you need to know
Antiracism protests spread around the world. Curfews are in place after anger at decades of police brutality—which the American Medical Association considers a public health crisis—erupted in at least 140 cities in the US, and also at US embassies in London, Berlin, and elsewhere.
Donald Trump continued to tweet from his bunker. The US president didn't appear in public, blaming "radical-left anarchists" for the protests and the media for the "hatred and anarchy." He also said he would designate "Antifa"—which is short for antifascism, not an actual group—a terrorist organization.
Major retailers reduced operations in response to the growing protests. "We are a community in pain," Target chairman and CEO Brian Cornell said in a statement. Amazon has also made alterations, including adjusting delivery routes.
SpaceX's Crew Dragon capsule docked with the International Space Station. The successful transfer of NASA astronauts to the ISS after a 19-hour voyage was the first time a commercial spacecraft carrying humans had docked. The two astronauts will spend around four months up there.
The Week Ahead
Monday: The US publishes manufacturing data, and NASA astronauts hold a press conference from the International Space Station.
Tuesday: UK members of parliament return to work. Eight US states and the District of Columbia hold primaries.
Wednesday: The euro zone announces its unemployment rate, the Bank of Canada gives its interest rate decision, and Warner Music launches its Nasdaq IPO.
Thursday: The European Central Bank gives its interest rate decision, and the US publishes unemployment claims data.
Friday: The US and Canada give May unemployment updates.
---
Charting US personal income
Personal income in the US surged 10.5% in April, the biggest jump since the data were first compiled in 1959. The rise was mainly due to government payments to help Americans cope with the fallout of the pandemic. Total government social benefits accounted for 30%, or $6.3 billion, of personal income in April. That's up from a monthly average of 17%—or $3.2 billion—in the previous seven months.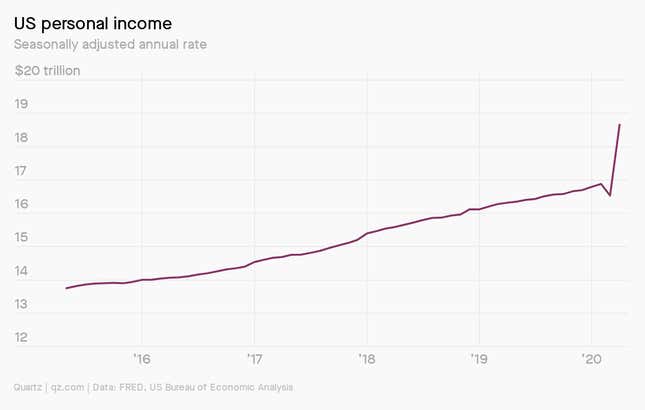 ---
For Quartz members: Africa after Covid-19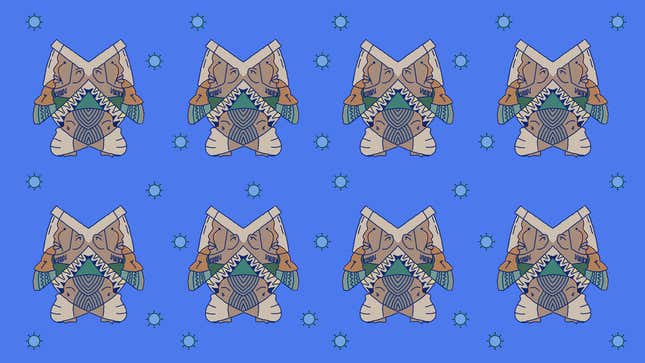 The coronavirus pandemic is a health crisis that has rapidly spiraled into Africa's worst economic crisis in years. Here's what that looks like, in numbers:
-5.1%: The low end of World Bank growth predictions for the sub-Saharan Africa region in 2020 (prior to the pandemic, it had forecast 2.4% growth).
$220 billion: Income losses projected by the UNDP for developing countries as a result of the pandemic, with half of all jobs in Africa at risk. 
300,000 to 3.3 million people: The number of Africans estimated to lose their lives if Covid-19 is not contained, according to the UN.
-7%: The GDP contraction predicted for South Africa by private analysts in 2020.
$10 billion: Emergency financing and debt relief being provided by the IMF to sub-Saharan Africa countries 
$160 billion: The amount of financial support the World Bank is providing for developing countries over the next 15 months.
As they try to prevent a highly infectious virus from rampaging through their borders, African leaders are having to simultaneously protect their once-promising but vulnerable economies. At the same time, they are being encouraged to grab this once-in-a-century opportunity, and use innovation, imagination, and a bit of risk-taking to become more self-reliant, sustainable, and perhaps even prosperous.
✦ Read more in our field guide on Africa after Covid-19. To gain access to all the stories, presentations, field guides, workshops, and more that is available exclusively to Quartz members, try a seven-day free trial. ✦
---
Surprising discoveries
Apple paid a developer a $100,000 bounty. It was a reward for finding a serious bug in the company's login service.
Twitter's official account gave a nod to #BlackLivesMatter. It changed its profile photo to a black bird and used the movement's hashtag in its bio.
Amusement parks in Japan want visitors to keep quiet on rides. There will be no more screaming on rollercoasters as part of the parks' coronavirus guidelines.
Scientists photographed the world's deepest octopus. The creature was found some 7,000 meters (23,000 feet) beneath the surface of the Indian Ocean.
There's a new way to show your Fortnite fandom. You can download the office of Epic Games CEO Tim Sweeney as a Zoom background.
---
Our best wishes for a productive day. Please send any news, comments, silent rollercoasters, and a $100,000 reward to hi@qz.com. Get the most out of Quartz by downloading our app on iOS or Android and becoming a member. Today's Daily Brief was brought to you by Hasit Shah and Max Lockie.