Good morning, Quartz readers!
Here's what you need to know
Italy reopens to tourists. The country, which was among the worst hit by the coronavirus with more than 30,000 cases, is welcoming European visitors from today. And Germany could relax warnings to its citizens on travel to other European countries.
Australia will suffer its first recession in three decades. The country announced that GDP contracted for the January-to-March quarter; since it's certain to do the same in the current quarter, the country will officially be in a recession. Meanwhile, South Korea announced a nearly $30 billion third stimulus package.
Joe Biden won the Pennsylvania primary. It's a crucial win for securing the Democratic nomination, which he is expected to do later this month. Six other states and Washington, DC also voted, and polls showed Donald Trump trailing Biden in key states he narrowly won in 2016. Meanwhile protests against police brutality continued for a seventh night, as demonstrators defied curfews.
Zoom's got gas, but no map. The videoconferencing platform reported massive gains as global lockdowns sent workers, students, and families online, but its margins are narrowing as it invests in more computing power to keep up with demand. Shares rose, then fell, as Zoom failed to share a plan for how it will fend off competition.
---
Charting the bias of the US stock market
Nationwide protests over the death of George Floyd, an unarmed black man killed by a white police officer, are renewing attention to the ways that African Americans have been failed by everything from policing to job creation and public health. Many black Americans have also been unable to improve their quality of life through stock market investing—an important wealth generator.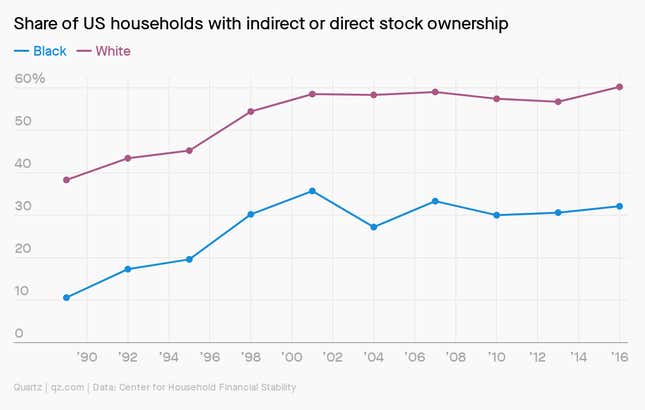 While the stock market is far from a guarantee for getting rich, the equity market's capacity to help savers accumulate wealth through long-term, diversified investing is well documented. But African Americans are far less represented when it comes to financial asset holdings, with just about 30% of black households owning stocks, compared with around 60% of whites.
---
For Quartz members: Keeping up social distancing
People don't change behavior based on rational persuasion; they change to conform to those around them. That's what Quartz contributor and behavioral planning strategist Will Hanmer-Lloyd writes in a new piece that examines how behavioral science can help enforce social distancing. Here are a few tips to stay safe.
To stay social (see #1) we want your vote on the strategy that makes the most sense to you:
🕺 Emphasize the social. People generally want to fit in, so whether you're a parent, a manager, or just a friend, amplify correct behavior instead of spotlighting incidents of noncompliance. (Vote for social)
🐷  Piggyback on existing behaviors. A campaign to get people to check their fire alarm when they changed their clocks saw up to 40% of people who'd seen the campaign go on to check their alarms, compared to 13% of people who hadn't. (Vote for existing behaviors)
👍 Make it easy. If you need to reopen a workplace, for example, plan ahead by making it clear that simple processes are in place to manage risks in elevators and other shared spaces. (Vote for simplicity)
✦ To gain access to all the stories, presentations, field guides, workshops, and more available exclusively to Quartz members, you can start with a seven-day free trial. ✦
---
You asked about deadly diseases
How do deaths from coronavirus compare with deaths from other diseases like malaria or influenza over the current time period? – A.P.
It's true that coronavirus is far from the only disease causing death around the world. Heart disease, stroke, and lung disease are the top three killers globally. Malaria and influenza also contribute significantly to global mortality, with the former estimated to have killed 445,000 people in 2016 and the latter as the likely cause of death for between 250,000 and 500,000 people annually.
With close to 400,000 lives lost in just the first six months of the pandemic, Covid-19 has quickly risen to be a leading cause of death worldwide—hence the global scramble for a vaccine (✦). The burden of each disease varies country by country and region by region, and will disproportionately impact those that already struggle with poverty, endemic diseases, and less robust healthcare systems.
✉️ Do you have a burning question about how coronavirus is changing the world?
---
Surprising discoveries
Your new gold might be old. Pandora, the world's largest jewelry maker, will stop using newly mined precious metals in favor of recycled gold and silver.
A fashion magazine featured the frontlines. The July edition of British Vogue chose a train driver and other essential workers as cover models.
Hitler's house will be turned into a police station. 
Austrian authorities
for the project, which will be completed in 2022.
Millions of Indians downloaded an app to delete their Chinese apps. The app's popularity soared amid heightened tensions between the two countries—until Google pulled it.
A step forward for transparency. Adding squid DNA to human cells successfully made the cells more transparent—which could make them easier to study.
---
Our best wishes for a productive day. Please send any news, comments, unread glossies, and trustworthy apps to hi@qz.com. Get the most out of Quartz by downloading our app on iOS or Android and becoming a member. Today's Daily Brief was written by Tripti Lahiri and edited by Isabella Steger.