Good morning, Quartz readers!
Here's what you need to know
The global death toll of Covid-19 passed 400,000. India's total case count reached 236,657 on Saturday, making it the sixth-highest in the world. The same day, Indonesia reported 1,000 new cases, the most the country had ever reported.
Bollywood will resume filming. But the Producers Guild of India is mandating the 300,000-person industry takes extreme precautions, including no on-set makeup application, no crowded kissing or dancing scenes, and no one over the age of 65 present to try to mitigate the transmission of Covid-19.
A US senator lobs new charges at China. The US has evidence China is trying to sabotage western efforts to develop a Covid-19 vaccine, Florida Republican Rick Scott told the BBC without providing any details.
China dissuades its citizens from traveling Australia. The ministry of tourism said Chinese travelers faced violence and discrimination, an accusation denied by the Australian government. It's the latest sign of tension between the two nations.
AstraZeneca woos Gilead for a potential merger. A combination of the two companies, both of which are pursuing a Covid-19 vaccine, would be the biggest healthcare deal in history.
Japan's births in 2019 dipped below World War II levels. New numbers from Japan's Ministry of Health, Labor and Welfare showed that despite policies to encourage having children, the country's aging population will likely continue to shrink.
---
The Week Ahead
Monday Taiwan releases May trade data, Vietnam votes on a pair of trade deals with the European Union, the Federal Reserve of New York releases its monthly survey of consumer expectations. Earnings from Fluor, Stage Stores and StitchFix.
Tuesday: A Seoul district court will review the prosecution's request for an arrest warrant for Samsung vice chairman Lee Jae-yong. Morgan Stanley hosts a virtual financial services conference.  US bureau of labor statistics releases April's job openings and labor turnover survey (JOLTS). Earnings from GameStop, Chewy, Tiffany, AMC Entertainment.
Wednesday: The US Federal Reserve concludes the two-day meeting of its open markets committee with a Jerome Powell press conference. The US consumer price index is released. So is Brazil inflation data. Tiffany earnings.
Thursday: NetEase IPO on Hong Kong stock exchange. Toyota holds a virtual shareholders meeting. Adobe and Lululemon earnings.
Friday: University of Michigan consumer survey (preliminary) comes out. US import price data is released.
---
Charting online commerce
Amazon isn't the only e-commerce company thriving. Amazon shares have climbed more than 30% this year. But some online retailers are faring even better.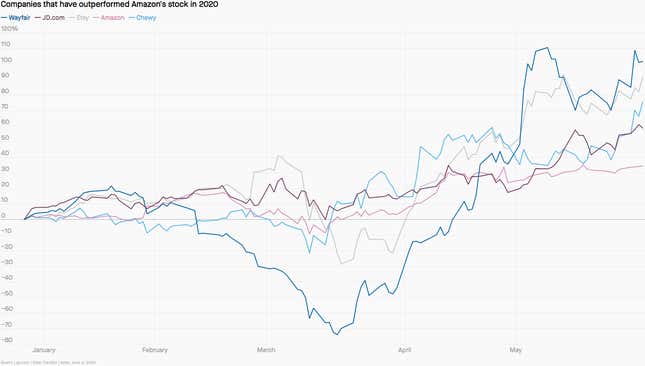 Shares of Wayfair, the online furniture and home goods seller, have doubled in price in 2020. Etsy, a platform that specializes in handmade products, said its marketplace grew 100% in April, and its stock has gained more than 90%. "One big driver of the strong growth in April was fabric face masks," Etsy CEO Joshua Silverman said in an earnings call on June 2.
Chewy, an online company for pet products, has jumped about 75% this year, while US shares for Chinese e-commerce giant JD.com have rallied about 60%.
For Quartz members: China is hungry like the wolf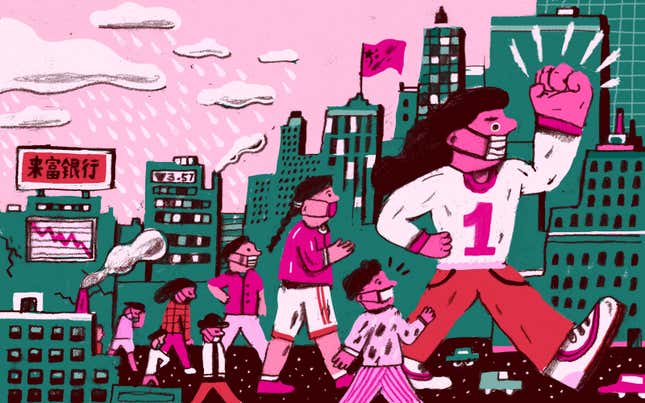 "Wolf Warrior" diplomacy refers to a more aggressive approach to international relations undertaken recently by some members of the Chinese diplomatic corps. It takes its name from a 2015 Chinese action-adventure movie.
Perhaps the best way to understand that reference is to read this plot summary for 2017's Wolf Warrior II in the Hollywood Reporter:
Written by, directed by and starring Chinese martial artist Wu Jing, the film follows a former Chinese special-forces operative as he battles bloodthirsty Western mercenaries to protect Chinese civilians caught up in an African civil war. The central theme of the film — which is often likened to Rambo — is well encapsulated by the strident jingoism of its tagline: "Whoever offends China will be hunted down no matter how far away they are."
Read more about how this aggressive new diplomacy is undergirding China's changing influence in this week's member-exclusive field guide.
✦ To gain access to all the stories, presentations, field guides, workshops, and more that is available exclusively to Quartz members, try a seven-day free trial. ✦
Surprising discoveries
Deep sea creatures build homes out of their own snot. Scientists had previously thought the intricate structures made of mucus by giant larvaceans were the animals themselves.
Scientists have found the cleanest air on the planet. A point off the coast of the Southern Ocean in Antarctica doesn't have any particulate matter from human activity.
Flipped DNA may play a role in our health. Instead of twisting in a spiral to the right, so-called Z-DNA twists to the left. Scientists are just beginning to understand how it may affect our health.
Horseshoe crabs play a vital role in Covid-19 testing and vaccines. Their blood alerts researchers to the presence of dangerous toxins produced by contamination from bacteria.
Black holes spit out energy, too. As the collapsed stars suck in any matter that comes near them, they also squirt out hot, electrified gas—not unlike soap bubbles.
Our best wishes for a productive day. Please send any news, comments, Chinese action heroes, and snotty sea creatures to hi@qz.com. Get the most out of Quartz by downloading our app on iOS or Android and becoming a member. Today's Daily Brief was brought to you by Marc Bain, John Detrixhe, Katherine Ellen Foley, and Oliver Staley.