Good morning, Quartz readers!
Here's what you need to know
Asia reacts to a surge in Covid-19 cases… China on Friday recorded the highest daily number of new Covid-19 cases since March, and locked down Xinjiang, the location of the country's Uyghur detention camps. Vietnam reported its first death after 99 days without any recorded cases, and the Philippines saw cases surge past 100,000, with medical groups requesting a lockdown in Manila. Meanwhile, South Korea has arrested the leader of a religious sect at the center of the country's largest outbreak.
…while lockdown-weary residents react to new measures. Australia declared a "state of disaster" in Victoria, its second largest state, on Sunday, extending its lockdown to include a nightly curfew and ban on many outdoor trips to the dismay of many. Thousands of people also protested in Berlin over the weekend against Germany's coronavirus restrictions, declaring it a "day of freedom."
Hong Kong takes a troubling pause. Territory leader Carrie Lam announced on Friday that upcoming legislative council elections would be postponed for a year. The decision, pinned on the coronavirus pandemic, was condemned by pro-democracy groups at home and abroad.
More TikTok news for you. Reuters reported that parent company ByteDance has agreed to divest TikTok's US operations in response to president Donald Trump's announcement Friday that he will likely ban the app. Microsoft has reportedly paused talks to buy the app's US operations as it awaits the administration's decision.
The UAE launched the Arab world's first nuclear power plant.  The small but influential Gulf nation said it built the South Korean-designed plant to reduce its dependence on oil and only intends to use its nuclear program for energy purposes. Observers have raised concerns over the growth of nuclear programs in the politically volatile region.
---
What to watch for
Google is expected to launch its latest budget phone, the Pixel 4A, on Monday. It's also the deadline for a White House working group to deliver recommended actions against US-listed Chinese companies.
Geopolitical analysts will be keeping a close eye on Sri Lanka's parliamentary elections on Wednesday.
VENN, "the company looking to be gaming's answer to '80s-era MTV, " launches its new gaming network, while Samsung rolls out new devices at its "Galaxy Unpacked" event, also Wednesday.
The US July jobs report out Friday will provide critical insight into the country's economic recovery, while earnings from a number of major US commercial real estate companies this week will shed light on the state of its shopping districts.
On Sunday, Japan commemorates the 75th anniversary of the dropping of the atomic bomb on Nagasaki and Hiroshima.
More earnings: Hyatt Hotels (Monday); Walt Disney, Sony, Bayer, Western Union, Prudential, Beyond Meat (Tuesday); FitBit, Square (Wednesday); Uber, Adidas, Nintendo, Toyota (Thursday) Berkshire Hathaway (Friday).
---
Charting US tech jobs
Harvard Business Review had deemed it "The Sexiest Job of the 21st Century." But the demand for data scientists is rapidly cooling. In the past week, the number of US job postings for data scientists was down 43% from last year, according to the job-postings site Indeed. That's more than double the rate of decline this past week for job postings overall.
The disappearance of data-scientist job openings has been especially drastic outside of the US tech hubs, where postings were 51% below year-ago levels. In tech hubs, postings were down 37%. According to Indeed, this pattern can be found across all tech jobs, and may be evidence that big tech companies, which generally are located in tech hubs like New York, San Francisco, and Seattle, have more resources to ride out the crisis. Read more here.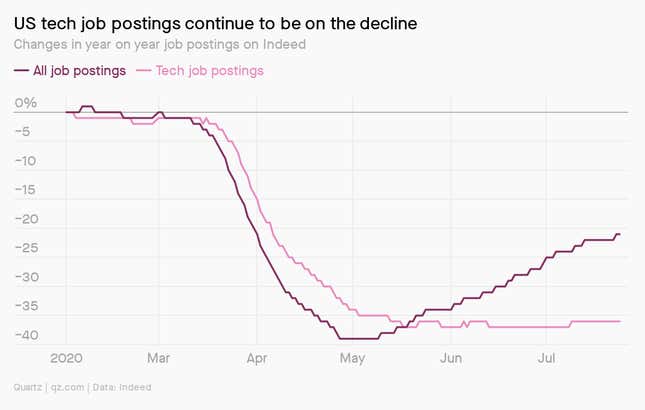 ✦ For members: Cannabis at a crossroads
In April 2019, the North American cannabis industry was riding high. Over the next year, the bubble would burst. Of the 40 publicly-listed cannabis companies in North America worth at least $40 million, only seven saw their stock market valuation grow from April 2019 to July 2020. 24 lost more than half their value, and 13 were nearly wiped out. Most of this decline happened before the coronavirus sent the global economy into a tailspin.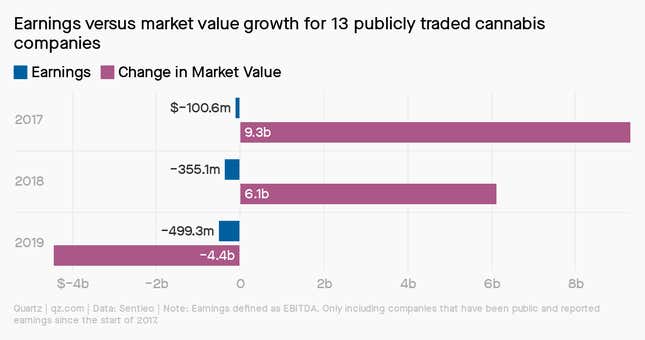 In the early years of regulated cannabis, cowboys with ample cash and minimal expertise built a house of cards with questionable business models amidst rapidly evolving regulations. Last year it came crashing down. Now, as those cannabis companies left standing struggle to recover, it's time for them to start building sustainable businesses that can withstand the economic and social demands of 2020 and beyond. What might a great modern cannabis industry look like? And how might it be prevented from exacerbating the inequality and exploitation already rampant in American capitalism? Find out in our field guide to cannabis at a crossroads.
✦ Access all of our articles, presentations, field guides, and workshops by signing up for a Quartz membership.
---
Surprising discoveries
Amazon is making more money from coronavirus than Christmas. The retail giant's last quarter surpassed the $87.4 billion in sales it recorded last year during the holidays.
The male anglerfish is the ocean's equivalent of a boyfriend that won't leave. To enable its hookups, the male has evolved without an ancient branch of the immune system, allowing it to fuse permanently with a female host.
A plot twist for telenovelas. The TV shows are attracting millions more Mexican viewers who are trying to ease their pandemic anxieties with more traditional melodrama.
The pandemic has proved the perfect time to get Botox. Working from home has made it easier for rich people to disguise any nips and tucks.
The pyramids were not built by aliens. A potentially surprising discovery for Elon Musk, who was invited by Egypt to find out the real truth after tweeting that "aliens built the pyramids obv."
---
Our best wishes for a productive day. Please send any news, comments, Pixel 4A reviews, and telenovela story lines to hi@qz.com. Get the most out of Quartz by downloading our app on iOS and becoming a member. Today's Daily Brief was brought to you by Michelle Cheng, Jackie Bischof, Jenni Avins, and Max Lockie.