Good morning, Quartz readers!
Here's what you need to know
The UK and US talk trade. Top trade officials will meet in Washington today and tomorrow to take stock of progress on sealing a bilateral free trade agreement. British international trade secretary Liz Truss is expected to criticize (paywall) "punitive" US tariffs on UK goods, and mention retaliatory tariffs as part of the Airbus and Boeing dispute.
NASA astronauts splashed down in the Gulf of Mexico. The successful return to Earth of two astronauts from the International Space Station in a SpaceX capsule, two months after blasting off from Florida, makes it the first commercial spacecraft to carry people to and from orbit. The milestone paves the way for another SpaceX crew launch as soon as next month.
Donald Trump set a deadline for TikTok. The US president agreed to give Chinese tech giant ByteDance until Sep. 15 to negotiate a sale of its video app TikTok, and Microsoft separately confirmed that it is in talks to buy the US arm of the app. Meanwhile, secretary of state Mike Pompeo said Trump would take action on "countless" Chinese apps in the coming days.
Guyana swore in a new president. Opposition candidate Mohamed Irfaan Ali assumes office after months of political standoff over the results of the March vote. He will manage billions of dollars in new revenues from oil fields off the shore of the small South American nation.
Iran covered up its coronavirus deaths. A data leak suggests that the number of coronavirus deaths in the country is almost triple what Tehran claims, while case numbers are also double the official figures. Separately, Australia yesterday declared a "state of disaster" in Victoria state, extending its lockdown to include a nightly curfew.
---
What to watch for
Monday: Poland's top court rules on the validity of last month's presidential election, which was won by incumbent Andrzej Duda.
Tuesday: An album containing two pages of Oscar Wilde's answers to probing questions is expected to fetch more than £40,000 ($52,300) at a Sotheby's auction.
Wednesday: The Sri Lankan president hopes to use the parliamentary elections to tighten his grip on power, install his brother as prime minister, and push through changes to the constitution.
Thursday: The Bank of England makes its rate decision and publish new economic assessments.
Friday: The UN-backed Special Tribunal for Lebanon will deliver its verdict on the 2005 murder of former prime minister Rafic Hariri. The US publishes its July jobs report.
Saturday: European Union regulators decide on whether to approve Google's pledge not to use fitness tracker maker Fitbit's health data for its advertising.
Sunday: Belarus holds its presidential elections, as hundreds of thousands have rallied in recent weeks to show their support for opposition candidate Svetlana Tikhanovskaya, whose husband was barred from running and jailed.
---
Charting US tech jobs
Harvard Business Review had deemed it "The Sexiest Job of the 21st Century." But the demand for data scientists is rapidly cooling. In the past week, the number of US job postings for data scientists was down 43% from last year, according to the job-postings site Indeed. That's more than double the rate of decline this past week for job postings overall.
The disappearance of data-scientist job openings has been especially drastic outside of the US tech hubs, where postings were 51% below year-ago levels. In tech hubs, postings were down 37%. According to Indeed, this pattern can be found across all tech jobs, and may be evidence that big tech companies, which generally are located in tech hubs like New York, San Francisco, and Seattle, have more resources to ride out the crisis. Read more here.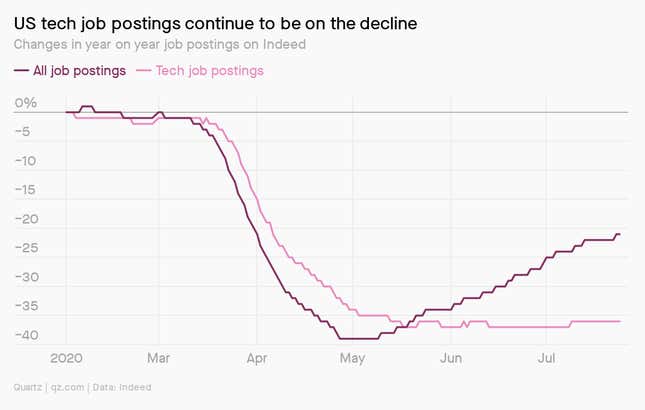 ✦ For members: Cannabis at a crossroads
In April 2019, the North American cannabis industry was riding high. Over the next year, the bubble would burst. Of the 40 publicly listed cannabis companies in North America worth at least $40 million, only seven saw their stock market valuation grow from April 2019 to July 2020. Twenty-four lost more than half their value, and 13 were nearly wiped out. Most of this decline happened before the coronavirus sent the global economy into a tailspin.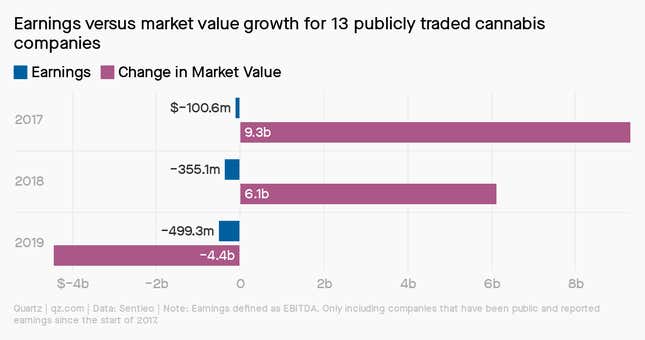 In the early years of regulated cannabis, cowboys with ample cash and minimal expertise built a house of cards with questionable business models amid rapidly evolving regulations. Last year it came crashing down. Now, as those cannabis companies left standing struggle to recover, it's time for them to start building sustainable businesses that can withstand the economic and social demands of 2020 and beyond. What might a great modern cannabis industry look like? And how might it be prevented from exacerbating the inequality and exploitation already rampant in American capitalism? Find out in our field guide to cannabis at a crossroads.
✦ Access all of our articles, presentations, field guides, and workshops by signing up for a Quartz membership.
---
Surprising discoveries
Greece opened an underwater museum. Visitors can scuba dive to examine an ancient shipwreck, which sank in the 5th century BC.
Spanish police recovered a haul of ancient treasure. An alleged looter had posted images of the archaeological items online, including a Phoenician earring that could be some 3,200-years-old.
Business executives are bonding over video games. Tired of conference calls, some are turning to the likes of Grand Theft Auto and Animal Crossing.
Amazon is making more money from coronavirus than Christmas. The retail giant's last quarter surpassed the $87.4 billion in sales(✦ Quartz membership exclusive) it recorded last year during the holidays.
The male anglerfish is the ocean's equivalent of a boyfriend that won't leave. To enable its hookups, the male has evolved without an ancient branch of the immune system, allowing it to fuse permanently with a female host.
---
Our best wishes for a productive day. Please send any news, comments, gaming meetings, and sunken museums to hi@qz.com. Get the most out of Quartz by downloading our app on iOS and becoming a member. Today's Daily Brief was brought to you by Mary Hui, Isabella Steger, Michelle Cheng, Jackie Bischof, Jenni Avins, and Max Lockie.