Good morning, Quartz readers!
On Aug. 5, 2019, India's central government rendered Articles 370 and 35A of its constitution toothless, effectively revoking the special status that had been granted to Jammu & Kashmir since 1950. The Narendra Modi government also bifurcated the state and demoted it to two union territories of Jammu & Kashmir and Leh.
On Aug. 12, 2019, a week after the abrogation was announced, Modi said he was confident in building a "naya Kashmir" (new Kashmir). "In today's world, economic growth cannot happen in a closed environment," he said, alluding to the fact that Kashmir's special status was often perceived as a roadblock to free markets. "Open minds and open markets will ensure that the youth of the region will put it on the path of greater progress."
Instead, Modi's "new Kashmir" has pauperized its own people.
Citing security reasons, the newly formed union territories were put under lockdown by the central government last summer, with heavy military presence and no telecommunication or internet services. Life was brought to a grinding halt—schools, colleges, offices, and markets shut for months on end—and Kashmir's already suffering businesses were left with no means of survival.
"If Kashmir's economy was on the ventilator before, it is now dead," says Farooq Amin, general secretary of Kashmir Chamber of Commerce & Industry, which estimates the Kashmir valley to have lost around 800,000 jobs and business worth Rs40,000 crore ($5.32 billion) since mid-2019.
Even the restoration of 2G and broadband internet service hasn't made things much smoother for local businesses, which still cannot rely on a decent connection. The internet blockade, among other things, has completely overturned any promise of prosperity that the abrogation of Articles 370 and 35A was purported to fulfill.
Today, businesses in Jammu & Kashmir are struggling to repay loans, which puts their assets—business owners' land and homes—at risk of being repossessed by the bank. Now that non-residents can own land in the valley, they stand to benefit, which some think was a deliberate outcome of the abrogation.
Experts say peace in the valley is the obvious solution to these woes, but one that cannot be brokered by force or by taking away the people's autonomy. Drenched in financial despair, the highway to hope has crumbled in Jammu & Kashmir. —Manavi Kapur, Quartz India
Five things on Quartz we especially liked
Drugstore vaccinator. I can't recall when I became comfortable with getting a flu shot at my local pharmacy, but it has become routine: Adding that walk-up appointment onto a run for shampoo and greeting cards is beyond convenient. Katherine Ellen Foley's superb reporting explains why US residents have the 2009 H1N1 flu epidemic to thank for that. A decade later, pharmacists are preparing for the day a safe Covid-19 vaccine may reach their immaculate counters. —Lila MacLellan, Quartz at Work senior reporter
The resource curse of the American West. Many western states have built up their economies on the fossil fuel industry, but this economic structure is what many would call a resource curse, writes Michael Coren. After the steepest decline in fossil fuel demand in history, states have had to find ways to diversify their income. Some, like Texas, are taking lessons from other countries that successfully poured resources into other sectors. Others, like Wyoming, face tough budget cuts unless they can find a way to adapt. —Katherine Ellen Foley, health reporter
How to survive a pandemic if you're a shop around the corner. In a twist to the typical small businesses plot, The Bookshop, a quaint bookstore in Delhi, is seeing success even as Covid-19 rages on in India. Manavi Kapur depicts how the store's two-woman army reimagined and managed operations to beat the pandemic slump, and took the independent bookstore to all corners of the country. —Itika Sharma Punit, editor, Quartz India 
Re-focusing on borders. Ananya Bhattacharya has been covering the Trump administration's visa policies and their impact on Indian migrants, who are arguably the backbone of Silicon Valley. In her latest piece, she tracks a group of Indians who have been forced into drastic action to preserve their livelihoods and sanity. —Hasit Shah, deputy editor, global finance and economics
WFH, but make it smell amazing. As someone with an olfactory sense that some have called too good, I know firsthand how a smell can enhance or detract from any given experience. Now that so many people are working from home, more of us are pimping our sniffs with funky candles, as Sarah Todd reports. Some are using them to invoke a sense of adventure, while others light a candle to help them focus, or as a signal that the day is done. (For more fragrant fun, check out Avery Trufelman's perfume episode of the Articles of Interest podcast.) —Alex Ossola, special projects editor
Fun fact about hairdressers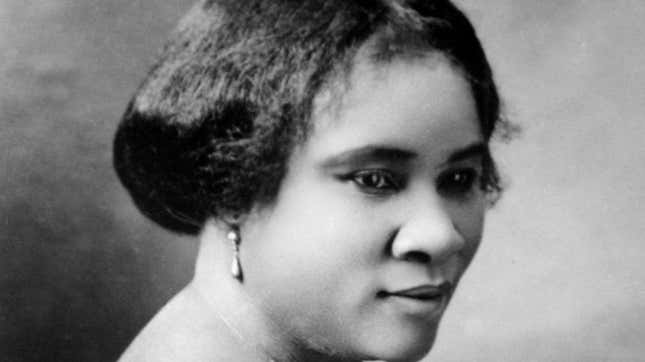 Madam C.J. Walker launched her own line of products for Black hair, recruited ambassadors to sell them, established a school to train hairdressers how to use her own "Walker system", and took her business international—all before her death in 1919 at the young age of 51. Today, she's widely recognized as the first Black female millionaire in the US.
Just as it was in Walker's day, and as it has been for centuries, hair is taken very seriously by the humans on whose heads it sprouts. And now that we've seen what a few months without hairdressers can do, we're eternally grateful for the skilled individuals who can tame our tresses. Read all about them in the latest Quartz Weekly Obsession.
Want to get it delivered directly to your inbox?
---
✦ For members: Legalize it
It wasn't long ago that legalizing cannabis seemed like a pipe dream, but advocates have made so much progress worldwide that making the green stuff fully legitimate feels tantalizingly within reach. The latest arguments in favor of legalization lean heavily on these points:
🏬 Essential status. When the pandemic shut businesses across the US, many states deemed cannabis dispensaries "essential" and kept them open. Sales figures reflected the fact that many Americans see it that way, too.
✊ Racial justice. Recent protests against racism and inequality have highlighted the role US companies can play in dismantling white supremacy. Activists argue that by reducing confrontations between police officers and citizens, cannabis legalization could greatly cut down on police brutality.
💸 Sweet tax dollars. Advocates have determined one way to cut through moral objectives: Appeal to lawmakers' economic interests. Not unlike the repeal of alcohol prohibition following the Great Depression, cannabis tax revenue has been a boon for states and cities reeling from Covid-19-induced shortfalls.
It won't be enough to simply legalize weed, though. As the industry matures, customers and small businesses face preventable threats. American cannabis companies could seize this opportunity to build a more equitable and sustainable model—or they could follow in the footsteps of Big Alcohol. Read more in our field guide to cannabis at a crossroads. Short on time? Take a peek into the future of cannabis with charts.
✦ The buzz of a Quartz membership has been described as "thought-provoking" and "stimulating." Get access to our full cannabis coverage, the rest of our field guides, eliminate paywalls, and support quality journalism—all for 40% off for your first year.
---
Five things from elsewhere that made us smarter
Too exceptional. Months into the pandemic, and one thing is clear: The US failed to protect its people, and spectacularly so. In a feature for The Atlantic, Ed Yong seeks to answer the question of how the richest country in the world botched its response to the biggest health crisis in a century. What he finds is a long list of mistakes—the more obvious made by the current administration, but the most serious resulting from decades of neglecting public health crises, including racism and unequal access to care. —Annalisa Merelli, geopolitics reporter 
And how did that make you feel? Grasping what it means for a tech company to be a monopoly isn't easy. But Bloomberg's Mark Bergen and Shelly Banjo have found a story that explains the stakes—what happens when therapists advertise their services on Google, the world's most dominant search engine? It turns out that rather than connecting counselors to stressed-out searchers, it plugs them into an increasingly expensive ad casino where, with little help and armed with bad tools, they face cut-rate competitors. The incentives push small businesses to the brink, while leaving conglomerates holding all the cards. —Tim Fernholz, senior reporter 
The US passport is losing its power. A country's passport reflects something about its standing in the world, and the US passport doesn't open national doors like it used to. Klara Glowczewska, a Polish immigrant to the US, reflects for Town & Country on what a passport means in our interconnected world, but what makes the story excellent is the family history she weaves in showing how passports have shaped that story over generations. —Marc Bain, fashion reporter
Caught red-handed, doing their job. When two white-hat hackers hired to test Iowa's election security got nabbed breaking into a courthouse, it should have been easy to explain they were supposed to be there. But as Andy Greenberg details in Wired, the intentional intruders were swept up in a game of political football that upended their lives and livelihoods—a tale that does not inspire much confidence in US states' ability or willingness to handle actual threats to election integrity. —Liz Webber, senior news curator
Covid-19 didn't kill fashion. In April, clothing sales fell 79% in the US, but purchases of sweatpants were up 80%. In the New York Times magazine, Irina Aleksander argues those figures are the culmination of a trend, not the beginning of one. Many of the trappings of the fashion industrial complex—constant collections, immediate discounts, seasonal shows—have been breaking down for over a decade. Coronavirus could force actual solutions. —Kira Bindrim, executive editor
---
Our best wishes for a relaxing but thought-filled weekend. Please send any news, comments, inspiring words, and mouse ears to hi@qz.com. Get the most out of Quartz by downloading our app and becoming a member. Today's Weekend Brief was brought to you by Manavi Kapur and Susan Howson.