Good morning, Quartz readers!
Here's what you need to know
Saudi Aramco's profits plunged. The state oil company's second-quarter performance suffered from the global fall in demand for energy, with profit falling by 73%. It is still the world's biggest oil distributor.
China-US relations got even worse. US health secretary Alex Azar visited Taiwan yesterday in defiance of China's firm opposition to any American relationship with the island. Meanwhile, China pushed back against US sanctions against its officials, calling them "barbarous and rude."
Hundreds of Taliban prisoners accused of "major crimes" are set to be released. The militant group agreed to a peace deal with the US earlier this year, but said they'd only talk to the Afghan government if its people were released. An Afghan grand assembly cleared the way for peace talks by setting thousands of insurgents free.
The pilot has been blamed for last week's Air India plane crash. 18 people died after a repatriation flight for Indian citizens who'd been stranded abroad during the pandemic crashed in on Friday. Investigators have pointed to the dangerous runway, bad weather, and poor piloting decisions as the main causes.
Delivery giant Zomato is giving women period leave. The Indian company announced its female staff will get ten days of such leave a year, in an effort to combat stigma in a country where menstruation can still be seen as a problem.
Men's golf sees its first major winner of 2020. Several Asian players—China's Haotong Li, South Korea's Si-Woo Kim, and Japan's Hideki Matsuyama—were still in the running as the final day began at the PGA championship. Meanwhile, Barcelona, Bayern Munich, and Manchester City all progressed to the quarter-finals of European soccer's Champions League.
---
What to watch for this week
Monday: Belarus election reaction; US Job Openings and Labor Turnover (JOLTS); Mexico industrial output. Earnings: Royal Caribbean, Eastman Kodak, Occidental Petroleum, Tilray, Marriott, Novavax, IAC.
Tuesday: Pompeo's Europe tour begins; Tiktok to sue Trump administration. Earnings: Casper, Prudential, Intercontinental Hotels, SoftBank, Canada Goose.
Wednesday: UK second-quarter GDP; US consumer price index. Earnings: Cisco, Macy's, Lyft, Vroom (first report since IPO), Lemonade
Thursday: US import/export data. Earnings: Alibaba, Baidu, Tapestry, Applied Materials.
Friday: China retail sales and industrial production; NBA regular season ends. Earnings: DraftKings.
---
Charting the growth of food delivery
The Uber Eats delivery business is now bigger than the company's ride-hailing service, Michelle Cheng reports. In the second quarter, gross bookings for mobility (aka Uber rides) declined 75% from the same quarter last year to just over $3 billion, while delivery gross bookings (aka Uber Eats) more than doubled to $6.96 billion. The delivery business also eclipsed rides in revenue, at $1.21 billion versus $790 million.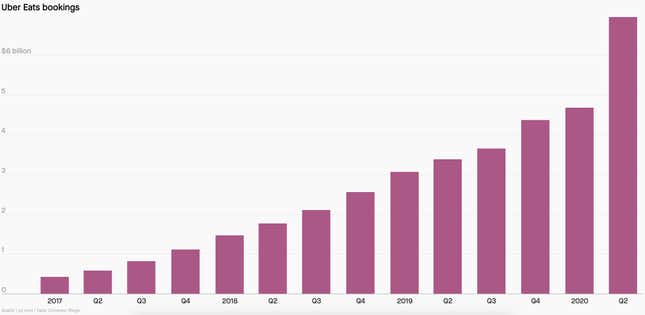 ✦ For members: Reimagining the office
Mary Bilbrey has a particular vantage point for assessing the impact of our shift to working from home and the future of office space. Not only is she head of human resources for JJL, a corporate real estate firm with a global workforce of 94,000 people, she also oversees the company's corporate offices.
Bilbrey told Quartz's Cassie Werber that for companies, "there's a real connection between the talent strategy and the workplace strategy." She has three key takeaways for employers considering whether or not to ask staff to come back to the office.
There is no one-size-fits-all approach.
Space has to be safe, but not forbidding.
There's a minimum number of people, as well as a maximum.
The office as a place of work isn't disappearing. But Covid-19 has changed our concept of it so drastically that if and when we do return, it might be to a workplace that's changed forever. Read more in our field guide to reimagining the office.
✦ Access all of our articles, presentations, field guides, and workshops by signing up for a Quartz membership.
---
Surprising discoveries
A New Zealand man earns $10,000 a year for 'wizardry.' Christchurch city council pays his salary, and he's recognized as the city's official wizard.
There's a Shazam-style app for Australian spiders and snakes. Users upload a photo of whatever spider or snake is nearby, and an algorithm will quickly identify it and warn if it's dangerous.
An ancient "hell ant" was preserved mid-cockroach snack. The ancestor of the modern ant had vertical jaws that look like a scythe, and was preserved in amber with its prey.
Scientists created artificial skin that can feel. The invention, which can sense heat and the shape of objects, was inspired by a robotic hand from Star Wars.
Satellites discovered new Emperor penguins. The breeding sites in the Antarctic mean the penguin population is 5 to 10% higher than previously thought.
---
Our best wishes for a productive day. Please send any news, comments, a wand, and a cloak to hi@qz.com. Get the most out of Quartz by downloading our app on iOS and becoming a member. Today's Daily Brief was brought to you by Olivia Goldhill, Jackie Bischof, and Hasit Shah.