Good morning, Quartz readers!
Here's what you need to know
A Hong Kong media mogul was arrested. Jimmy Lai, pro-democracy activist and owner of the newspaper Apple Daily, was arrested on suspicion of colluding with foreign forces, a crime under the national security law punishable by up to life imprisonment. The paper's newsroom was raided by hundreds of police. The move comes after the US imposed sanctions on 11 Hong Kong and Chinese officials.
Security forces in Belarus cracked down on protesters… A state television exit poll showed the incumbent Alexander Lukashenko winning a landslide victory in a presidential election that is widely believed to be rigged. Riot police deployed tear gas and stun grenades against protesters in Minsk, and made numerous arrests. Internet connectivity was also disrupted across the country.
…and Lebanese police clashed with protesters. Thousands of demonstrators converged in Beirut's Parliament Square and Martyrs' Square demanding the government's ouster, following Tuesday's massive explosion that killed over 150 and injured thousands. Two cabinet ministers have resigned. Meanwhile, world donors pledged $300 million in emergency aid, but said no money would be made available unless the government committed to reforms.
Saudi Aramco's profits plunged. The state oil company's second-quarter performance suffered from the global fall in demand for energy, with profit falling by 73%. It is still the world's biggest oil distributor.
What to watch for this week
Monday: US health secretary Alex Azar, the highest-level official to visit Taiwan in decades, holds consultations with health officials after meeting president Tsai Ing-wen in the morning. Paris makes it mandatory to wear face masks in busy outdoor areas.
Tuesday: US secretary of state Mike Pompeo's Europe tour begins, where he is expected to discuss the US military presence in the region. Separately, TikTok is set to sue the US government over president Donald Trump's executive order banning the video app from the country.
Wednesday: The UK reports its second-quarter GDP.
Thursday: The Lebanese parliament discusses last week's explosion. Schools in Thailand will fully re-open.
Friday: The world's first fully interactive virtual museum, called the Virtual Online Museum of Art, opens.
Saturday: The US and China are set to review phase one of their trade deal.
---
Charting the growth of food delivery
Uber's delivery business is now bigger than the company's ride-hailing service, Michelle Cheng reports. In the second quarter, gross bookings for mobility (aka Uber rides) declined 75% from the same quarter last year to just over $3 billion, while delivery gross bookings (aka Uber Eats) more than doubled to $6.96 billion. The delivery business also eclipsed rides in revenue, at $1.21 billion versus $790 million.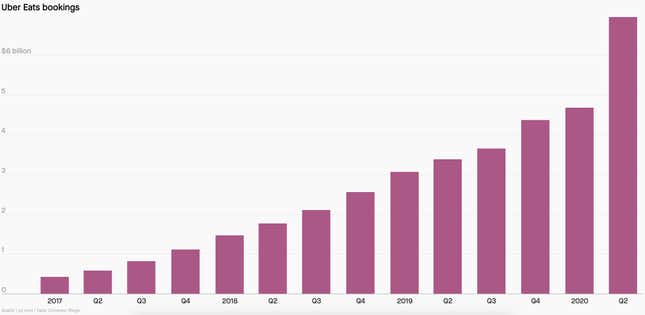 ✦ For members: Reimagining the office
Mary Bilbrey has a particular vantage point for assessing the impact of our shift to working from home and the future of office space. Not only is she head of human resources for JLL, a corporate real estate firm with a global workforce of 94,000 people, she also oversees the company's corporate offices.
Bilbrey told Quartz's Cassie Werber that for companies, "there's a real connection between the talent strategy and the workplace strategy." She has three key takeaways for employers considering whether or not to ask staff to come back to the office.
There is no one-size-fits-all approach.
Space has to be safe, but not forbidding.
There's a minimum number of people, as well as a maximum.
The office as a place of work isn't disappearing. But Covid-19 has changed our concept of it so drastically that if and when we do return, it might be to a workplace that's changed forever. Read more in our field guide to reimagining the office.
✦ Access all of our articles, presentations, field guides, and workshops by signing up for a Quartz membership.
---
Surprising discoveries
The UK's top diplomatic cat has retired. Palmerston, the foreign office's "chief mouser," signed his resignation letter with two paw prints.
The US state department was behind confusing text messages. People in Russia and Iran had received unsolicited text messages promoting a multimillion-dollar bounty for information on cyber threats against the US eleciton.
A New Zealand man earns $10,000 a year for 'wizardry.' Christchurch city council pays his salary, and he's recognized as the city's official wizard.
There's a Shazam-style app for Australian spiders and snakes. Users upload a photo of whatever spider or snake is nearby, and an algorithm will quickly identify it and warn if it's dangerous.
An ancient "hell ant" was preserved mid-cockroach snack. The ancestor of the modern ant had vertical jaws that look like a scythe, and was preserved while snacking on a roach.
---
Our best wishes for a productive day. Please send any news, comments, wizardry jobs, and unsolicited text messages to hi@qz.com. Get the most out of Quartz by downloading our app on iOS and becoming a member. Today's Daily Brief was brought to you by Mary Hui, Isabella Steger, Jackie Bischof, and Hasit Shah.