Good morning, Quartz readers!
Here's what you need to know
Musicians and record labels are calling out Jeff Bezos over Twitch. The Artists Rights Alliance says the Amazon-owned gaming service uses music without permission, and according to the Financial Times (paywall), the ARA's board members are writing to Bezos today to ask him to go beyond Twitch's "minimal and inadequate" efforts.
China's industrial output is recovering. Global stocks climbed after the release of data showing that deflation at China's factories eased in July. The recovery is being driven by pent-up demand, government assistance, and the resilience of exports.
A Hong Kong media tycoon was arrested. Jimmy Lai, 71, is a prominent pro-democracy voice, and hundreds of police officers searched the premises of his Apple Daily newspaper following his detention under the new national security law. Meanwhile, China announced sanctions against senior US politicians.
Collin Morikawa won the PGA championship on his debut. It was only the 23-year-old Californian's second major event, and he was especially pleased to win in "San Francisco, pretty much my second home." He walks away from one of golf's most lucrative tournaments with nearly $2 million.
What to watch for this week
Monday: US health secretary Alex Azar, the highest-level official to visit Taiwan in decades, holds consultations with health officials after meeting president Tsai Ing-wen in the morning. Paris makes it mandatory to wear face masks in busy outdoor areas.
Tuesday: US secretary of state Mike Pompeo's Europe tour begins, where he is expected to discuss the US military presence in the region. TikTok is set to sue the US government.
Wednesday: The UK reports its second-quarter GDP.
Thursday: The Lebanese parliament discusses last week's explosion.
Friday: The world's first fully interactive virtual museum, called the Virtual Online Museum of Art, opens.
Saturday: The US and China are set to review phase one of their trade deal.
---
Charting the growth of food delivery
Uber's delivery business is now bigger than the company's ride-hailing service, Michelle Cheng reports. In the second quarter, gross bookings for mobility (aka Uber rides) declined 75% from the same quarter last year to just over $3 billion, while delivery gross bookings (aka Uber Eats) more than doubled to $6.96 billion. The delivery business also eclipsed rides in revenue, at $1.21 billion versus $790 million.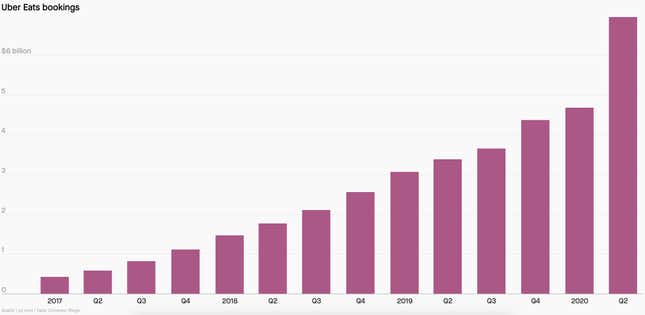 ✦ For members: Reimagining the office
Mary Bilbrey has a particular vantage point for assessing the impact of our shift to working from home and the future of office space. Not only is she head of human resources for JLL, a corporate real estate firm with a global workforce of 94,000 people, she also oversees the company's corporate offices.
Bilbrey told Quartz's Cassie Werber that for companies, "there's a real connection between the talent strategy and the workplace strategy." She has three key takeaways for employers considering whether or not to ask staff to come back to the office.
There is no one-size-fits-all approach.
Space has to be safe, but not forbidding.
There's a minimum number of people, as well as a maximum.
The office as a place of work isn't disappearing. But Covid-19 has changed our concept of it so drastically that if and when we do return, it might be to a workplace that's changed forever. Read more in our field guide to reimagining the office.
✦ Access all of our articles, presentations, field guides, and workshops by signing up for a Quartz membership.
---
Surprising discoveries
A New Zealand man earns $10,000 a year for 'wizardry.' Christchurch city council pays his salary, and he's recognized as the city's official wizard.
There's a Shazam-style app for Australian spiders and snakes. Users upload a photo of whatever spider or snake is nearby, and an algorithm will quickly identify it and warn if it's dangerous.
An ancient "hell ant" was preserved mid-cockroach snack. The ancestor of the modern ant had vertical jaws that look like a scythe, and was preserved in amber with its prey.
Scientists created artificial skin that can feel. The invention, which can sense heat and the shape of objects, was inspired by a robotic hand from Star Wars.
Satellites discovered new Emperor penguins. The breeding sites in the Antarctic mean the penguin population is 5 to 10% higher than previously thought.
---
Our best wishes for a productive day. Please send any news, comments, wizardry jobs, and unsolicited text messages to hi@qz.com. Get the most out of Quartz by downloading our app on iOS and becoming a member. Today's Daily Brief was brought to you by Olivia Goldhill, Jackie Bischof, and Hasit Shah.