Good morning, Quartz readers!
Here's what you need to know
Donald Trump pardons a "very important" person. The US president, however, has said that it won't be Edward Snowden or former national security adviser Michael Flynn. The announcement comes days after Trump said he was considering pardoning Snowden.
A ruling on the murder of Rafic Hariri. A UN-backed tribunal will deliver its verdict on the assassination of the former Lebanese prime minister in a suicide bombing in 2005. The Special Tribunal for Lebanon originally planned to release its findings two weeks ago, but postponed it due to the Beirut blast.
China went after Australian wine. The Chinese commerce ministry launched an anti-dumping investigation following similar trade strikes against Australian barley and beef, amid rapidly deteriorating relations between the two countries. China is the largest export market for Australian wine.
Oracle is interested in TikTok. The Financial Times reported that the US tech giant is going up against Microsoft to buy the app's operations in the US and other markets, as Chinese owner ByteDance seeks to divest the business following an executive order from Trump.
The US Democratic National Convention kicked off. The four-day event, originally slated to be held in Milwaukee, will instead see a host of Democratic superstars, as well as celebrities such as Eva Longoria and Kerry Washington delivering speeches virtually. Four high-profile Republicans, including former Ohio governor John Kasich and Quibi chief executive Meg Whitman, used the occasion to call on party members to vote for Joe Biden instead of Trump.
---
Obsession interlude
To understand a Quartz Obsession, it always helps to check the numbers. Here are some figures that help explain The Climate Economy:
$7 per ton: The so-called "social cost of carbon" established during the Trump administration, slashed by a factor of seven from its Obama-era value. Reducing its value makes it easier to justify federal decisions that increase emissions.
~$45: The price of a barrel of Brent crude, the international oil benchmark. Prices have stalled after bouncing back from a precipitous drop in April, which is just fine by OPEC producers that want to put the hurt on their US competitors.
83%: How much the cost of electricity from a solar power plant has fallen in the last decade.
$68 billion: Global damage from natural disasters in the first half of 2020.
1.7: Number of Earths it takes to sustain today's global level of consumption of natural capital.
Go deeper with our field guide to fossil fuels, or keep tabs on The Climate Economy here.
---
Detox for bureaucrats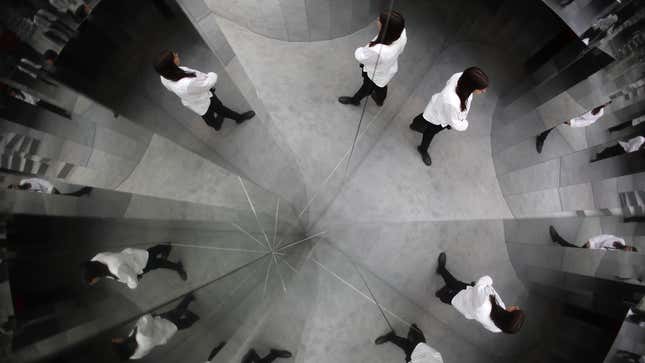 So many of us work in organizations that are fainthearted and dispiriting. Often, the culprit is bureaucracy—a massive multiplayer game that pits players against one another in a battle for positional power and the rewards that come with it.
What does detox for bureaucrats look like? Not surprisingly, it looks a lot like other recovery programs. Taking a page from Alcoholics Anonymous, these 12 questions can help break the bureaucracy and resurface your humanity:
Did I subtly undermine a rival? In the battle to move ahead, it's tempting to discount the contribu­tions of others.
Did I hold onto power when I should have shared it? To justify their superior status, managers face a disincentive to share authority.
Did I pad a budget or exaggerate a business case? Resource allocation in a bureaucracy is conservative so it's tempting to bid for more resources than you need.
Complete the questionnaire on Quartz at Work.
---
Charting the hard seltzer bubble

Hard seltzer—or spiked sparkling water—was a $2 billion business in the 22-week US "pandemic period" beginning March 2, according to Nielsen data. And while beer sales were up about 11% compared to the same period last year, hard seltzer sales were up 224%.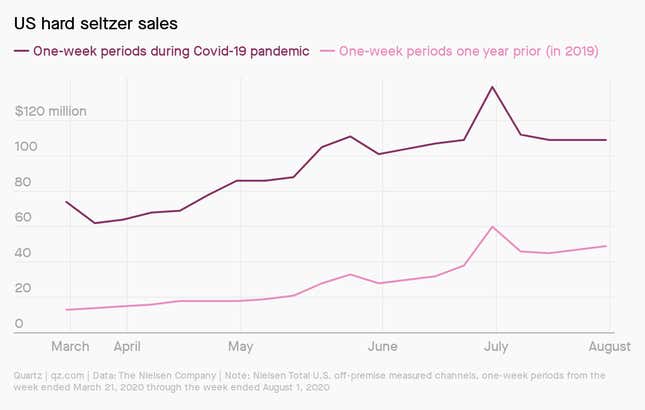 Brands such as White Claw and Truly that are unaffiliated with big beer labels currently control about 75% of the hard seltzer market, but major players are coming. Bud Light Seltzer and Corona Seltzer both launched in 2020, and in July Coca-Cola announced that Topo Chico hard seltzer is around the corner for select Latin American markets, which means hard seltzer is angling to be the drink of many seasons to come.
---
The global fight for Hong Kong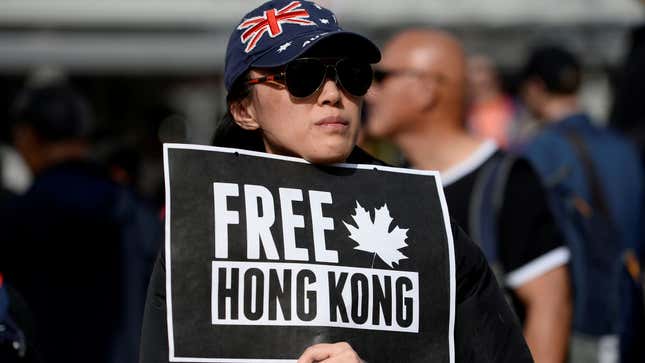 The fight for Hong Kong has become the world's fight. The pro-democracy movement's international lobbying network has succeeded in going beyond photo ops to leverage the momentum of the protests into tangible political influence worldwide. Key members of Hong Kong's global influence campaign include:
🇬🇧 In the UK: Hong Kong Watch, Fight for Freedom, Stand with Hong Kong, and the Inter-Parliamentary Alliance on China, as well as activists Luke de Pulford and Nathan Law.
🇺🇸 In the US: The Hong Kong Democracy Council founded by Samuel Chu.
🇨🇦 In Canada: Torontonian Hong Kongers Action Group, and Alliance Canada HK.
Quartz spoke with activists from all of these groups and beyond to discover how the battle over Hong Kong's freedoms went global in our latest field guide.
✦ And there's never been a better time to activate a Quartz membership. We're offering a 40% discount on your first year.
---
You asked about antibodies
What is the value in antibody testing? Other than being able to donate plasma, one could take riskier behaviors with a positive (or false positive) test result.
Great question, reader. You're right—there's not a ton of value in an antibody test for an individual if they're hoping to use it to guide their own behavior. That's because antibody test results have the potential to give false results, even when the stated accuracy of the test is high (the statistical reasons why are pretty fascinating!). But that doesn't mean antibody tests are useless: In aggregate, their results are helping scientists and public health officials understand how long Covid-19 immunity lasts, which is still an open question. 
---
Surprising discoveries
Betelgeuse burped. Astronomers determined that the bright star let loose a gas cloud that cooled to dust, obscuring the red giant's usual brightness.
Two men were charged in the murder of Jam Master Jay. A federal grand jury indicted them for the 2002 shooting of the Run-DMC member, alleging that the men plotted to kill him over a drug dispute.
A lost Lego piece was found after two years. It fell out of a New Zealand boy's nose two years after he shoved it up there.
California may have set a new global temperature record. The reading of 130°F (54.4°C) in Death Valley could be the hottest ever.
Belarus' state TV employees went on strike. Viewers were greeted with an empty studio as workers walked out in support of protests against president Alexander Lukashenko.
---
Our best wishes for a productive day. Please send any news, comments, plain sparkling water, and lost Lego pieces to hi@qz.com. Get the most out of Quartz by downloading our app on iOS and becoming a member. Today's Daily Brief was brought to you by Isabella Steger, Mary Hui, Liz Webber, and Max Lockie.